I wrote this post back in March, just a few days before the earthquake and tsunami hit northern Japan. I immediately pulled it from my scheduling, holding it back until a better time to talk about Japanese honeymoons; to be honest, I've been in two minds about publishing now, just a few months after the event. There is still a lot of work that needs doing in affected areas in Japan, and we shouldn't forgot the horrific scale of the tragedy, and just how many people's lives were affected. But Japan is a surprisingly large country, and relies on tourism for a substantial part of its income, and it would be such a shame if you really want to visit the country on your honeymoon and feel put off by the events of March 2011. The FCO advises against all but essential travel to "those areas in Japan most affected by the 11 March earthquake and tsunami. This includes those coastal areas of Iwate, Miyagi and Fukushima prefectures which suffered extensive damage." It's worth noting that this does not include the  Tokyo Metropolitan Area and Narita airport, but the areas around and beyond Sendai, north of the capital. If you want to honeymoon (or visit) Japan, then do, but make sure you research properly about which areas were (and still are) affected. The places I've mentioned below are all safe to visit, but it's worth also checking with the Japan National Tourist Organization for the most up-to-date advice.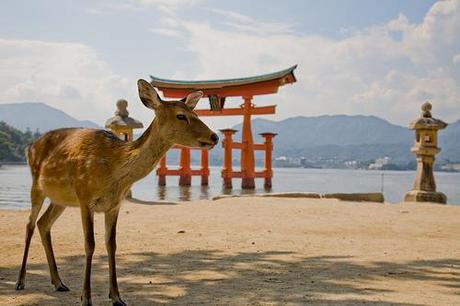 Dear Emma,
I hope you don't mind me getting in touch with you. We are getting married in Sept and have about 3 weeks off and really want to go to Japan but are struggling to find any kind of useful information online about Japanese honeymoons!
I was wondering if you have any advice or experience with couples trying to honeymoon in this particular area? Any advice would be so so appreciative as its a pretty baffling country!
It's all a bit overwhelming and we are worried about the cost of travelling to a country dubbed so expensive! I think ideally we would spend about a week in Tokyo before really travelling around the country. We are both experienced travellers adn want a combination of relaxation and adventure! I think my fiancé is after a few days at some sort of luxury resort – I am much more backpack inclined! I think we would be really game for getting out to the beaches and more remote regions as well as the key sites. I'm definitely trying to plough my way through the Rough Guide at the moment but any insight would be great!
Many thanks
Hanna x
Hi Hanna,
I suspect that one of the reasons why you're struggling to find anything about honeymooning in Japan is that it's still not really seen as a typical honeymoon destination – that's not to say that it's not a good place to go on honeymoon though, far from it! Japan is an amazing country, with so much more to offer than just Tokyo, geishas, temples and sushi – the trouble is really narrowing down where to go.
If you want to spend a fair amount of time away from cities and in less developed areas, then hiring a car is a great idea, and in three weeks you could travel around a fair amount. Otherwise, I'd really recommend getting a Japan Rail Pass. These can only be bought outside of Japan (you can buy it here), but if you're planning on travelling a bit by train then they're well worth it for the savings you'd make, as well as because they'll let you use the Shinkansen (Bullet Trains) which really shouldn't be missed; and at such high speeds you can cover a lot of ground in very little time. That said, they're not very cheap – a two week pass will cost about £338.
If you're looking for some specific advice about where to go then it's worth getting in touch with a specialist travel agent – Japan Travel Bureau, Inside Japan and AWL Travel all do tailor-made and individual tours. At the very least, their websites should have some good ideas for where to go and what to see, which should hopefully point you in the right direction with your own research.
There's no getting around the fact that Japan is expensive – but it doesn't have to be prohibitively so. Decide what's most important to you – it sounds like you're not too fussed about staying in the flashiest accommodation, which will mean that you can spend more money on sightseeing and eating (definitely one of the biggest highlights of a trip to Japan!). If your fiancé fancies some time in a luxury resort, then factor this in, perhaps balancing it out by staying in other, cheaper places elsewhere. Ryokan (traditional inns) can be among the most atmospheric accommodation in the country – I'd definitely recommend staying in at least one ryokan while you're there. Some are very expensive, but there are also more affordable ones around (the guidebook definitely has a fair few); it's also worth looking into staying at minshuku, which are a bit less formal than ryokan, and chain hotels can also keep your costs down a little bit. If you can, try and pay for some of your accommodation before you go, so that you don't feel like you're having to shell out too much while you're actually in country.
With regard to where to go, the one thing I would say is don't overstretch yourselves – the temptation with longer honeymoons is to do as much as possible, which can leave you feeling like you're spreading yourselves a bit thin. Obviously,in addition to Tokyo, one of the biggest draws is Kyoto, and it is worth spending a couple of days here to take in the temples. I spent a month on Kyushu and loved the island – it is a bit of a trek south, but you can fly there or catch the train down, and the scenery is really something special. Or, for something pretty different, you could fly to the beautiful subtropical islands that make up Okinawa – very different to the mainland, and quite off-the-beaten-track for Western travellers, but very special. I'd also really recommend factoring in some time for a stay at an onsen (hot spring) resort – they're great fun. This is obviously only a tiny selection of places that you could visit – I'd definitely recommend chatting to a tour operator about where you could go in order to get some further ideas and help (and you're under no obligation to book with them, which helps if you want to do things independently).
I hope this helps at least a little bit – it's a really exciting country to travel in, and will be a fantastic honeymoon destination. And of course, do let me know if you need any futher help!
Photo courtesy of Raul Garcia