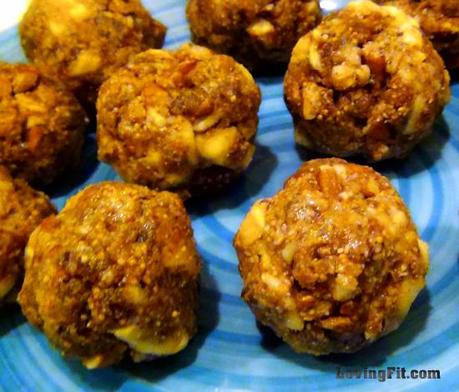 I always try to come up with creative ways to eat my food, but I don't like to spend a lot of time in the kitchen.
If you've been reading my blog, you know I don't like to count calories because I believe in a different approach to nutrition.  Anyone can  lean and healthy without complicated numbers, we just have to learn about the food we eat.
In this recipe I only used 4 ingredients and all of them are packing nutrients. These snack bites are very filling, this is also a great snack an hour before your workout.
One of the ingredients I used are Figs, they have amazing nutritional profile. This little fruit is a great source of vitamin K, Calcium, Iron, Magnesium, Phosphorus, and Potassium.
The Ingredients:
Dried Figs – 7oz ( not pitted )
Dried Apples – about 3 oz ( no sugar added )
Cashew Butter – 3 large tables spoons
Pecans – a hand full

 

 

Chop the figs and the apples into small pieces ( as small as you can get it ).
Crush pecans with your hand, they should be in small chunks. Place everything in a bowl, now add the Cashew Butter like this:

 

 

Mix everything well with your hand. If you have a food processor you can blend everything together before adding pecans, but I like to taste my ingredients so I don't use the food processor.

After mixing  make the mixture into round ball shapes. Refrigerate for one our. Enjoy it with a glass of Almond Milk or any milk of your choice.

 

PS – after I made this recipe I thought of adding Cinnamon ( next time  ;) )