My youngest and I have planted a few too many beets this year.  They have really taken off and many are ready for harvest. I am not sure what I am going to do with them all as I think I do prefer cooked beet greens to actual cooked beetroot.  In the summer however, this raw beetroot salad is definitely the way to go, it is delicious.  My family and I discovered this recipe a few summers ago.  I can take zero credit for, but rather give all credit to 
Jamie Oliver
.  I highly recommend it, even my girls enjoy it.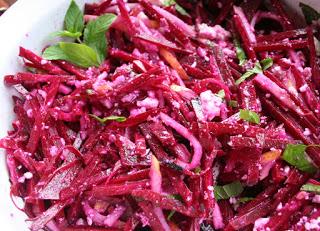 Ingredients
Salad:
4 medium sized beets, peeled and cut into matchstick pieces (a mandolin is helpful here)
1/4 cup minced fresh mint
1/3 cup crumbled goat, sheep or cow feta cheese (optional, but tasty)
1-2 ripe pears cut into matchstick pieces*
Dressing:
1 lemon juiced
1/4 cup olive oil
1/2 teaspoon sea salt
fresh black pepper to taste
1-2 drops stevia (optional)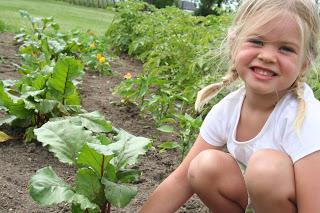 My youngest pulling up some of her beets
Directions
In a medium size bowl combine beets, mint, feta and pear (see note about pears)
In a small bowl combine all dressing ingredients and stir to fully mix.  
Pour dressing over salad and serve or let sit 1-2 hours in the fridge to allow flavours to combine.
*if making this salad ahead (more than 2-3 hours) I leave the pears out until close to serving, as they can get kind of mushy if left too long in the dressing