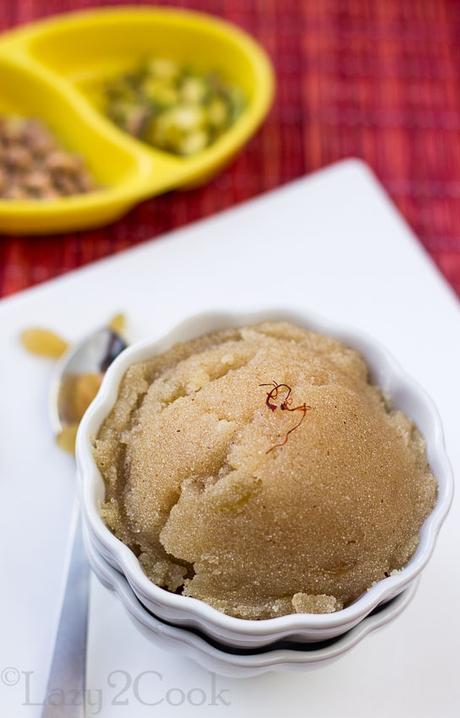 Rava Sheera or Sooji ka Halwa,A very traditional sweet made from Semolina in every state of India with little different names.The name of the dish is vary from region to region. In western part of India, it is known as sheera. It is called halwa in Northern part of India,while the name rava kesari is from South India.
This Rava Sheera is very easy and quick to make. The ingredients are very common and all of them are in pantry all the time.Its one of those easy sweet recipes which comes together quickly and requires only a few ingredients like Rava(Sooji/semolina), Ghee (clarified butter), Sugar, dry fruits and some cardamom powder for flavoring.This halwa will be ready in few minutes. You have any unexpected guests, make this sheera in no time and impress them.
It is traditional auspicious dish of India like other Sweet Dishes Puran Poli , Ukadiche Modak , Khawa Modak, Fried Modak , Gulab Jamun , Besan Ladoo and many more. On any religious occasion whether it is God's puja or Satyanarayan katha, it is made in every household.Satyanarayan Prasad is very famous in Maharashtra and it is made in similar fashion and Some people even add Banana to it.After the prayer or puja, sheera is offered to God. This sheera is offered in small cups as a prasad to guests. Very tasty and healthy too!
Roasting Rava or Semolina is important step to have nice texture and color.Today, I made sugar syrup and added to Rava.But sometimes I add powdered sugar when all the hot water is absorbed by Rava.You can make both ways.Taste don't change and its delicious always!!!
If you want to make Sheera for your kids, adding milk is the best way and it becomes very soft in texture.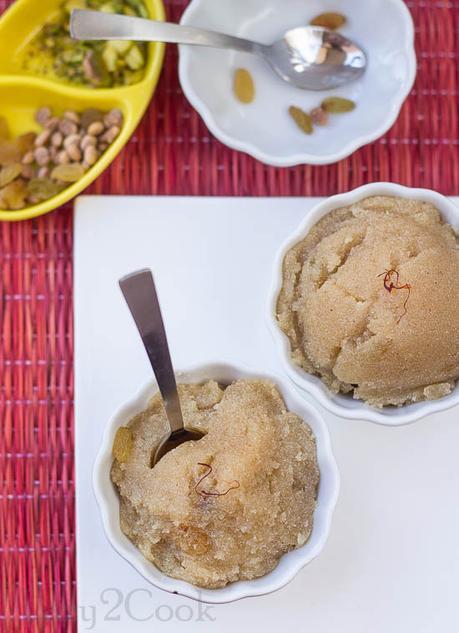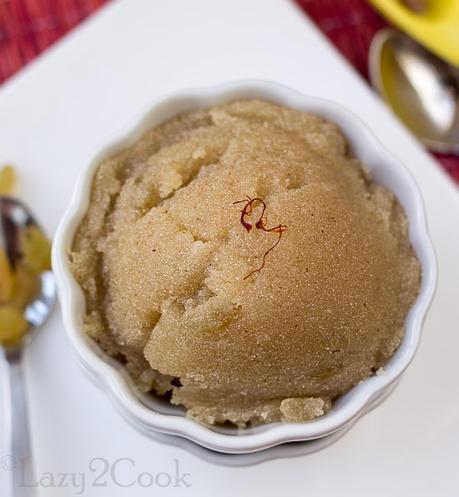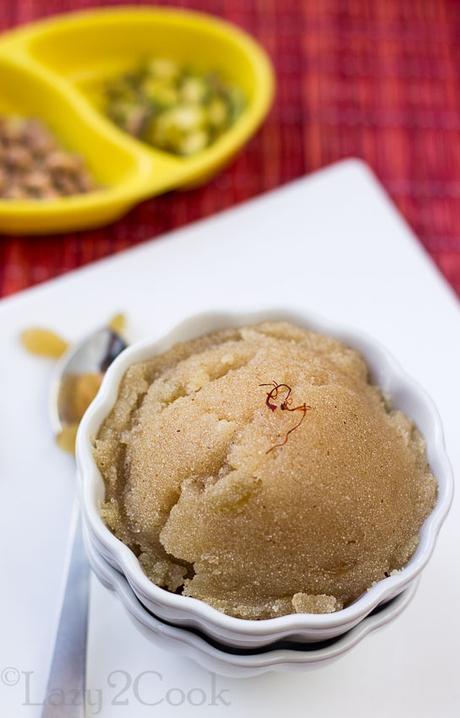 Rava Sheera or Sooji ka Halwa is very traditional sweet made from Semolina in every state of India.Rava Sheera is a special Prasad of Satyanarayan Puja.

Prep Time:Cook Time: Total Time :
Ingredients
Preparation
1.In a deep, heavy based sauce pan, add 1 tbsp ghee and roast cashews till golden brown.Take them in bowl.
2.Put saffron strands in 4 tbsp lukewarm water for few minutes.
3.Add remaining ghee in pan and add the sooji. Stir fry over low heat and keep stirring so it should not burn.
4.At the same time in another pan dissolve the sugar in the water over low heat and keep on simmer, till boiling point.
5.When the sooji is a light brown and gets a glossy look , add raisins and roasted cashews.
6.Add sugar and water solution along with saffron water to the sooji.
7.Add cardamom powder and stir the mixture it all the liquid gets absorbed.
8.Switch off the flame and garnish with dry fruits.