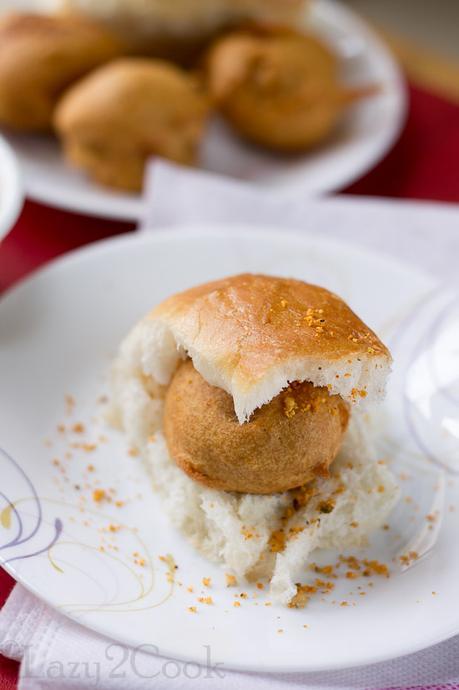 My weekend was different than always, because this weekend I did not bake anything not cake,cupcake or pizza or bread.It was very traditional and typical Vada Pav Day.I have never thought that I could make Vada Pav at home, because as usual we go out to eat Vada pav just like pani puri.

I have started my new job and did not get much time to execute my lazy cooking in very hectic days.So this weekend we did not go out and just made lots of Vada Pav.Surprisingly my kids also enjoyed Vada Pav, because I keep telling them ,this is new kind of burger ;-)With Pada Pav,some hot and spicy chutney should be there.So, I have made Dry Garlic Chutney and sprinkled on Vadas.
Vada Pav is very popular and staple Mumbai street food.We also call it as Desi Burger.It is such a food that, we may say as a snack or some people live only on Vada Pav in Mumbai. It used to be "poor man's food".
Vada Pav is favorite of everyone right from a child to old people.Eating Vada Pav with cup of special Tea in Monsoon days, is like a treat.We can make Pav at home also, but in India we can get Pav very easily in any bakery shops.I have eat jumbo size Vada Pav always.It is quick snacks outside of colleges,schools,offices,stations and many more.
I have seen chain shops of Vada Pav , 'Goli' just like McDonalds.I feel very proud that our people also started modernized food chains with traditional Vada Pav.Vadas are deep fried potato savory and pavs are bread. Vada Pav is served with two kind of chutney, dry red chutney and fried chilies.

I have many memories of Vada Pav , mostly during Travelling.We can find Vada Pav in any city or town, take a break during travel and grab one Vada pav with a cup of Tea.It will satisfy your hunger for long time.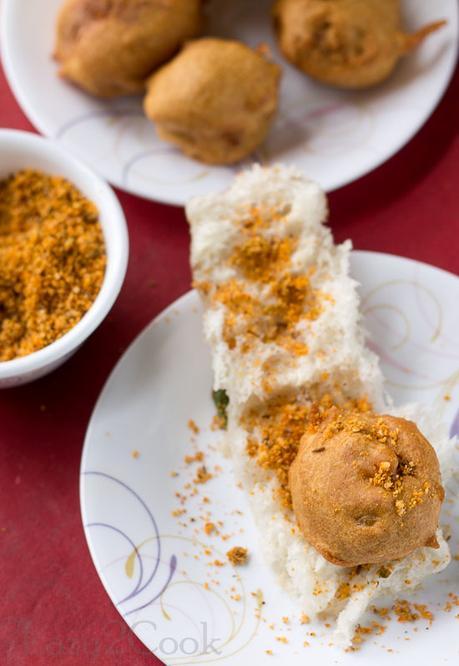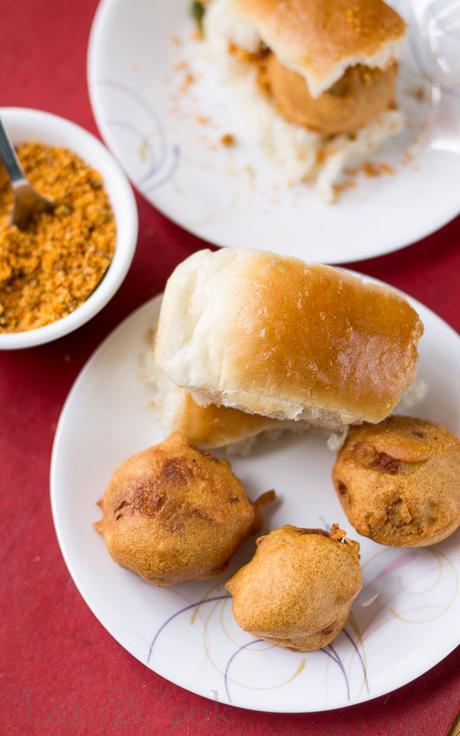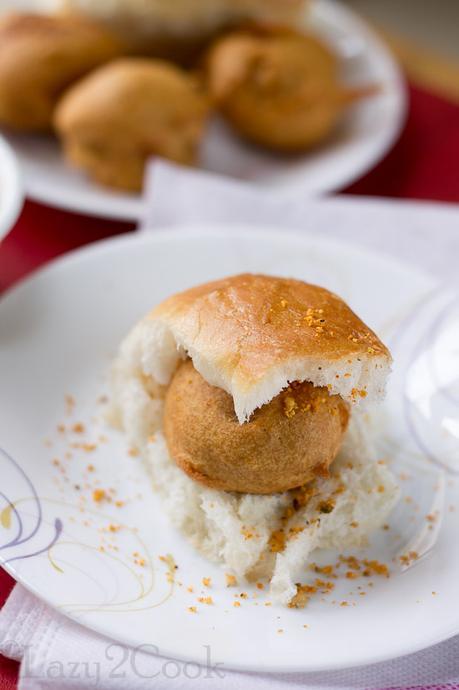 Vada Pav is one of the most popular snack food of Maharashtra.It is easy to made and tasty with all kinds of chutney.

Prep Time:Cook Time: Total Time :
Ingredients
3.Add mashed potatoes and mix thouroughly.Add lemon juice and salt. 4.Garnish with coriander leaves.Keep this potato mixtureaside for cooling. 13.Slit the pavs horizontally without cutting through, spread the Preparation
1.Grind together green chillies and garlic to a paste.
2.Heat oil and add Asafetida,turmeric powder and garlic-green chili paste.
5.Mix together gram flour, soda bicarbonate, turmeric powder, red chilli powder and salt in a bowl.
6.Divide into eight equal portions and roll them into balls.
7.Mix together gram flour, soda bicarbonate, turmeric powder, red chilli powder and salt in a bowl.
8.Heat 1 tbsp oil and add it to the gram flour mixture.
9.Add sufficient water and whisk to make a coating consistency batter.
10.Heat sufficient oil in a kadai for frying Vadas.
11.Dip the potato mixture balls in the batter and deep fry in hot oil till golden brown in colour.
12.Drain on an absorbent paper.
Dry Garlic Chutney on the inner sides of the pav and stuff it with hot vadas. Serve hot.