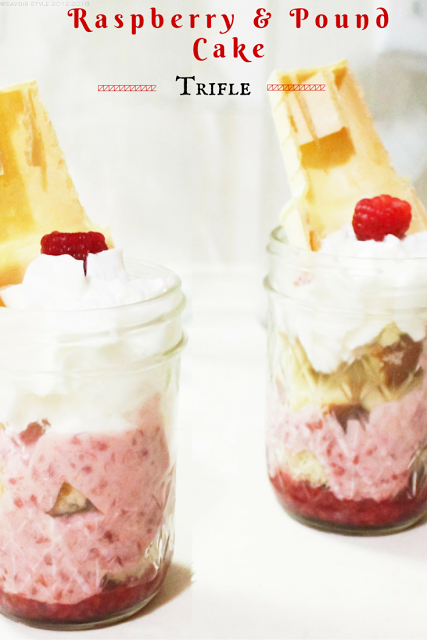 This Trifles are a household favorite since it has cake and berries, both a major love of our family. This Recipe is super easy to put together if you have some pound cake leftover or you can use store bought Pound Cake or bake one from scratch. You can also prepare the Pound cake and Raspberry Sauce ahead of time and quickly assemble it in time for a party.
3 Cups Raspberries (2 Cups for the Raspberry Sauce, 1 Cup for Decorating)
1/2 Cup Sugar + 1 Tablespoon Sugar to Coat the Raspberries you will use for decorating (Adjust based on how sweet the berries are)
1/2 teaspoon ground nutmeg
1 tablespoon lemon juice
2 lb Vanilla Pound Cake (cut in 1 inch cubes, I use this recipe from Martha Stewart)
1 Cup Whipped Cream
1 Cup White Chocolate Curls
4 Ice Cream Cones (Cut in Half)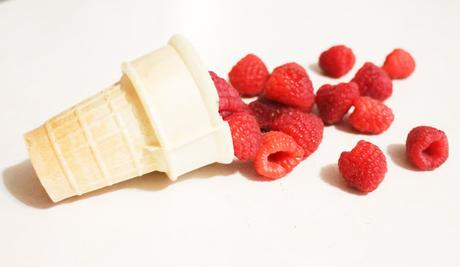 For the Raspberry Sauce - Bring 1/2 Cup of Water to a Boil in a medium sized pan. Add the Raspberries, 1/2 Cup Sugar, nutmeg and lemon juice. Bring it to a boil and let it simmer for 5 minutes. If you like a smoother consistency, process the sauce in a food processor. I used it as-is in the Trifle. Store half of the raspberry sauce separate to mix in with whipped cream made in the next step.
- You can use the For the Whipped CreamReddi Wip Whipped Topping available at any convenience store or if you have a whipped cream dispenser at home, Whip 1 cup Heavy Cream, 1 tablespoon sugar and 1 teaspoon vanilla extract in a large bowl until peaks form. Divide the cream in half and mix one half with half of the raspberry sauce.
For the White Chocolate Curls - Slightly soften a 3 to 4-inch chunk of chocolate in the microwave on medium power. Scrape the softened chocolate using a vegetable peeler, to create pretty, delicate curls. Refrigerate the curls until ready to use.
For Assembling the Trifles - I used 8 oz Mason Jars. Add 1 tablespoon of the Raspberry Sauce at the bottom of the Jar and then place 5-6 cubes of the Pound Cake on Top of it. Top it with the Raspberry + Cream Mixture made in Step 2. Top with 5-6 Cubes of Pound Cake and add more of the Raspberry + Cream Mixture. Refrigerate for 1 Hour. When ready to serve top it up with white chocolate curls and the whipped Topping.