Well this post was meant to be put before Diwali,but was unable to do so.
A very Happy and Prosperous Diwali to all!!!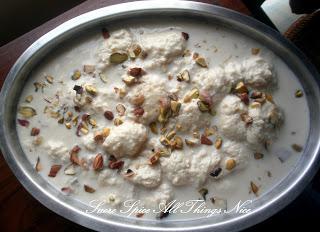 Diwali is an Indian festival of lights and the beginning of New Year and is celebrated by lighting diyas and lamps ,fireworks and rangolis. Rangoli is an Indian art form  where designs are made on the floor with powder colors and flower petals and is considered very auspicious.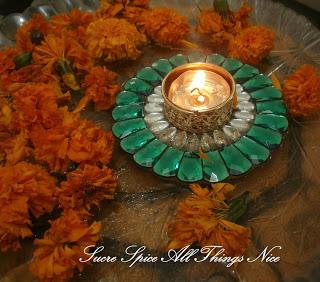 Diwali is also a time for some traditional sweets,though its fast changing now.
Ras malai is a traditional India sweet made primarily with milk.Small balls of paneer are soaked in thickened flavored milk.
Since one is always pressed for time at such occasions,I made rasmalai on  popular demand with a little short cut and used ready made rasgullas.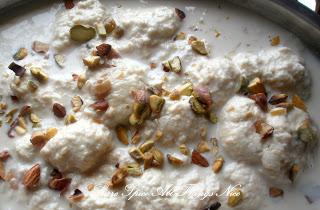 Ras Malai

12 Rasgullas
8  cups of Milk
1/2 cup of sugar
3-4 crushed green cardamom
A handful of Almonds,Pistachio- roughly chopped 
a big pinch of Saffron.

Drain out sugar syrup from the rasgullas.
Soak Saffron in 2-3 teaspoons of milk.
Boil milk on high heat.Thereafter cook the milk on medium heat till it is  reduced to half its quantity.
Keep stirring and scraping the sides or else the milk gets burnt.
When milk starts to thicken add rasgullas and cook for a few minutes more.Add half of chopped almonds and pistachios and green cardamom.
Take it off the heat, and cool for a few minutes before refrigerating it.
Garnish it with remaining nuts and serve it chilled.
Ps  Scrapping the sides is what makes the milk/rabdi thick so please dont forget to scape it well.