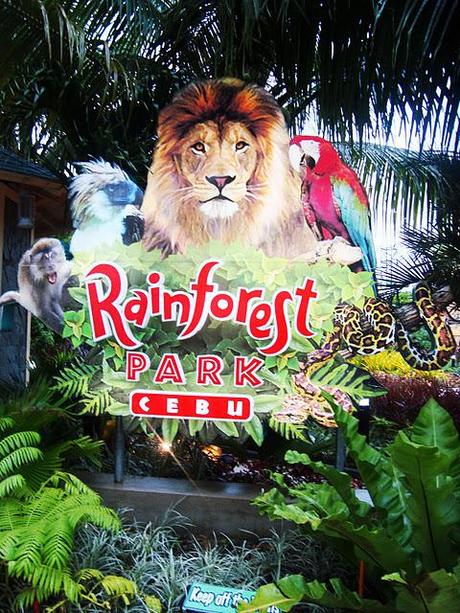 Every time your birthday come up, you always want it to be perfect. Right? Like any other child in the world, my sister want to spend her birthday just the way she plan it to be. So she plan to go to Rainforest Park for her big day. I can still remember how noisy she is about going there when it open for public. Because its her B-day, we gave in to her wish.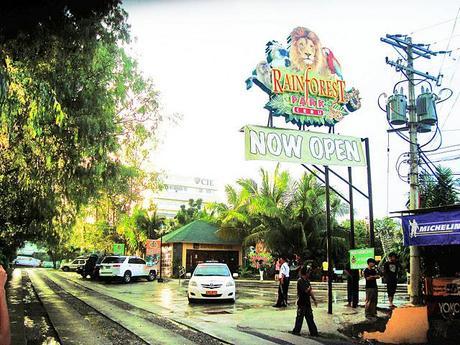 Rainforest Park opened to the public just this August. That makes it quite new.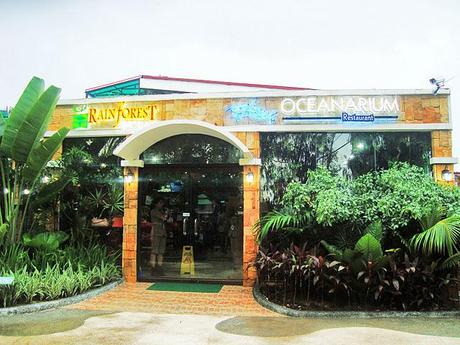 Upon arriving in Rainforest Park, you can see their gift shop and Oceanarium Restaurant right in front the main entrance.  Rainforest gift shop has a number of souvenir items you can choose from. Their Oceanarium Restaurant which is  adjacent  to the gift shop, house the wall-sized aquarium which you can enjoy while having your meal. Unfortunately we were not able to go there. There was a private party going on there at that time.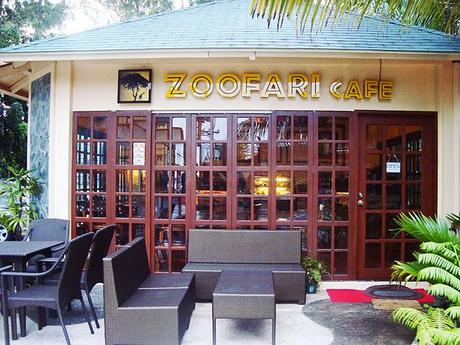 While your there, you can relax and sip a cup of coffee in their Zoofari Cafe.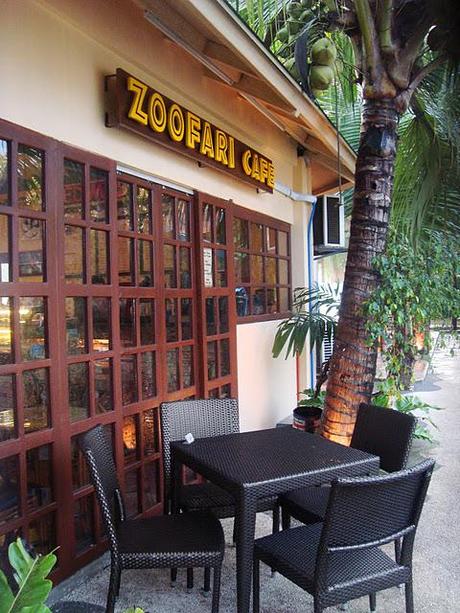 If it happens that there are no more chairs available for you outside, and you really want to sit outside, try looking at the other side of the Cafe. A table good for 4 person is waiting for you.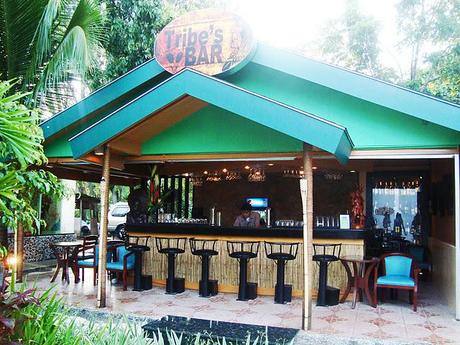 If you love drinks, I'm pretty sure your also gonna love it here. Tribe's Bar is a cool place to hang out for beer, wine, cocktails, etc.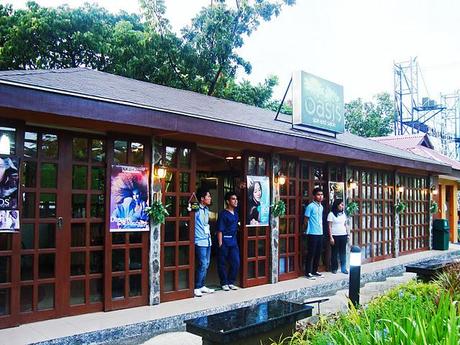 I'm so surprise when I found out about their Oasis spa and salon. I really thought all I would see here is the safari-like adventure they offer. Awesome! You can enjoy your spa and salon while living your child or little sister play in the Jungle Adventure.:)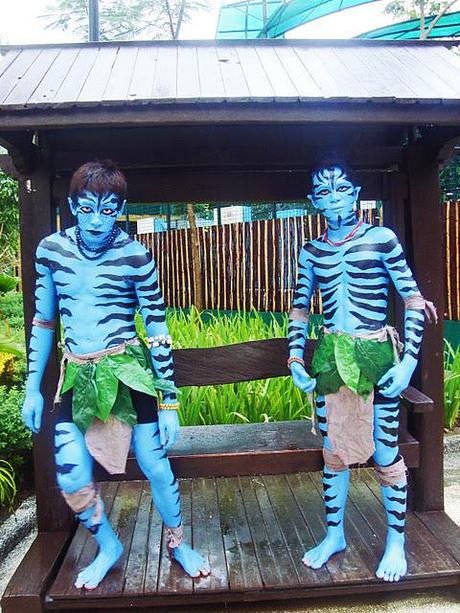 These two are so cute! Saw them on our way to Jungle Adventure. :)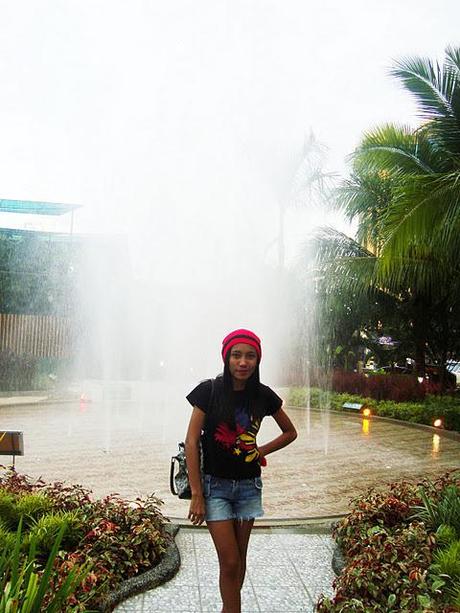 This floor-stimulated fountain is also one of their attraction.It turns on when you get nearer the fountain area.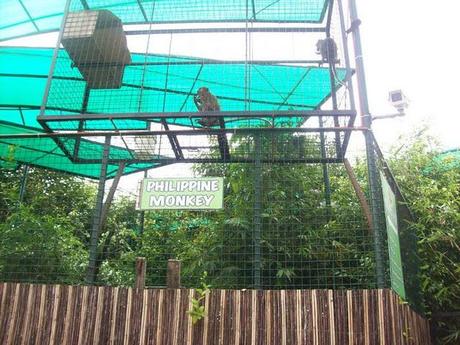 Rainforest Park has also these Monkeys for children to see. I'm sure kids would love this.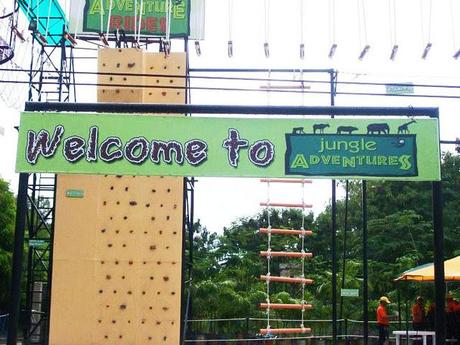 Now this is what they call Jungle Adventure. From climbing the wall, walking in a hanging wood to walking through hanging ropes and so much more. It just spell E-X-C-I-T-I-N-G! This is the reason why my sister really wanted to go here. She wants to try all adventures in here. Who wouldn't? I myself wanted to try it when I saw this.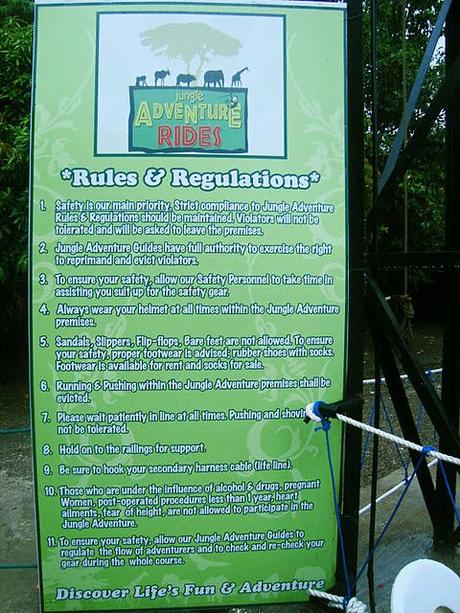 Here's some Rules and Regulations for your safety, before you try the Jungle Adventure.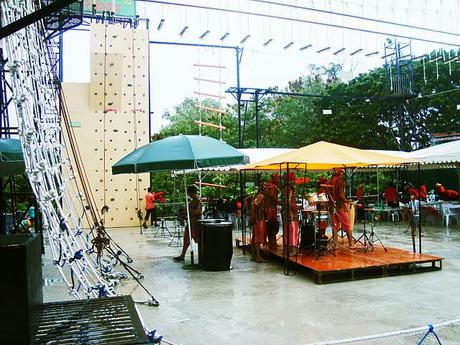 Unfortunately, the Jungle Adventure was close to the public when we get there. Again, another private party was being held. Hmp! I'm disappointed. We really didn't do anything, except roaming around the Rainforest Park.  Their Tarzan house, which I wanted to see, is still under construction. There's nothing left for us to do but to go home. Better luck next time.  Piece of advice for everyone who wants to go there, call their office first. That way, you wouldn't waste your time and effort. 
Jungle Adventure Rates:
          Individual = P250 / Hr                             = P500 / 3Hrs.      
Barkada Treat Packages:
          Barkada for 5 pax + 1 pax (free) = P1,250 / Hr.                                                               = P2,250 / 2 Hrs                                                              = P2,500 / 3 Hrs.
          Barkada for 10 pax + 2 pax (Free) = P2,500 / Hr.
                                                             =P4,500 / 2 Hrs.
                                                             = P5,000 / 3 Hrs.
How to get there: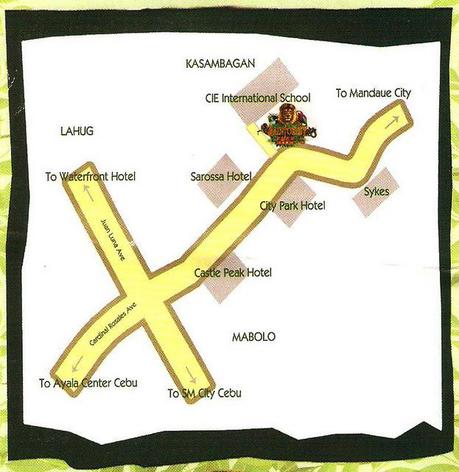 For those of you who still doesn't know how to go there, I'll provide you with this cute map. :) The only jeepney that pass through the area is 03A bearing a sign "Panagdait, Mabolo". You can see a lot of 03A in Colon (downtown Cebu). If you don't want to take jeepneys, and have a lot of spare money for taxi, then go for it.  
Rainforest Park Cebu is open Monday - Sunday (9AM-11PM). NO ENTRANCE FEE.
For more inquires:  Call:  (032) - 266-3246 Telefax:  (032) - 239-0350 Email:
[email protected]