Hey guys! 
I'm so happy that I'm getting back into doing gradients. I really wish I didn't wait so long to go out and buy more cosmetic sponges because I honestly forgot how much I loved this technique. It's so versatile, there are so many different things you can do, radial gradients, vertical, horizontal, spot. The list goes on! I'm sure I'm probably boring you guys with my rambling so let's get on with the real reason you guys are here... NAILS!
Okay I started this look off by applying hole reinforcement stickers at the top of your nails near the cuticle. Then I placed a piece of tape over the small hole in the stickers so that no polish would leak through there. Then I applied my polishes to my cosmetic sponge to create the gradients. The colors I used were: Essie Boom Boom Room, Lime Crime Peaches <3 Cream, Lime Crime Crema De Limon, OPI You're Way Outta Lime, and Essie Rock The Boat. I sponged on the gradients, peeled off the stickers and applied a layer of H&M Jo is in the House over just the gradients. Then I outlined the top of the half moons with OPI This Gown Needs A Crown. I sealed all of that in with a coat of Seche Vite and finally added a heart rhinestone to each nail.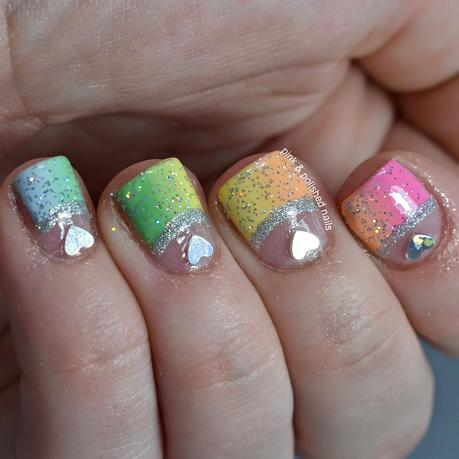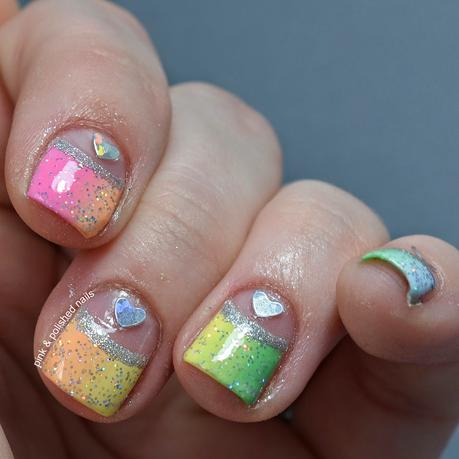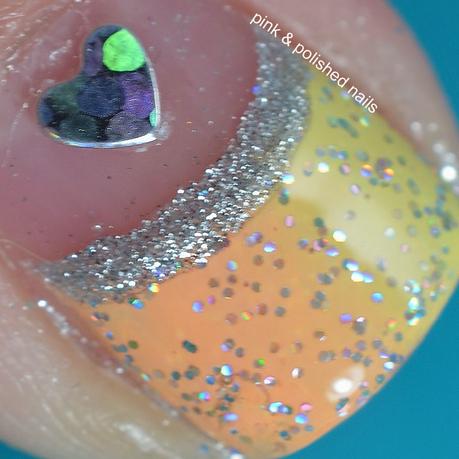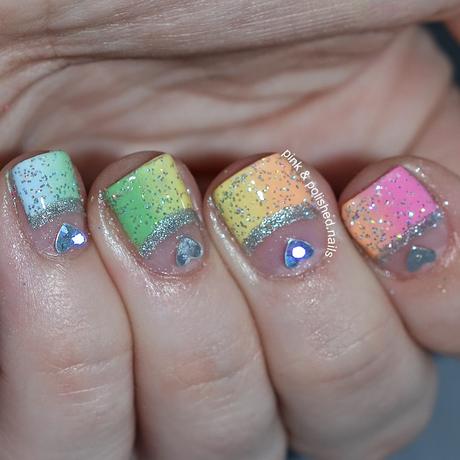 These took FOREVER! But it was so worth it because I'm obsessed with the outcome! It's so girly and sparkly and just so many things that I love. They make me think of spring time and warmer weather and right now that's just what I need ;) 
Keep an eye out on my Instagram and YouTube channel for tutorials on this look a little later today!
What do you think guys?
Thanks loves :)