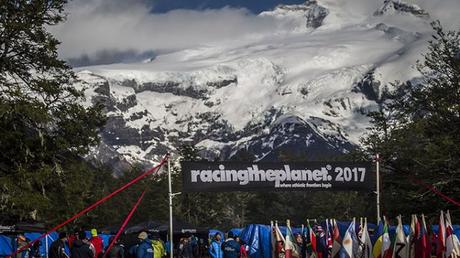 Stage 5 of RacingThePlanet: Patagonia, The Long March, concluded at 9:23:52 friday morning with Taisuke Sawamura of Japan crossing the finish line into camp. The two-day stage included rain with some snow and sleet throughout the day and night. There were some gusts of winds, but overall it was the cold and rain that took its toll.
Competitors went through narrow trails, across freezing cold rivers and up steep hills as they passed through the seven checkpoints. There were spectacular trees lining the course throughout the 73 kilometer stage. Competitors were rewarded with a hot cup of chocolate and a campfire mid-way through the stage. At the finish line, there was a special heated tent where competitors could dry off and recover before heading to bed.
The top three overall for the stage were: Neill Weir of Northern Ireland in 7:34:10, followed by Romain Maria of France in a 7:41:25 and Ralph Crowley of the United States in 7:51:23. The top three women included: Sarah Sawyer of the United Kingdom in 9:45:09, Magdalena Paschke of Germany in 10:21:24 and Claire Heslop of Canada in 10:39:03. The team leader for Stage 5 was Team Huey, Dew and Lewy in a time of 10:37:34.
Stage 6, the final day was a short seven kilometers along a dirt track and over a river with multiple waterfalls. Competitors ran down a final staircase to reach the finish line at the spectacular Black Glacier - an aqua color lake surrounded by snow capped mountains.
Final Results for RacingThePlanet: Patagonia 2017 and awards:
Men
1) Neill Weir - Ireland - 20:59:23
2) Ralph Crowley - USA - 21:38:31
3) Romain Maria - France - 21:45:48
20-29: Gauthier Cart - France
30-39: Richard Bray - New Zealand
40-49: Iulian Rotariu - Romania
50-59: Willy Roberts - New Zealand
60-69: Christopher Squire - Canada
70+ Yoshiaki Ishihara - Japan
Women
1) Sarah Sawyer - United Kingdom - 27:10:24
2) Magdalena Paschke - Germany - 28:02:25
3) Claire Heslop - Canada - 28:51:01
20-29: Tayla Ridley - USA
30-39: Rhianon West - United Kingdom
40-49: Chizuru Inoue - Japan
50-59: Luisa Balsamo - Italy
60-69:Elizabeth Tod - Canada
Winning Team - Huey, Duey and Luey - 27:13:41
Letterle, Kenneth
Petelin, Brandon
Reader, Garth
Second Place Team - The Inconceivables - 32:15:54
Hogan, Mick
Hogan Edwards, Fergus
Hogan Edwards, Kate
Third Place Team - Hell on Heels - 33:28:42
Mokhtari, Ash
Bessett, Jesse
Nanka, Colin
Spirit Award
Moo Woong Lee
Sportsmanship Award
Iulian Rotariu

Links
Website: RacingThePlanet: Patagonia
Facebook: Racing The Planet Ultra
Multidays.com The home of multiday running news and events.