SO yesterday...I did a thing.  You know...nothing much.  I just ran a freaking half marathon.  My first since the epic terribleness of my stress fracture of 2014.
Running has not been an easy journey for me this past year.  More like hill training where there is only uphill.  It's been a battle.  It's been hell.  I cannot find the run love.  But I'm working on it.  I know it's there - it's just covered by 30 some extra pounds and a whole lot of solo time.   But it's there.
I first registered for Harvest Half Marathon for a number of reasons.   I wanted to force myself back into a training pattern and build some consistency with my running.  I figured if I paid the money and knew the distance was coming, I could make myself run regularly.  It pretty much worked...for weekends anyway.  I've run this race twice before: here and here.  I knew what to expect.  I knew it would be pretty.  And cooler than summer.  But probably still pretty nice.
But training didn't come without challenges.  I was wearing the shoes Dr. Dale told me to...and I was running 9 min/km and not improving.   I missed my Kinvaras.  Finally, Tina and I figured out a shoe that would be more like my Kinvaras but with the cush I needed now.  I bought myself some Saucony Triumphs and suddenly sped up...a bit.  It was like the Wave Riders just didn't have enough room in the toe box for me to spread out my toes and really run.  Unfortunately, this was only a month ago.
And then I got a cold a couple of weeks ago and ended up not running for two of the three weeks before my race.
But still...I was ok.  I was ready.  I didn't have a goal.  I knew I could be looking at a time of up to 3:30 and I was ok with it.  I just wanted to finish.
After all - this little thing I found on Instagram says it best...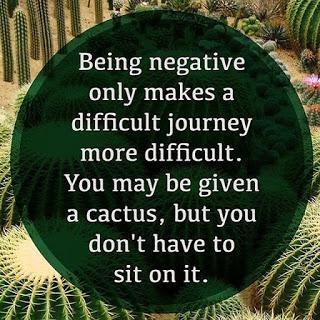 There would be no cactus sitting in this race.
Even with the weather...no cactus sitting.  Pretty sure cacti don't grow in these conditions anyway.
Yeah - those blurry swirls in front of the light...that's snow.
Friday it was warm and 20*C.  Saturday it was 2*C and snow.  And rain. And holy hella wind.    It's ok.  No cactus sitting.
I got to the mall at just after 7 and popped into McDonalds to use the bathroom before heading over to Mid-Sun Community Centre and the race start.
Boy was I ever happy I grabbed my winter running coat and hand warmers on the way out of the house!
I quickly located on of my Best Running Bitches, 
Tina
, in the gym of the community center.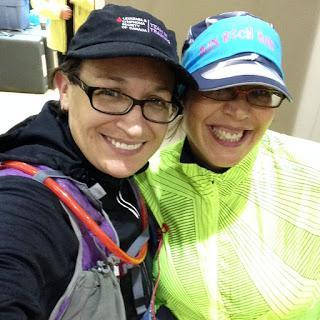 Everyone was packed inside to stay warm as long as possible.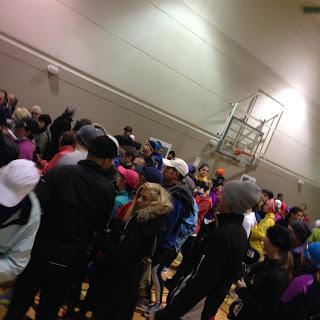 And then we were found by
Leana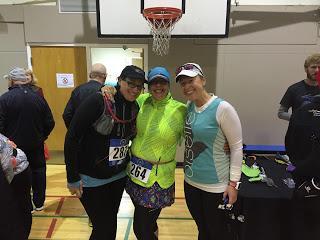 Leana was dedicating her miles to a local blogger, Jen, who recently lost her life far too soon in a hiking accident. I think in our own ways, whether stated aloud or not, most of us local bloggers have probably been doing the same lately.  I never met her in person, but I was one of the first bloggers she had contacted when moving to Calgary and always felt a kinship with her.  I'm sad I was out of the running community for so much of her time here.  She was one of my favorite local bloggy "friends".   If anyone would like to contribute to the memorial fund set up in Jen's Memory,
click here
.
Ok - sadness aside, back to the race...
Soon it was time to leave the nice warm gym and head to the start line.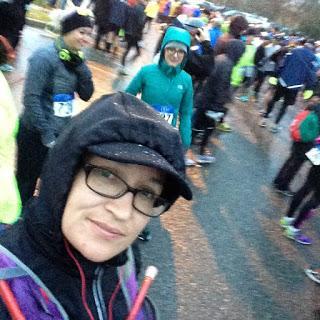 Here was my race plan.
Run alone
Ignore the world
Be invisible
One foot in front of the other
Finish before the course closed
There were some other group pictures taken before we headed out, but I somehow got cut out of them.  My invisibility goal was working out already.   I put in my earbuds and started to move with the crowd as we poured onto the street.   Sophia had paced herself with me and said she'd like to start with me so she could hold herself in check pace wise...since we all knew I was going to be slow.  So, I removed my earbuds (and lost a Yurbud cover) and resolved to be sociable...something I haven't had to be all training cycle.  I'm afraid I'm not very good at the "talk and run" thing anymore.  I'm much better at the "head down, git 'er done" thing.  Talking takes a lot more air from my lungs.
But we chatted away.  I had never really run with Sophia before and we both have 6 year old kids so no shortage of topics to talk about.   
Down the big hill at the start...before the 5k of climbing....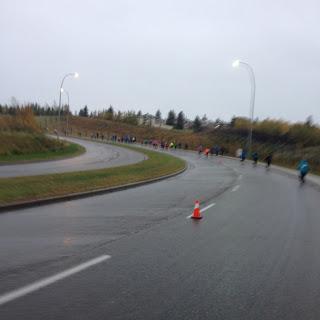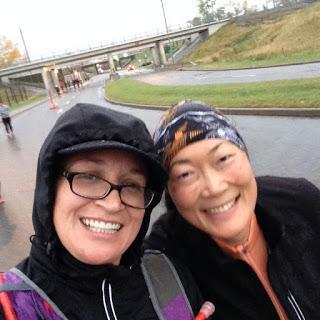 And so we plodded on.  Slow and steady.  Sophia is nursing a bout of Plantar Fascitis so needed to keep her pace in check.   I, well I was just slow.  It was cold.  We kept going. At least the wind was somewhat shut out.  That 5k of climbing at the start is hard.  And I have no hills to train on during the week so I was walking a bit more than running...just trying to power up until I could run down into the valley again.
Finally, it was time to leave the streets and enter Fish Creek Park.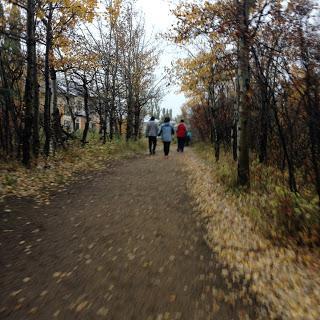 Check out the snow on the bridge...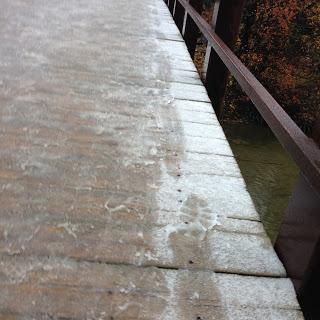 and don't we look cold (and blurry)?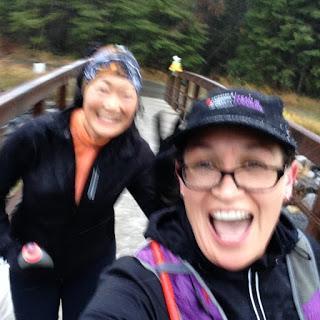 As we approached 7k, I saw a trio of people at the bottom of the hill...one of them in an obnoxious yellow puffy coat.  I quickly said to Sophia "Is that
Keith
?"  and sure enough it was...along with Michelle and Amy.  Nothing quite as happy-making as seeing friends come out in miserable conditions to cheer you on!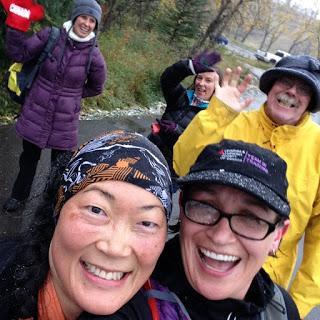 and here's a shot I stole from Keith's blog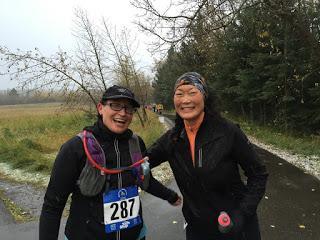 We only stayed long enough for a hug and a laugh and then we carried on.   Hopefully they went home shortly after to get warm again.   it was really cold down there in the park!
Even in the cold - Fish Creek Provincial Park is always so pretty, with it's valleys and bridges and forests and grasslands.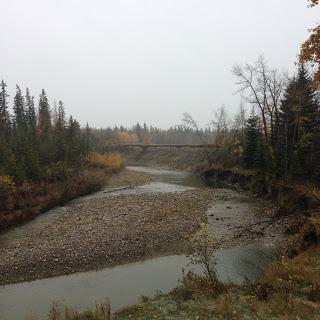 If it had been a nicer day - this post would be major pretty picture spam.  As it was, though, my hands froze each time I stopped to take a picture so it was just better to keep moving.
At an hour, I took a gel.  I was determined to stay fueled for this whole thing.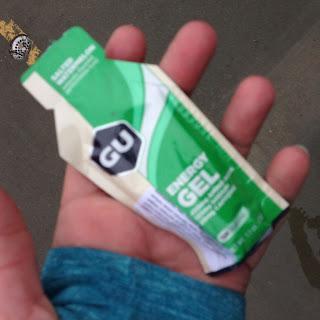 At 10k, we took a pit stop in a lovely heated washroom.  Thank you fish creek for your heated washrooms and flush toilets!
And then - it wasn't long before we could happily announce we had passed the half way point!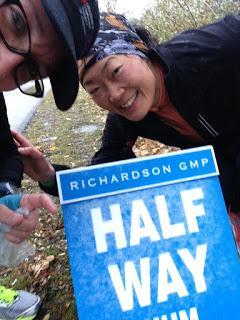 As we passed Macleod Trail, I started to regale Sophia with tales of my time working in the memorial Forest and gave her the tour from the pathway.   My trees looked amazing out there.  So tall and grand.  Hard to believe I cared for them when they were only a foot high!  And sorry, no photos...too cold.
Once we were past Glennfield, the land flattened out and became a bit drabber.  It's still pretty, but more grassland pretty...and not as pretty when everything is wet and frozen.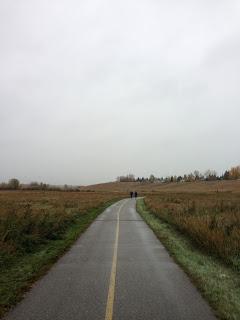 But we were hanging in there.  At that point, we were pretty much on track for a 3 hour finish...which wasn't half bad.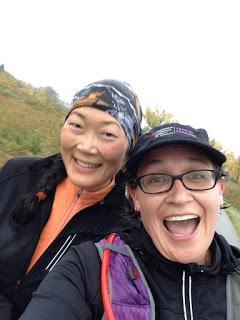 At the Ranch, we made another pitstop...unfortunately, this stop was a bit further off the path than we thought so our time suffered.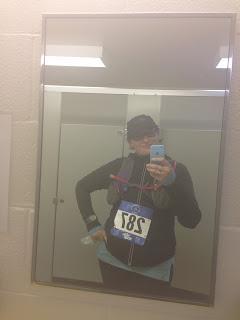 My phone was so fogged up in the heated room.
Once we were back on the path again - it wasn't too much further...only 6k left to go and we were practically at the hell hill at Sikome.  Right before we hit it, my lungs seized up and I started to cough.  First cold-induced asthma attack in years.
We power walked the hill and, as soon as we were ejected onto Sun Valley Blvd - the wind that had been so much in check through the shelter of the park, hit us full force.   It was unbelievably cold.  So, no more photos until the end.  We were in official "plod and get it done" mode.  I was still having trouble breathing so I wasn't particularly talkative.  
I did start to joke with the course marshalls that I didn't see anyone in front of us so we must still be in the lead.  If nothing else, I made myself giggle with that one.
As we wound through the pathway of Midnapore, I amazed Sophia by pointing out all of the sunken trampolines (we counted at least 5) and soon, we were in the homestretch...one more curve and we'd round a hill and it'd be right there...the FINISH LINE!
Of course - we were so long in getting there that they had packed it up...at least the timing mats were still in place.
Official time: 3:12:20
Beat that 3:15 I had been expecting!
They gave us our medals and we rushed to the warmth of the gym and post-race snackies.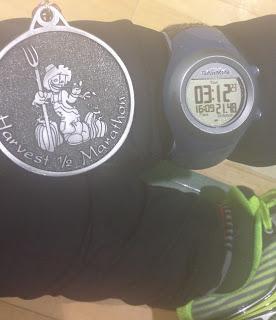 I immediately grabbed a chocolate milk, granola bar, yogurt tube and hightailed it to the middle of the gym to stretch and eat while Sophia socialized.
I was soon shivering uncontrollably and knew I needed to get out of my wet clothes.  So we headed out and walked the block and a bit to our cars at the mall.  
I seriously had to wrap myself in my chawel and sit on my heated seats for half an hour until my fingers moved well enough to get changed.  I did make getting my Lily Trotters compression socks on a priority...it wasn't easy to do with frozen hands but I think my legs appreciated it.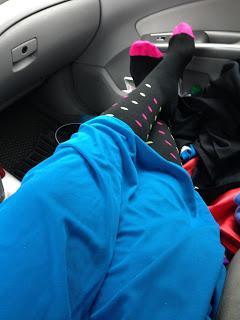 So, in retrospect...am I glad I ran it?   Sure.  I needed to get back out there.  I didn't break.  It will build confidence.   Would I have been faster if I'd been alone?  I can't say either way.  I'm sure the talking made this much harder than it had to be but it was nice to have company along those miles.   
Did I sit on any cacti?  Silly goose - we don't have cacti in Calgary...well, only in potted plants.   I wasn't negative.   I just kind of feel dead inside about the whole experience.  No good feelings.  No bad feelings. Half mara #14 was just 13.1miles done.   It has helped me define what i want in the future, though.  I want to speed up and I want to build more confidence.  The pains under my knees as I write this are far worse than any muscle aches.   I know I need to drop about 30-40lbs before I run another half...so a year of 10k races is probably in my cards while I do that.   I want to take the weight off of my knees, get faster at the shorter distances and enjoy the half marathon experience a bit more when I get back to it.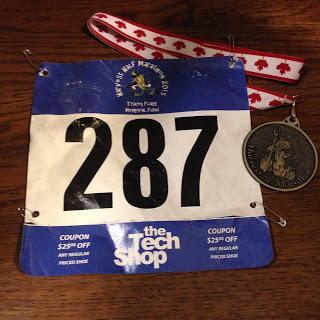 Until next time....