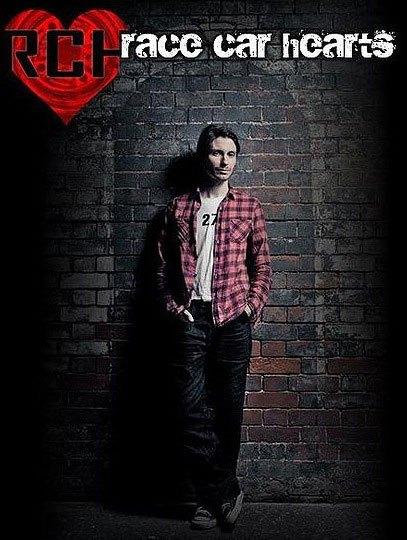 Race Car Hearts is the creative nome de plume for Portsmouth based singer/songwriter Chris Perrin. Having spent several years playing in rock and punk bands, as well as playing on the local Portsmouth folk scene, Chris has now ventured out on his own in order to establish his own unique sound, formulate his own style of writing and to perform as a solo artist. Chris has worked with a variety of different bands includingThirst which has helped Chris amass a strong and varied collection of songs. Chris recently teamed up with producer Greg Haver (Manic Street Preachers and Super Furry Animals) to record his debut album/EP Tender/Violent, released November 5th 2012 on iTunes and Amazon and it's also available to stream on Spotify.
The danger with an EP is that because it's the first step to establishing an artist, it can be a rocky road of finding out what works and what doesn't. However it can also be the thing that gives an artist their brightest and lasting showcase, highlighting their flare, creativity and, merging and emerging talent, that will grow in leaps and bounds. Tender/Violent is one of the latter. Chris Perrin's EP mixes excelled heartfelt songwriting with spot on and often haunting melody, with a rich folk sound full of character and pizzaz.
The first track on the list; Pins,  has a pleasant folk country grounding, bright and open but without being forceful. A little like early Script mixed in with the lightness of tone of Owl City, allocating a solid rhythm and toe tapping melody that leaves you wanting to sing along to the chorus. A little reminiscent of nineties American pop rock tracks (though that could be attributed to honky tonk finger picking twang of the guitar riff throughout) such as Eagle Eye Cherry, The Goo Goo Dolls, or even Deep Blue Something in terms of its depth. Pins doesn't stay the same way for long, peaking towards the end with echoing vocals and stripped bare bridge finishing with a cappella for a very successful affecting hook.
Better Kind has a stronger and similarly sounding British nineties indie-rock vibe reminiscent of Oasis, but with an even handed mix of natural instrument backing and computer dub, adding in a very likeable lyrical tone of The Kooks and Two Door Cinema Club; though a little less edgy than the latter. Better Kind deserves much credit for a full rounded rich sound, that tapers off into a  instrumental bridge that, rather than being just another of its kind, adds a depth of variety to the song that fits perfectly with the natural rhythm and quality of the lyrics that seem very closely reminiscent of the Plain White T's (whatever happened to them?!?).
Mother Midnight changes the feel of the EP completely going a little darker and a little more diverse as the tempo increases. With an opening melody that puts us in mind of the haunting melodies from R.E.M and maybe a little Morrissey (probably a little to happy for him though!). Chris 's heartfelt and purposeful songwriting is the real  hook here eg. 'I change my heart/I change my name/if only I could live with the change/when the change was made'. Golden. As for the opening hook fifteen seconds into a song: it only gets better from then on as the track goes on to mix up the musical quality and arrangement. The replacement of the upbeat guitar riff with a pleasing atmospheric mix of orchestral strings, piano and drums overlaid with echoing vocals and haunting backing sounds a little like Coldplay mixed with either The Verve or The Cure. The track constantly varies between stripping the bridge down to high hat accompaniment before building back up to the main phrasing or intermixing lyric with pure instrumental which gives the track an extremely cinematic tone.
Smells Like Teen Spirit becomes a completely different animal altogether, Chris turns the song on its head, stripping it right down to an acoustic guitar overlaid with lightly styled dubbed computer synth. He turns it away from the anthem-ic teen rock anthem and into a haunting cinematic overture; completely different from any of the other tracks; and so much so that you have difficulty ever thinking that it could have been anything else. And it's at this point that more of the true element of Chris's creative genius shines through. Sure, the 'Rock changing' Nirvana classic has been covered back and forth by far longer standing artists; such as Robert Glasper, James Morrison, Paul Anka, Patti Smith and the more well known and electrifying version by Tori Amos. However Chris' version still contains something of the emotion that the original was famed for with a slightly darker echoing quality that succeeds in making it as unique and as unique to the EP as possible.
The Immortal Ones gives a completely unexpected finish. Most artists here might have gone back to the same musical feel after such a dramatic change in tone as with 'Smells Like Teen Spirit'. But Perrin manages to retain the same  quality and sound of the first two tracks while creating a completely new direction in only three and a half minutes of music.  A little Snow Patrol in tone, Perrin's track is a gently moving piece in terms of quality of sound and lyric 'I was lost in change/ i was lost in rhyme… I was chasing space/I was chasing time'. All done whilst being possibly one of the most resonating and beautiful of all the tracks. It is much simpler than before, acoustically simpler with no one peak in the music, rather there seems to be a peak at every verse; which helps maintain a finality and echoing vocal quality that works well to signal the end of the EP.
Tender/Violent is a spellbinding EP of versatile musicality and down to earth lyrics that make listening an experience that would definitely transfer to the large stage. While it would have been lovely to hear more original sources from this EP there is no doubt that Chris could and would be very capable of laying down likeable, original and successful tracks. The only potential danger to be wary of would be of falling into the wayside of the current 'indie cult' later on if this creativity stays 'samey' instead of mixing it up like Race Car Hearts has so much potential to do. Tender/Violent is definitely one to download and Chris Perrin is one of those artists to watch as he grows and develops further.
-TWSH
Download Tender/Violent
Find out more about Race Car Hearts: