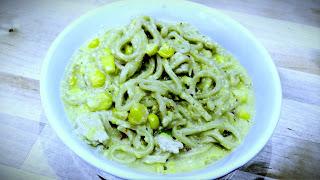 Ingredients
1/2 liter vegetable stock, 200g sweetcorn, 1 cup Quorn, 100g noodles, 1 red and 1 green chilli pepper.



Serves:

 4 

Preparation:

 20 minutes
Corn chowder is a thing of beauty - sweet, spicy, light and cheap but nutritionally it really doesn't contain anything that makes a meal. I like to give it a protein kick with some Quorn "chicken" pieces and some noodles to 
1) Finely dice the chilli peppers and add to a pan
2) Add the vegetable stock and sweetcorn and stir through.
3) Simmer for about 5 minutes until the sweetcorn has cooked, strain the sweetcorn from the liquid before blending thoroughly and parsing through a sieve to separate the sweetcorn flesh from the skin.
4)

Add the pureed sweetcorn back to the vegetable stock along with some more sweetcorn, the Quorn pieces and the noodles and simmer for 5 minutes.