Hello ladies! Writing a review again using my phone now since I'm still away and I don't have my laptop with me. I'm now getting the hang of making a blog post using my phone and going through the Google Chrome browser and accessing the regular site as opposed to using the Blogger Android app coz that app seriously sucks and needs a revamp. For those who were following me at Instagram and Twitter you would know how much I had trouble writing the Maybelline Fit Me Foundation Review.
Anyway, this post is not about that but about the new Revlon Colorstay Shadow Links. I've actually seen this first from Youtuber EmilyNoel83 which has done a review on it. Despite her not so great review on it I decided to grab a few when I saw it on Rite Aid.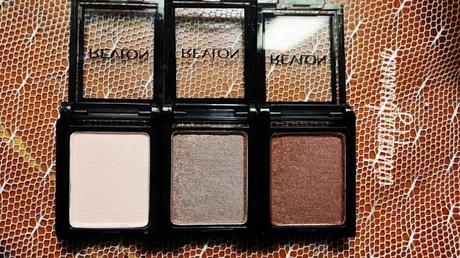 Basically what these are are single eyeshadows that you can link together to make your own customized set of eyeshadows. 
The shades to choose from are really pretty. I believe that this concept is a really great one because you can pick whatever shade you want thus making it a great traveling companion. So keeping that in mind, I chose neutral colors  - Blush (a pinkish cream matte), Taupe (taupe - aptly named with a satin finish), and Java (rich chocolate shimmer).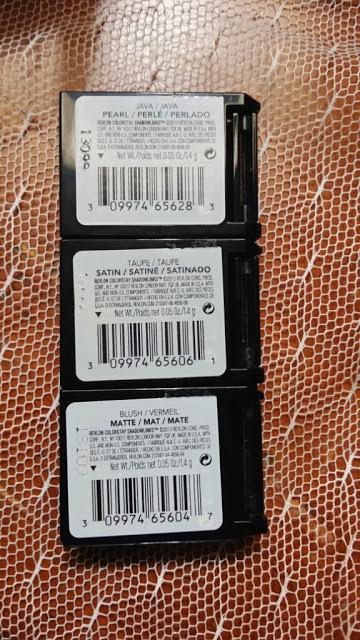 The array of colors are really great but the quality isn't. The shadows itself are hard and you don't pick up much color if you swatch them with your fingers. It comes out really sheer and chalky. 
This is definitely not a great to-go product since you would need to bring brushes in order to pack on color and blend them out and even with a brush it is hard to blend out. I honestly think that it is much better to buy the Wet n Wild Trios which is a 100x more pigmented and easy to apply and blend with your fingers than to get these Shadow Links. Each shadow link cost $2.99 and in the same price, so does the Wet n Wild Trio. You are better off buying the WnW Trios since they are so cheap and has a really great quality and I can't rave enough about them.
So overall I think this product is a dud despite the innovative concept. If Revlon would work on the quality of these shadows this would totally be worth buying. I'm not sure if all shadows in their line have the same quality as the ones I've picked up, but having all three of the shadows I chose being a fail... well for me that's really not a good show of product quality.