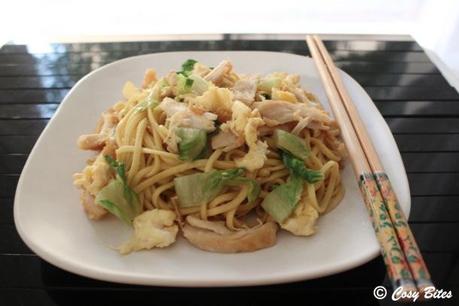 I love noodles stir-fry. It is so versatile. You can almost throw any of your preferred ingredients in it and whip up something decent. Have a leftover meat dish the night before? No problem! Just add it to the stir-fried noodles. I've added leftover Popeye's chicken from the previous night to mine.
Best of all, it's so quick and easy to prepare. Perfect for days when you are just too tired to cook an elaborate meal. Just have everything you need around you when cooking the noodles and you will be able to serve these noodles in 15 minutes.
Here's the recipe for stir-fried egg noodles. Enjoy!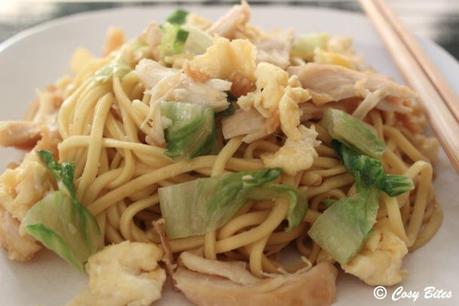 STIR-FRIED EGG NOODLES
Serves 2
Ingredients:
125 gram egg noodles

3 tablespoon cooking oil

2 clove garlic, finely chopped

2 eggs, beaten
50 gram lettuce (you can also add cabbage, carrot and bean sprouts)
Chicken (I used 2 pieces of Popeyes chicken but you can use sliced chicken breast and cook it before adding to the noodles)
2 tablespoon light soy sauce
½ tablespoon oyster sauce
1 teaspoon sesame oil
½ teaspoon fish sauce
½ teaspoon sugar
Salt and pepper, to taste
Method:
Cook egg noodles according to instructions on packet then rinse with cold water. Drain and set aside.

Season beaten eggs with salt and pepper. Heat up a wok and add 1 tablespoon oil. Add in eggs and scramble. Dish up and set aside.

Heat up 2 tablespoon oil. Add garlic and stir-fry until fragrant.

Add the noodles, chicken and lettuce. Do a quick stir-fry and add in seasoning. Stir-fry noodles on high heat until seasoning is evenly distributed. Add scramble eggs, do another quick stir-fry and voila! Serve hot.