Hey everyone!
Today I am going to share a big secret! Ah well its no secret how wonderful this MINT JULEP FACE MASQUE is. But I decided to share my experience and my take on the product with you all.
Skin care is serious stuff, you cant really mess with it. I remember back when I started using it  2009, yep its been that long since its a must have for me; I saw it on all the you tube videos, beauty gurus swearing by this product, but it was filthy cheap and I had my apprehensions I was perplexed weather or not to try it out  but eventually I decided to give it a try. And boy, am I glad or what?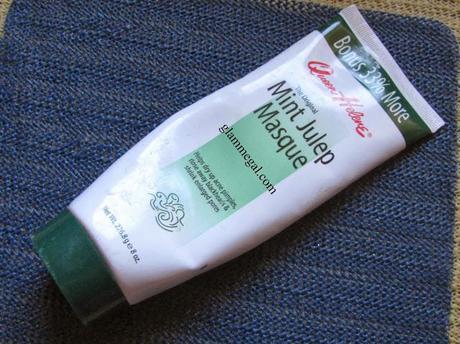 What it claims to do: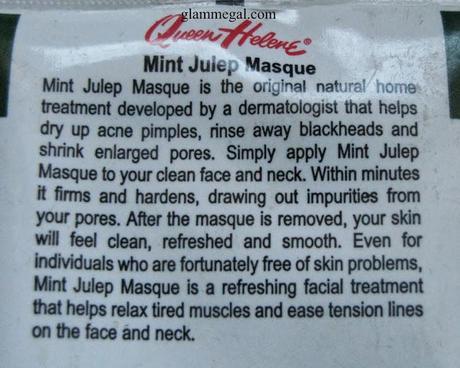 PRICED at $3.79 USD and INR 525
This masque is the lovely green minty looking thick paste. And it comes in a tube with a dark green cap which snap shuts securely.
The only issue I have with the packaging is that the consistency of this masque is pretty thick and it is indeed an uphill task to take it out of the tube.
Once you conquer that feat its easy peasy from then on. There is direction given on the back of the tube on the way to use it.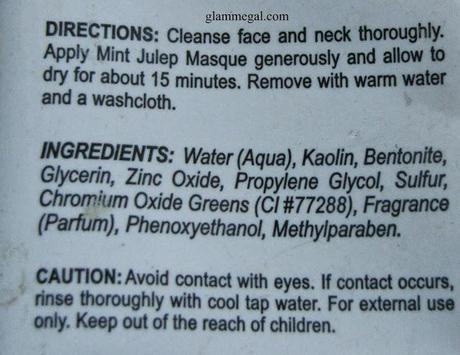 Apply it on clean face and neck with your fingers its too thick to be applied with a brush. And then let it dry. I feel a cooling sensation and a little bit of tingling on the skin  while it dries.
Once it dries you know the drill...clean the face with water and pat down your face with a towel.
And now comes the time to see and feel the result. Does it perform?
HECK YEAH!!!
On all counts.
I immediately feel my skin tight and fresh feeling. I dont have visible large pores yet on my face, but whatever I do have I feel them to be tout and shrunken. I do have dry skin but it doesnt overly dry my skin which is an added bonus and it means it is going to work across all kind of skin tones. Its a total no brainer for oily skin, its a must have. If you have pimple prone skin then also this masque can come in handy. It reduces the redness on the pimples ans you will also find it shrunk in size after using this masque.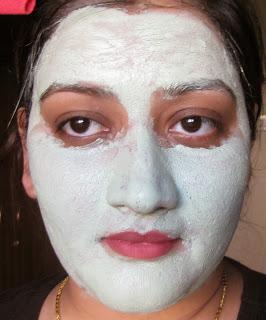 Okay you can go ahead and laugh! And do not apply the masque as I have done, it need not be this messy. I dont remember what hurry I was in.
There is nothing not to love about this masque, you can buy it online in INDIA from here  for INR 525. But the packaging is looking different.
It is a must have product for me. You should give it a try if you are into applying masque.