Do you like sports and, moreover, extreme sports, and want to record your adventures and achievements with your iPhone? If your answer is yes, then MyTrendyPhone has an ideal accessory for you this week: the Maptaq Q-Mountz, a waterproof iPhone 5/5S case and holder that you can either strap to your chest, mount on your bike or on your helmet.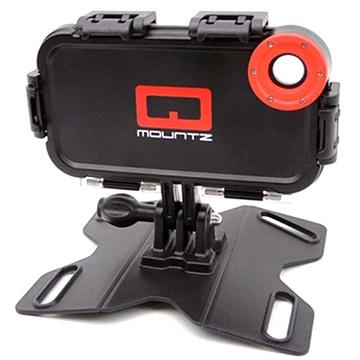 The Q-Mountz case and holder for the iPhone 5 and the 5s.
The Q-Mountz case/holder is waterproof and can be submerged into the water up to 3 metres. Not only that – it's also dust-resistant and keeps dirt away from your iPhone when you go cycling, snowboarding or surfing. The Q-Mountz has been specifically designed to be shockproof and scratch-resistant, and it's extremely durable and will keep your phone safe and secure at all times.
A wide variety of mounting accessories can be purchased along with this product*, so you can place it on your chest, helmet and bike, as well as your snowboard, skates, car, surfboard etc. It comes with a wide-angle lens (180 degrees), to expand your range of capturing media, and a camera that can record 720p or 1080p videos. The Q-Mountz has built-in Wi-Fi, GPS, 3G and 4G LTE connection and thousands of apps, which means that your iPhone is always equipped with everything you might need.

Strap the Q-Mountz case to your chest, helmet or bike.
The Maptaq Q-Mountz case/holder is available at the price of 64.20GBP and although the one shown here is compatible with the iPhone 5/5S, there is also one available for the iPhone 4/4S.
*The accessories are all sold separately, except for the chest, bike and helmet mounts which come in the Q-Mountz package.