hey everyone,
im back with another purity skincare product, and this one is my absolute favourite, over every one of these products i will pick this one up straight away without a doubt.
It is called the facial wash.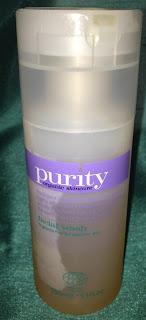 Purity Organic Skincare is EcoCert certified, with 98% of the ingredients of natural origin and an average of 82% of the ingredients processed from organic farming. It is in over 400 superdrug stores and is the first organic skincare brand in superdrug. It is an extremely amazing price all products are between £4.99 - £8.99. All products have few ingredients, but all do an amazing amount to your skin.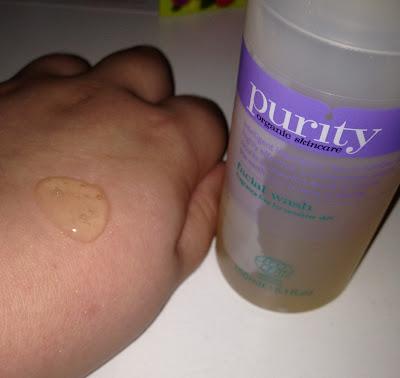 The facial wash is a yellow liquid, which is actually really runny, which is surprising for a face wash, It is to be used in the morning to rinse off any dirt from the night before. I love this because it wakes me up in the morning, with its slight citrus-y smell it gives me the boost of energy i need in the morning, It has amazing ingredients in it like:

Sweet Almond Oil A blend for softening, moisture retaining and conditioning the skin

Aloe Vera and Glycerine is combined within a gentle Coconut and sugar-based foam to cleanse, soothe and protect skin.

Added Citric acid controls skins PH Levels.

The Aloe Vera is sourced in the Dominican Republic and the Sweet Almond Oil from Spain.


You use it like any normal cleanser: wash your face, massage gently into your skin and then rinse off with warm water. Then follow up with the purity facial exfoliator and/or purity moisturiser.
you can buy purity skincare on their website at: www.purityorganicskincare.co.uk or at superdrug stores nationwide.