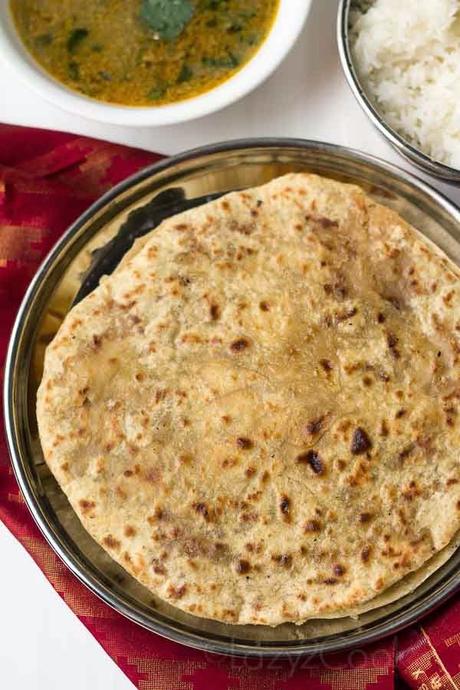 Puran Poli is special Maharashtrian dessert made during festivals or any special occasion. In Maharashtrian culture, there has been special importance for Ukadiche Modak and Puran Poli, are definite sweet dish made in each home during Ganesh Chaturthi. Puran Poli is festive food for Diwali, Dasara, Gudhipadva and many more.
It is just not Maharashtrian dish, You will find it in Gujrat, Tamilnad, Kerala, Andhra with different names like Bobbattu, Boli, Holige, Obbattu, etc.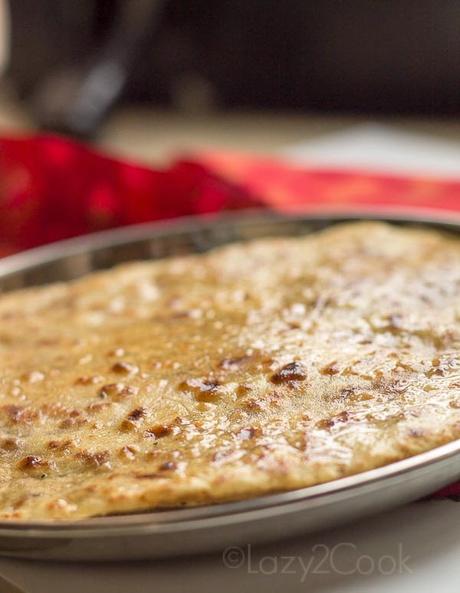 Puran Poli is delicious flavored stuffing made of Chana Dal. The method varies from state to state and home to home. Some people add grated coconut or Jaggery or Sugar. Dough variations are also seen like some people use Maida / all purpose flour or rice flour as well. Instead of chana dal, Tuvar dal or Moong dal stuffing is used in many homes.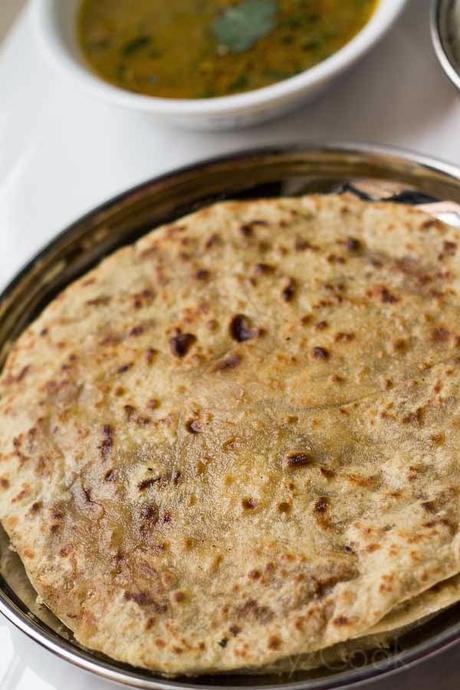 I love my aunty's(mavashi) Puran Poli a lot. I followed her recipe. At our home, we used to sieve regular wheat flour to have more fine wheat flour which has texture like Maida only. I also use nutmeg or Cardamom powder to enhance the flavor of Puran(stuffing) and Jaggery. Many times I use sugar instead Jaggery.
1 cup Chana Dal
1 cup Jaggery, grated / sugar
1 1/2 cup wheat flour
7 to 8 tbsp Oil
1 tsp. Cardamom Powder
1/2 tsp. nutmeg powder
1.Wash Chana Dal and cook it in pressure cooker till 3 whistles with 2 cups water.
2.Once all the steam from pressure cooker gone, take out extra water from chana dal and save this water to make katachi amti.
3.Take cooked dal with sugar or Jaggery in a pan. Let the mixture cook on a medium flame.
4.Keep stirring the mixture, first Jaggery or sugar melts and slowly chana dal will start cooking in syrup. Keep stirring the mixture till it becomes thick and should not stick to the bottom of an. Switch off the flame and add cardamom and nutmeg powder this time. Mix everything nicely.
5.Once this is little lukewarm, put it into Puran yantra or Puran maker to have thing consistency Puran. (If you don't have Puran maker, you can use big steel strainer to strain this Puran , so we should get soft and consistent Puran. Even if you don't have strainer also, your regular mixer or grinder can also do the work.)
6.Sift wheat flour in a plate and add pinch of salt. Add 5 to 6 tbsp Oil and mix well. Now add water little by little and make very smooth consistency dough. Knead the dough until the it becomes very elastic. Put this dough into a bowl and cover it with lid. Let the dough sit for 101-5 minutes.
7.Make 1 inch balls from Puran stuffing. Make 1/2 inch balls from dough.
8.Roll dough ball into circle shape , enough to hold stuffing ball. Then, put stuffing ball into it and cover with sides of dough ball.
9.Use dry flour to roll smoothly the roti on surface. Heat the tawa, place rolled roti on tawa , once little brown spots are there, change the sides.
10.Roast the roti from both sides and put ghee on roti.
This roti tastes nice with ghee. It can be served with katachi amti or milk or Aamras.