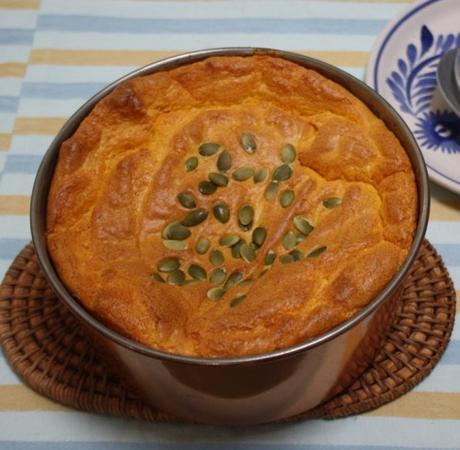 I first posted this recipe in 2009 so it seems like a good time to revisit it. I'm happy to report it has stood the test of time.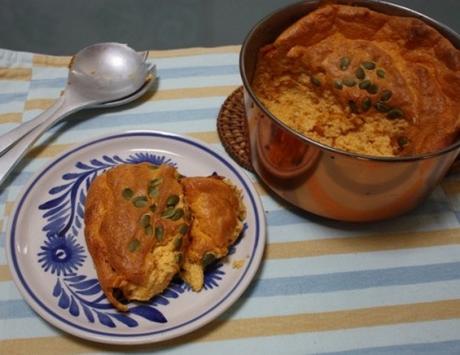 Now making a soufflé isn't all that difficult; it's the clean up that can feel like a bit of a chore. Soufflé aftermath gives the appearance of having used every bowl in the kitchen. This recipe requires:
2 quart souffle dish
medium size sauce pot
measuring cup for liquids (Pyrex)
dry measuring cups, 1/4 and 1/2 cup sizes
2 bowls to separate eggs
1 large mixing bowl
stand mixer with bowl
whisk
rubber spatula
cheese grater
measuring spoons
If you're not scared away by this point, time to get started.
PUMPKIN SOUFFLE
Recipe serves 4
5 large egg yolks
6 large egg whites (so yes one wasted yolk)
butter or Pam cooking spray for lining the souffle pan
2 tablespoons grated Parmesan cheese
4 tablespoons butter
1/4 cup flour
1 1/2 cups milk, warmed
1/2 cup cooked pumpkin, canned is fine
4 oz. grated sharp cheddar cheese
1/4 teaspoons each of cumin, ground coriander, pepper, cayenne
1/2 teaspoon salt
2 tablespoons shelled pumpkin seeds (pepitas)
Preheat oven to 325 degrees. Butter a two-quart souffle dish and then sprinkle the Parmesan all around the bottom and sides.
Make the pumpkin and cheese sauce: Melt 4 T. butter in a saute pan and when hot whisk in flour and cook over medium-low heat for one minute after it begins to bubble, whisking all the while. Whisk in the warmed milk gradually. Simmer for three minutes, stirring all the while with a wooden spoon. Sauce will reduce and thicken. Stir in the grated cheese, the pumpkin, the spices and the salt. Cook briefly until cheese is melted and everything is smooth and incorporated. Remove from heat.
In a mixing bowl, whisk yolks well then whisk in 1/2 cup of the hot pumpkin cheese sauce. Then whisk that mixture back into the sauce in the saute pan, whisking rapidly to prevent curdling. Now pour all of this back into the mixing bowl.
Beat the egg whites until nice and stiff. Fold a third of it into the sauce in the mixing bowl, incorporate well, and then gently fold in the remainder, taking care to not to stir it too much or else the whites will lose volume. Spoon this into the prepared souffle dish. Run a spoon or a spatula through the mixture in circle about 1″ from the rim - this will make the middle part rise higher than the edges, adding to the visual impact of the all-important rising. Sprinkle the peptitas over the top, they will float on the surface.
Bake in the preheated oven for 55 minutes, the souffle will be puffed up and golden brown. Take to the table immediately, you want to enjoy it while it's still inflated and nice and hot.
Print This Post