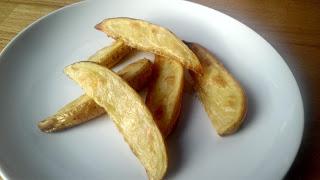 Ingredients
1 potato, olive oil, pumpkin oil.



Serves:

 2 

Preparation:

 40 minutes
Pumpkin oil is made of dry roasted cold pressed pumpkin seeds which is evocative of sesame oil but FAR nicer. As a seasoning for potato wedges, it's one of the most decadent savoury flavours in my humble opinion.
1) Don't peel the potatoes, just halve them and cut into wedges by quartering each piece towards the center.
2) Add to a bowl along with a drizzle of olive oil, pumpkin oil and a pinch of salt. Shake the bowl to coat the potatoes.
3) 
I find the best way to ensure a crispy skin without frying is to place the wedges skin side down on a foil covered baking tray and roasting for 40 minutes at 220 degrees.