Custard and mousse are some of my favorite desserts.  This one was a hit with the whole family.  We had one serving as a breakfast and another for a dessert.  I am looking forward to trying this with some other flavours as well.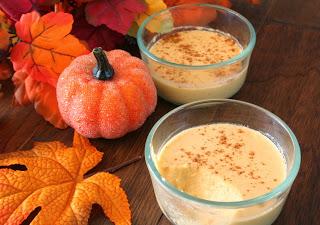 Ingredients (makes 8 single servings)
2 cups cooked and pureed pumpkin

1 3/4 cups coconut milk

1/3 cup pure maple syrup (or more if you prefer a sweeter dessert)

1 teaspoon ground cinnamon

1/4 teaspoon nutmeg

1/4 teaspoon allspice

1 teaspoon gluten free vanilla 

1 tablespoon gelatin powder

1/4 cup warm water
Directions
In a medium pot heat pumpkin, milk, syrup, cinnamon, nutmeg and allspice.  Cook until simmering.  Use a blender if needed to ensure mixture is very smooth.  Remove from stove before continuing with step #3.
Add gelatin to warm water and stir to fully combine.
Add gelatin to pumpkin mixture and whisk together until fully combined.
Pour into single serve bowls (ramekins) and chill for 4 hours or longer, until set.