I know it isn't fall but in my opinion, pumpkin should be eaten all year.  This recipe has a lot of flavor but isn't too sweet.  I think this cake would taste great with some cream cheese icing and a cup of tea.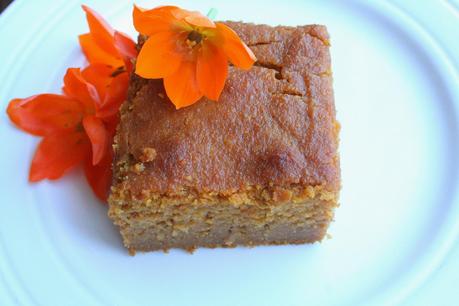 Ingredients
1/2 cup non-dairy milk
1 teaspoon apple cider vinegar
1/4 cup softened coconut oil
1/4 cup grapeseed oil
8-10 drops liquid stevia

1/2 cup honey or maple syrup

2 eggs

2 teaspoons gluten free vanilla extract

1 1/4 cups pumpkin puree

1/3 tapioca starch
1/3 brown rice flour
1/3 chickpea flour
1/3 coconut flour

1 1/2 teaspoons gluten-free baking powder

1/2 teaspoon baking soda

1/2 teaspoon sea salt

1/2 tablespoon psyllium husk or 1 teaspoon guar gum

1 teaspoon ground cinnamon

1/2 teaspoon ground nutmeg

1/4 teaspoon ginger
Directions
Preheat oven to 350 F.
Grease an 8 x 8 oven safe dish.
In a small bowl combine dairy free milk and vinegar and set a side.
In a medium size bowl combine oil, stevia, honey, eggs, vanilla and pumpkin.
In a separate bowl combine the flours, starch, baking powder, soda, salt, psyllium husk/guar gum, cinnamon, nutmeg and ginger.
Add milk to egg mixture and stir to combine.
Combine and wet and dry ingredients and stir just until combined, don't over mix.
Pour into prepared dish.
Bake for 45-50 minutes or until inserted toothpick comes out clean.