Last weekend, Alex asked me if I wanted to go to Pump Shoreditch for some early evening food – A plan which earnt him HUGE brownie points.
I'd walked past Pump Shoreditch a few times, but didn't ever realize what it was like. Pump Shoreditch is a street food market which has been around for about 2 years. Located on Shoreditch High Street, it's a fab street food location which is also under cover (pretty similar to the cover of a forecourt at a petrol station – I think it's a carpark in the week), perfect for the unpredictable climate of Britain. With over 10 traders, there's lots of choice, and it's even BYOB so would be a great spot for starting an evening out in Shoreditch (one of my fave night out locations).
Saturday didn't give us the best weather, but being a street food market under cover, we didn't get put off leaving the house for an afternoon out. Heading down for about 5pm, in order to be back for the football – with the Euros on at the moment, everything seems to be revolved around the good matches! – it wasn't too busy when we got there. We had a wander round first, to check out the food offering and different vendors before deciding on what to try first.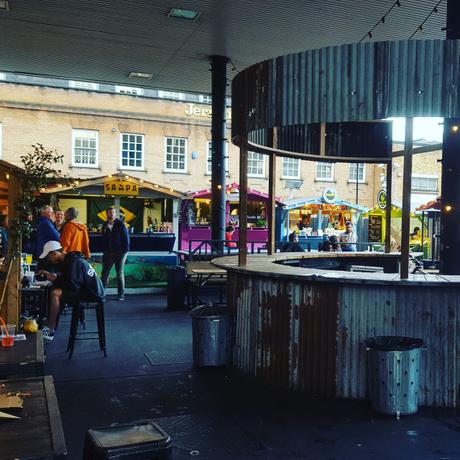 Me being as indecisive as always, Alex picked the first dish – Makimayo popcorn chicken with Sweet and Spicy coating to share.
We found a nice little spot at one of the tables – There's quite a lot of seating which is great! – and dug in.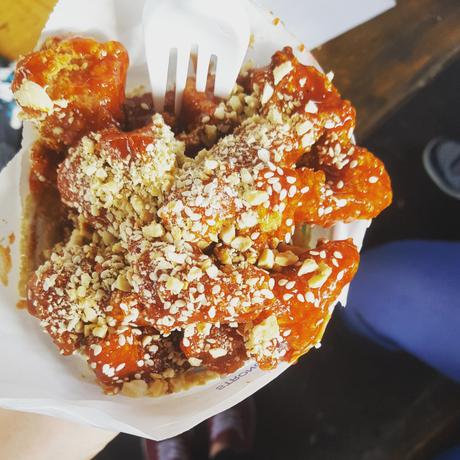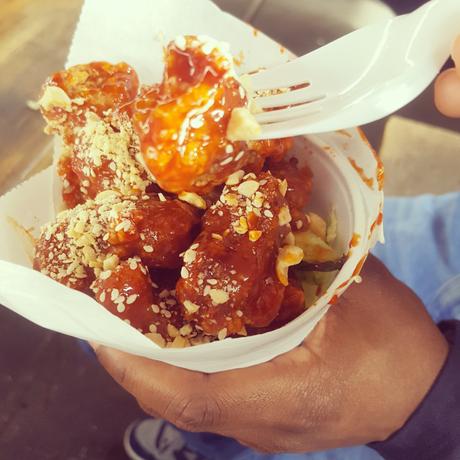 The Sweet and Spicy Chicken was crispy on the outside yet tender, topped with sesame seeds and crushed peanuts, this was by far one of the best chicken dishes I'd had in a while. The sauce was sticky, not too spicy, and incredibly flavoursome. The cone of popcorn chicken also came with a salad in the bottom too, so would be great for a dish for one.
Next up…my choice, Duck Gyozas from NosTEAgia. Again, we shared this dish to leave some space for dessert – we were already eyeing up the bubble waffles, as they'd been on my to-do list for a while.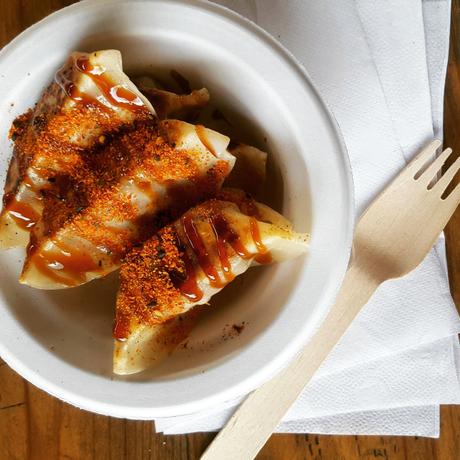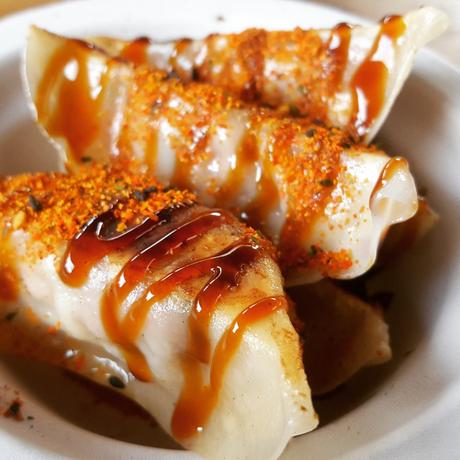 Upon ordering the Duck Gyozas we were told that they would be roughly 7-8 minutes, showing just how fresh they are. We waited at our table and popped back to collect our dish when ready. Steaming, just how you imagine dim sum to be, we allowed our gyozas to cool slightly before tucking in. With a soft squidgy shell, and an aromatic filling of succulent duck, the gyozas were delicious. Drizzled in what I believe was a plum sauce, and some sort of chilli looking powder, they definitely went down well. Top tip: I might have made a little bit of a mess trying to bite them in half, so be prepared to pop it in whole or get a tiny bit messy –
but street food isn't meant to be super pretty is it? I mean, who looks good eating a burger?
Not too full, we started looking at the bubble waffle menu at NosTEAgia. As mentioned, this had been on my London to-do list for quite a while, and I had had a look several times on Instagram to see which looked the tastiest – I'm sure I'm not the only one who does that! – yet, I still couldn't decide, I wanted a bit of them all! Alex chose Queen Berry and I finally settled on the Cocopeanut, not being a huge fan of cream myself. Just look at how good they looked…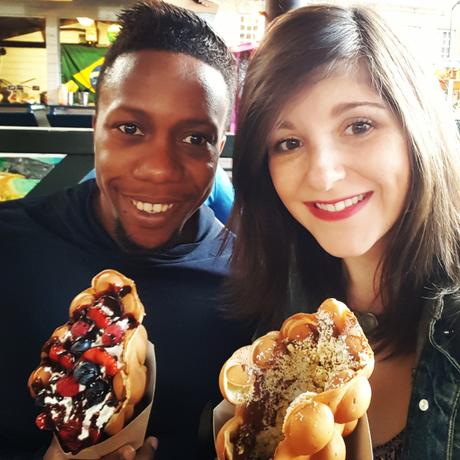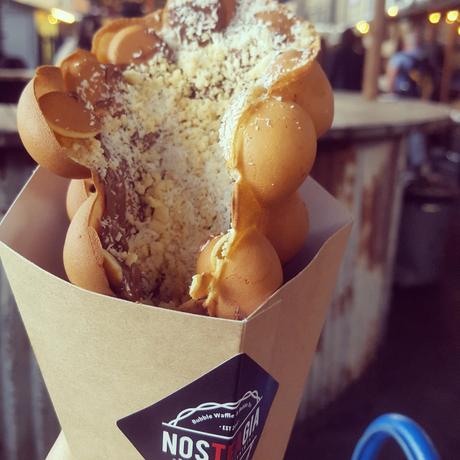 I did pick up a couple of wooden forks, but we pretty much worked our way through the waffles without, Alex making a little more mess than I, purely down to the fact that berries don't just stay in cream, they tend to slip and slide all over the place. Alex appeared to really enjoy his waffle, with tonnes of cream, quite a few berries, Nutella and chocolate sauce, it was moist, nice and chocolatey and almost felt like a balanced diet – haha. We all know berries go well with chocolate, hence a black forest gateau being so popular, so you can see why he enjoyed it so much. I think if the cream was ice cream, I'd have definitely tried this one!
My Cocopeanut was incredible. Smothered in Nutella, and sprinkled with plenty of peanuts and coconut, I was in chocolatey heaven. It was't too crunchy, and the bubble waffle not super sweet, it was just perfect. I tried to savour every mouthful, but it was so good it was soon gone. It was definitely worth the 3 months wait since I first said I wanted one!
Alex also ordered a bubble tea, a strawberry milk with lychee bubbles. I've recently gone off bubble tea for some unknown reason, but Alex really enjoyed his. The milk not too thick like a milkshake, and the bubbles a welcome burst of sweet, juicy lychee, Alex said it was really tasty and that he would definitely order the same again!
We sat for a little, whilst it poured with rain – it may be June but we are in England – watching the heavy down pour and hail outside of Pump, and waited for it to slow down for us to leave.
It still wasn't super busy when we left at about 6.15ish, I guess that was still a little early for dinner, but it was starting to pick up some buzz. I would have thought, with how good a time we had, and how reasonably priced it is, that it'd be packed.
If you're out and about this weekend and looking for a tasty food pit stop, or if you're planning an afternoon or evening date with your boyfriend/girlfriend or friends, I definitely recommend going to Pump. It's pretty casual, you won't spend much but you'll still get some super tasty food, and you can even take your own bottle of alcohol.
Have you been yet? Where's your favorite street food spot?
Chloe xx