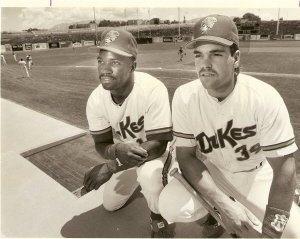 Two future major leaguers, Eric Young and Mike Piazza, as Albuquerque Dukes in 1993.
Twenty years ago I had the good fortune of working in the front office of the old Albuquerque Dukes as Mike Piazza blazed his way through town on his way to the Dodgers and, I expect (steroid rumors aside), ultimately the Baseball Hall of Fame. He was a classic phenom – a late round draft pick taken primarily as a favor to Tommy Lasorda who blossomed into maybe the best-hitting catcher in baseball history.
However, I also remember Raul Mondesi, who had an almost as meteoric rise through the system and to the majors. He was yet another Dodgers product who became a Rookie of the Year, and yet another phenom. He had some very good years, but he never reached the greatness predicted for him when he arrived in the big leagues., and instead of a storied Dodgers career he ultimately wore the uniforms of seven different franchises.
Not long before them was Jose Offerman, a rare talent at shortstop who seemed destined for stardom but instead had an error-prone and temperamental career that was long but spotty at best.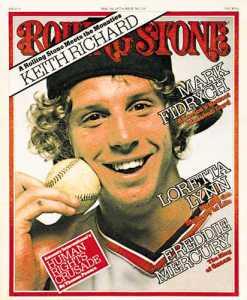 The mercurial Mark "The Bird" Fidrych of the Detroit Tigers graced the cover of Rolling Stone and dozens of other magazines in 1976 and '77.
When I was a kid, I watched in 1976 as Mark "The Bird" Fidrych had one of the more amazing rookie seasons ever for a pitcher (check out this fine look back at "Bird-mania"), just one year after Fred Lynn set the world on fire as the center fielder and MVP on a World Series team. And anyone my age also recalls "Joltin' Joe" Charbonneau. Injuries derailed all of them from realizing the greatness expected of them (though Lynn did have a long, productive career).
Then there were spring phenoms like the Giants' Randy Elliott and Rich Murray (Eddie's little brother), each once deemed the heir apparent to the rich first base legacy (Terry-Mize-Cepeda-McCovey) for the San Francisco Giants.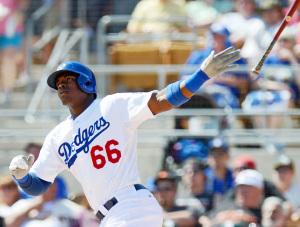 Yasiel Puig has had one heck of a first month in the majors.
This is all to say that Yasiel Puig, baseball's latest phenom, is rightfully dazzling everyone with his quick bat, coverage of the plate, raw power, and more. He's a five-tool player, much as Mondesi once was, and with fewer (if any) apparent flaws. But he's been in the big leagues for a grand total of 20 games as of last night. TWENTY. We have yet to see if he can stay healthy over the course of a full season, or even through a pennant race (though it might be a stretch to think the Dodgers would be in one this year, Puig or no Puig). We don't know if the league will catch up to him the second time around. We don't know what his sophomore season might look like…because he's only 20 games into his first season.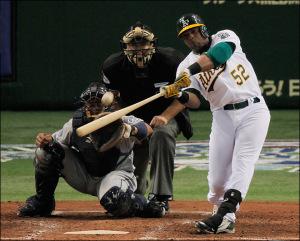 Yoenis Cespedes was a rookie star last year; this year he's struggling with injuries, inconsistency, and a .224 batting average.
Puig's own countryman, Yoenis Cespedes, has battled injuries and inconsistency with the Athletics this year in his sophomore season, as his current .224 batting average reflects, after showing prodigious raw talent last year.
I couldn't help but laugh at the latest rah-rah article on Puig to appear on ESPN.com (of course, it's in their "Dodgers Report" section, something only those markets deemed worthy of ESPN's hyper-slanted 'hometown' coverage get). It continues the trend of lionizing this kid before he's even gotten a run through the league yet.
There's no doubt Puig has been amazing so far. One could even say he's had a truly historic first month in the majors. But before we advance him right to the doorstep of the Hall of Fame, let's see him actually succeed over the long haul. Between injuries, adjustments by the opposition, off-field distractions, a confidence-shaking slump, immaturity, cultural differences, and other challenges that can derail any player, it's a bit early to throw so much hype on baseball's latest phenom. It's good for baseball to have guys like Puig come along, and (despite being a Giants fan) I hope he succeeds, but it's been 20 games. Despite his obvious gifts, the sample size is just too small to forecast, much less assume, what his future might be.