By now, all of us have learned (some, admittedly, through trial and error) that our smartphones should be protected from everyday wear and tear. There are those who are still worried that a case or a cover might affect the looks of their phones, but believe us when we say that there are so many protective accessories on the market, that you'll be able to find something that will keep your device safe, while being almost invisible.
On the other hand, there are those who don't just want their case or cover to be protective, but to make their handset look more unique and trendy, which is why we've prepared very colourful and cute 3D Penguin cases for you this week .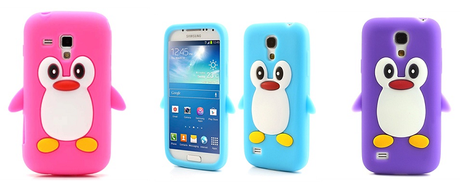 3D Penguin cases are made of soft silicone that fits to your device like a second skin and protects it from bumps and scratches. Its design allows you to use your phone while it's in the case and it comes with all the necessary cutouts for the camera, headphone jack etc. The Penguin cases are easy to install and take off, and they're available in a number of colours, such as pink, blue, black, orange, purple, white, red etc.
These cases are compatible with different smartphone models, including the iPhone 5C, Galaxy S4, Galaxy S4 Mini, Galaxy S3, Galaxy S Duos, Galaxy Trend S7560 and the Galaxy Note 2. Depending on your phone model, the cases cost either £5 or £6, and you can find all of them at www.mytrendyphone.co.uk.