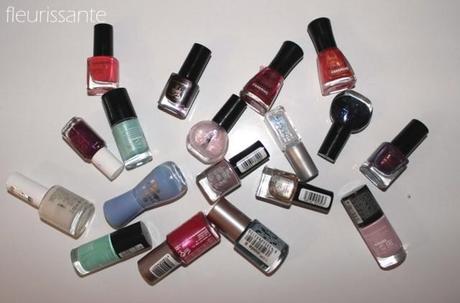 Hello lovelies,
during the period of only a couple of months my nail polish collection has tripled and, as it usually happens, I found out that I have a lot of dupes. When I first got into nail polish, I bought polishes from various brands because I wanted to test various formulas. At the moment, several brands stood out as offering either great colours and/or great formulas. For this reason, I thought it would be a good idea to clear out my collection to make more space for new nail polishes.
I have decided that I will be focusing mostly on buying OPI, Essie and Zoya, with an occasional (and unique) Orly, China Glaze or Color Club. When it comes to European drugstore polishes, I plan on buying unique Catrice and Essence nail polishes and maybe Golden Rose (they are problematic because they have various bottle shapes = difficult to store).
As for high end, I definitely need more Deborah Lippmanns, as well as unique Chanels (although, with the price approaching $40, I'm not sure I'll buy them in Croatia). I need to get at least one Guerlain – I love their formula, but the colours are not very unique. There is also Dior and YSL to explore.
Now, this purge is not a classic give/sell stuff you don't like. For some reason, I still can't part with them so I decided to use them up instead. I selected the nail polishes which are easily dupeable, but the formula is not the best and which I've had for a long time. I found eighteen that fit the description and I put them in a separate box to keep close at hand. These are the nail polishes I'll use whenever I get so overwhelmed that I cannot pick anything from my collection. I hope that I'll use up at least 3 (5 would be ideal) until the end of this year.
Let's see which I've picked: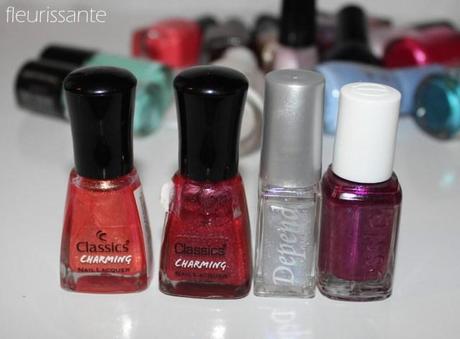 Golden Rose Classics Charming #22. It is too frosty to use on its own, but it looks amazing over corals.
Golden Rose Classics Charming #21. The base is too frosty and the glitter doesn't show up on nails as much as I'd like. Plus, I dislike the formula.
Depend 363. There's nothing wrong with this one, but I already have Guerlain's Stardust, which is very similar.
Essie The Lace is On. Again, nothing wrong with it, but I own a full sized bottle so the mini must go.
—–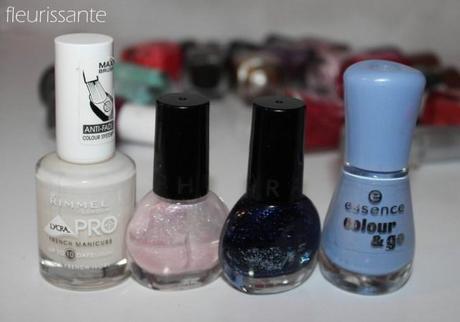 Rimmel Lycra Pro French Ivory. I've had it for a long time and I plan to get OPi sheers later this year, so I want to use this one up.
Sephora Pink Agate. I'll be sad once this one is gone, but there's no point in hoarding almost empty bottles of nail polish.
Sephora Blue Sapphire. Same as above.
Essence Colour & Go Absolutely Blue. I have several similar blues, but this one comes in the most awkwardly shaped bottle.
———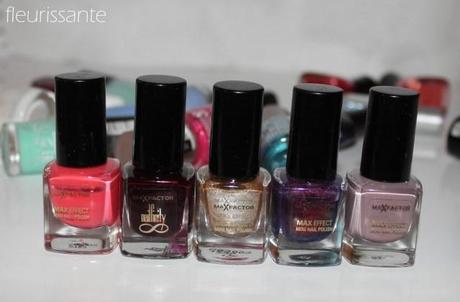 Max Factor Diva Coal. I have other corals I like more.
Max Factor Ruby Fruit. Again, I have similar that work better.
Max Factor Ivory. This one is actually good, but my project would be too boring without something to spice it up.
Max Factor Fantasy Fire. Same as above, plus I have a dupe.
Max Factor Cappuccino. I felt like I need to have a nude polish available.
———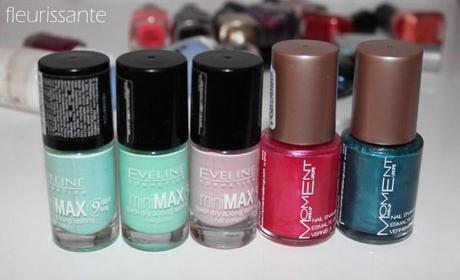 Eveline Mini Max in #803 & #808. I couldn't decide which one to put, so I decided to put both.
Eveline Mini Max #800. It is here because I wanted some nice girly colours.
Moment 012 is a perfect color with a horrible formula.
Moment 6 is similar to #012.
—–
I'm really looking forward to minimizing my stash. At the amount of nail polish I have, even one less is a big deal.
xoxo Tamara