Hey all! Today, I am going to talk about the products and techniques that are helping my skin cope through winter.
I used to not be an advocate of changing one's skincare products according to the season, which was mostly because I grew up in a city that had no drastic winter conditions. The temperature would never go below 25 degrees Celsius. Also I was not aware enough, to notice the subtle changes my skin showed, with change in season. Fast forward 8 years, and my skin has changed, mostly due to change in country/living conditions, weather, age, etc. I am now aware of the effects of winter on my skin and over the last few years, have learned to cope with this change.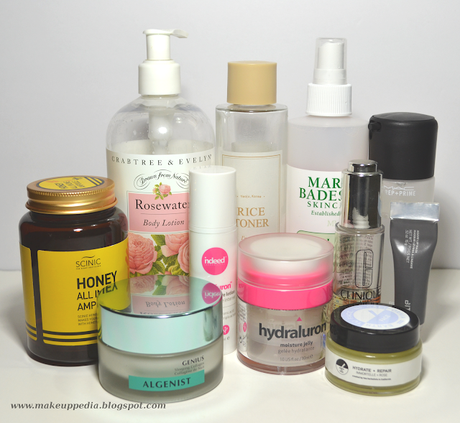 My goal is to hydrate my skin and to retain the hydration within the skin. And for that, I have to reduce transepidermal water loss from my skin. And to achieve that,
I pat layers of light toner/essence
Use products with humectants. 
Mist my face before applying humectants. 
And finally, seal all the moisture and hydration with occlusives.
Toner/essence
- This is a Korean trend, that people started adopting last year and let me tell you, it is a game changer. I have played with toners with water-like consistency and with super viscous ones like honey. At present, I prefer the watery ones. I have gone through about 3 to 4 bottles of toners/essences and currently am enjoying the I'm from Rice Toner. One layer makes my skin pretty soft. I find myself using at least 3 to 4 layers. It softens, hydrates, soothes and preps the skin. It is very similar in consistency to water, and so is slightly messy to apply. I have let it drip through my palms numerous times, as I don't have the heart to use a cotton pad. I'd rather my hands absorb a little bit. The ingredient list is very impressive. Especially with niacinamide high up in the list.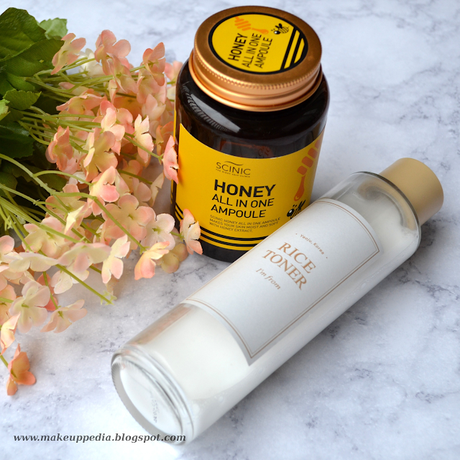 Next is my favorite category - 
Humectants - 
These are hygroscopic substances, meaning, water loving. They absorb moisture from the atmosphere and retains it on to the surface of the skin. I love hyaluronic acid for this purpose. You can read more about hyaluronic acid's benefit on skin 
here
. Current HA based serums I use are from Indeed Labs. I used their hydraluron moisture jelly last year and fell in love with the simple yet effective formula. And this year, in addition to the moisture jelly, I also got the hydraluron intense moisture lotion. I love both. I try to apply it on wet skin (as soon as I am out the shower), or wet my face with a mist. And I mist my face again after applying the serum. This way, the serum is sandwiched between layers of water, and will be retained on the surface of the skin. I can keep talking about HA. It is one of my favorite ingredients.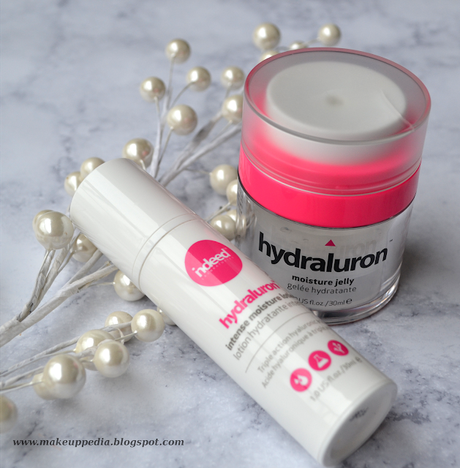 Face mists
- Using a face mist is a way to add more water into the skin, for the humectats to absorb and provide to the skin. I never had a face mist in my routine, until a year ago. And now, my routine feels incomplete without one. I am addicted to face mists. I have used and loved MAC prep + prime fix+. I have also used straight up rose water, as I am a sucker for the smell. I am currently using the Mario Badescu facial spray with aloe, herbs and rose water. Since I use a hyaluronic acid based serum anyway, I don't look for a mist containing HA, such as Jordan Samuel's hydrate the 
mist
 (which is on my wishlist) To sum up, I cant do my routine without a mist.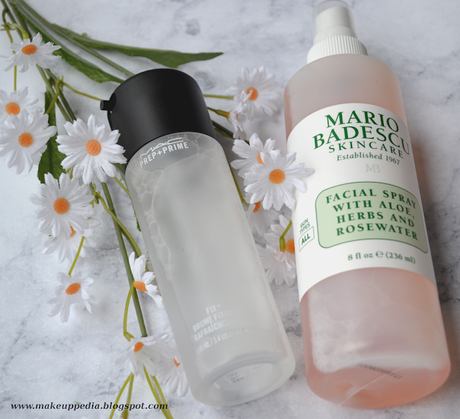 Finally
occlusives
 - These are substances which form a protective layer on the skin, to prevent moisture loss from the skin. This step, seals all the above steps and keeps everything within. Petroleum jelly is an amazing occlusive, but I don't go so far as to using it. After misting my face, I quickly apply a moisturizer and then go on top with an oil like the Clinique smart treatment oil or a thick night cream with plant butters like the Algenist Genius sleeping collagen. Sometimes, while using an oil based moisturizer such as the Earth Tu Face hydrate + repair Immortelle + Rose, I skip cream based product and apply it directly over misted skin.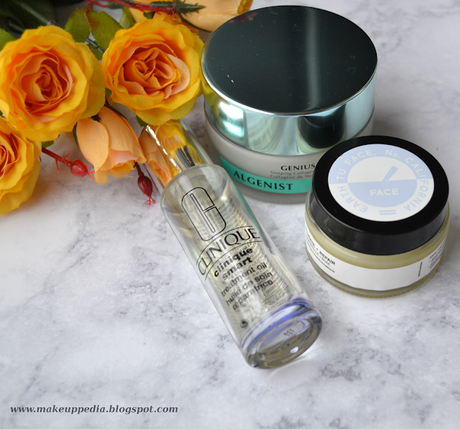 Here
is a very informative reddit article regarding the same.
This is all for the face. Two other areas that I struggle to keep moisturized in the winter are my
lips
and
hands
.
For the lips, I apply
Bite beauty agave lip mask
at night. During the day is when I really struggle. I either forget to apply a lip balm, or it keeps disappearing as i talk and eat. In recent days, I start with a light lip balm, like the
Sol de Janeiro's brazillian kiss cupuacu lip butter
(I love how it smells) and go on with a lip gloss or a really moisturizing lipstick. This way, I get to use all the moisturizing products and also protect my lips.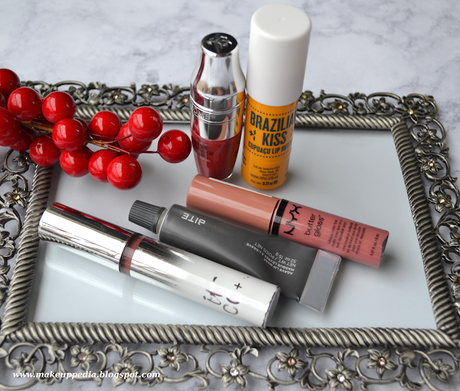 And for my hands, I have some gentle hand washes and a bottle of moisturizer (rose scented) near me at all times, so I don't forget to reapply.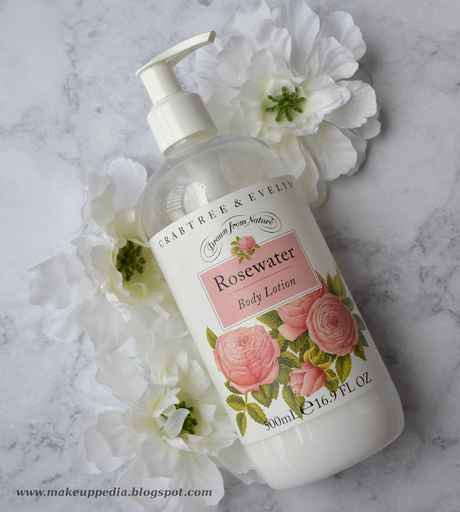 That's all folks!
Hope you find this information useful.
Let me know how you tackle winters.
Also, kindly bear with my photography skills. I have been using a camera that is new to me.