Here I am at 23 weeks pregnant, (almost 24) with a mere 17 weeks to go until my due date. I am in my 6th month and I'm so excited to be just THAT much closer to meeting our sweet baby girl.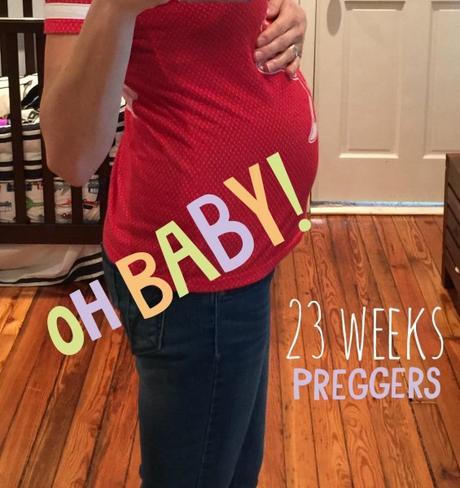 Sometimes I feel like this pregnancy is dragging on, slower than molasses in winter, sluggishly creeping down a jar's edge, barely moving at all. However, there are times where I actually have to look at the calendar to see that I'm way further ahead than I had imagined.
While I'm SO eager to hold my daughter, see her beautiful face, and smell that sweet new baby smell, I'm hoping to really enjoy this second half of this pregnancy, taking it all in. I want to cherish every moment of being this close to my little girl, since I won't have this closeness with her again. I just want to make sure I savor it, and not wish it over.
Though honestly, there are times where I do just that. I wish it were over. There have been times, especially in this past week where I've felt utterly useless. It's a helpless feeling. I can't concentrate on anything, and it feels like it takes DAYS to complete a single task, where normally, only an hour or so would pass and I would complete a multitude of tasks. Like this post, for example. It's taking me FOREVER to get it done. Like, well over a week. I've had to edit and readjust a billion times for the lapsed time.
But now that it's finally done, I have to warn you... It's a long one. Probably because it took about 2 weeks to write and I had a lot to say, apparently. And once again, no fancy photos. I've been so busy and crazed, and my resident photographer has also been super busy with work, so selfies again. I swear, soon I'll have legit pics again.
A lot. It has been a busy couple of weeks, that's for sure. First of all, Jack turned 2 on the 21st! How amazing. I love watching my beautiful boy grow and celebrating his second birthday was a fun milestone to revel in as a family.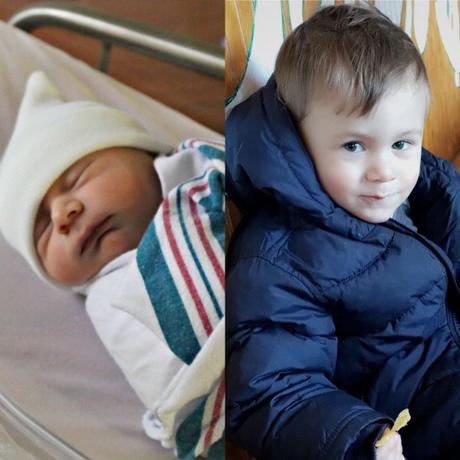 Sadly, our Chuck E. Cheese day-of-birthday celebration plans had to be changed last minute since 2 days before his birthday, Jack came down with a pretty high fever. It was scary, but we managed to break it and bring it down by the time he was ready for bed on the 21st, his actual birthday.
Instead, we took it easy and didn't go to Chuck E. Cheese, and as a family, we opened presents, sang "Happy Birthday," and ate cookie cake, followed by dinner at The Local Fry. Yum, yum!
Later in the week, Major came down with the fever, and had to miss school on Friday! My poor sick little babies, but thankfully, Major beat his fever way faster than Jack was able to, like in a matter of HOURS, and was fever-free in time for his first baseball practice on Saturday, followed by Chuck E. Cheese!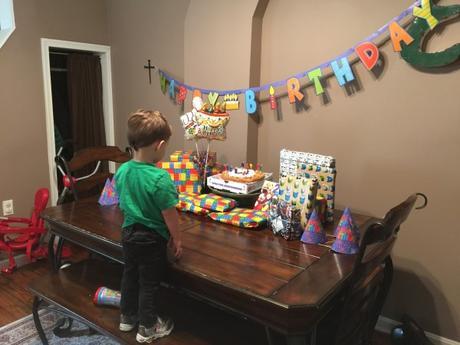 We had a blast at Chuck E. Cheese in Annapolis, and guess what? It was actually my first time ever visiting one of those places, and it far surpassed my expectations.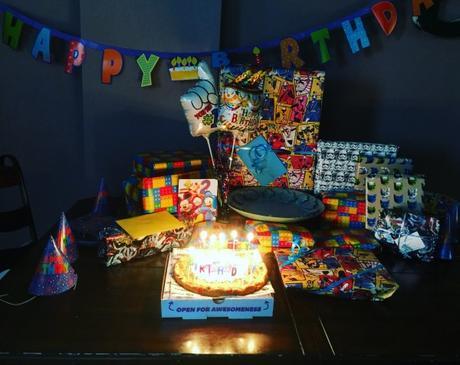 The food was surprisingly delicious, which includes one of the freshest salad bars I'd ever seen. I'm not even kidding you. I was blown away...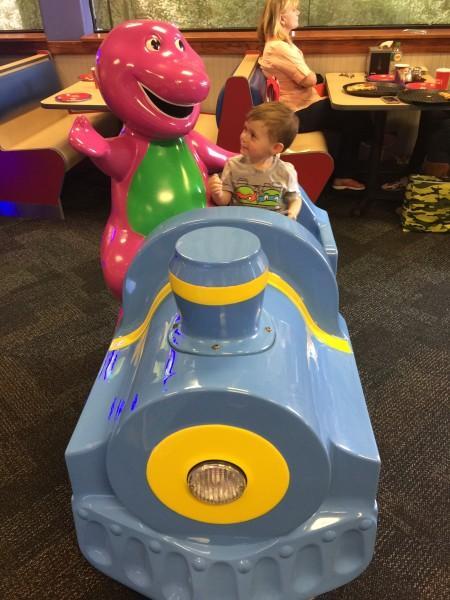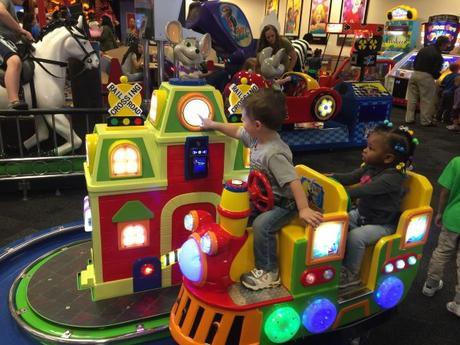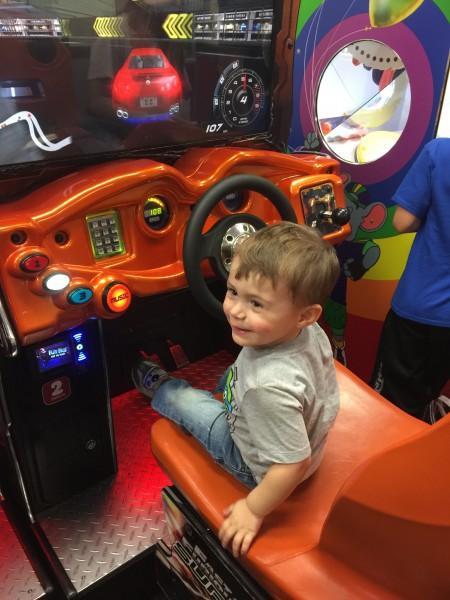 Both boys, but most especially our birthday boy, had the best time, and that was all that mattered.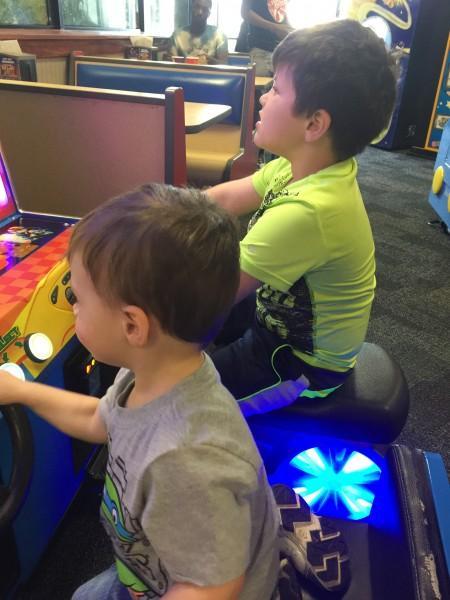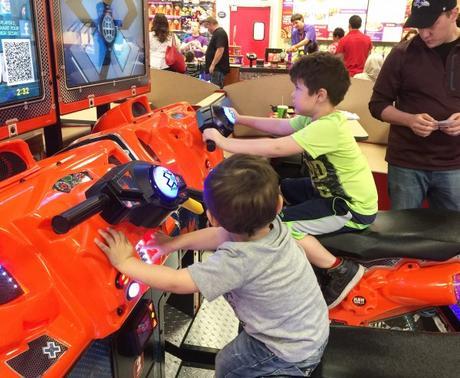 But after such a full week of sickness and house-work and sports and partying, I am left feeling so utterly fatigued. I'm talking by the time it's 3 p.m., I need a nap, beyond exhausted, can't-function fatigue. This is tiredness beyond my wildest imagination. It's wild. I'm wondering if this is just because of the busy week, or if this is just a new pregnancy symptom.
I mean, I was tired during my whole pregnancy with Jack, but not like this. I remember feeling a little more "normal" during the second trimester last time. I guess the difference is having a lively 2 year old, and a very active almost 9 year old to keep up with.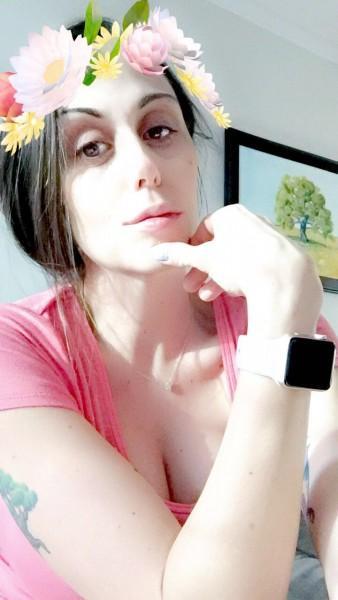 But my word. My fatigue is contributing to some not so pleasant side effects of guilt and sadness that I don't feel like I'm pulling my weight. It's all in my head, and literally no one or nothing has been suggested to confirm my feelings of inadequacy. I am not the type to be comfortable just sitting around, lazing about. And I KNOW that's not what I'm doing. I do manage to get all of my house-work done every day and everything is kept the way it needs to be weekly, but my breaks are longer and more frequent, and I just feel badly about it. Like I should be doing MORE. I'm crazy maybe, but I always feel super bush-league and incompetent when I'm unable to do things as well or as readily as I had before. I just need some sleep.
As for what's going on with the baby...
With her sense of movement well developed by now, Genevieve can feel me dance. And now that she's more than 11 inches long and weighs just over a pound (about the size of a large mango), we may be able to start to see her squirm underneath my clothes.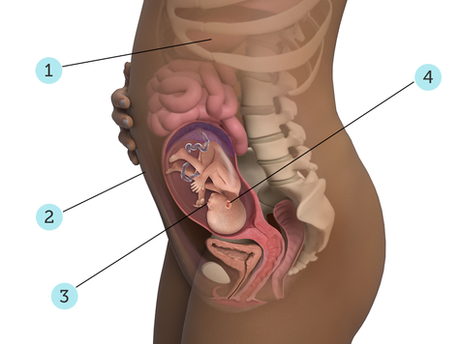 Blood vessels in her lungs are developing to prepare for breathing, and the sounds that Eve's increasingly keen ears pick up are preparing her for entry into the outside world. Loud noises that become familiar now and probably won't faze her when she hears them outside the womb. (Thanks )
What's going on with my body?
I haven't really gained much weight at 23 weeks. Or any actually... I have maintained my weight from the previous week, and have gained 8 lb total since the start of this pregnancy.
I do feel that my bump looks larger than it did before, like I'm actually finally looking PREGNANT-pregnant, which is fun for me. I always for some reason feel that I don't really feel pregnant until I look more pregnant. Once again, I'm crazy.
Aside from the insane fatigue, I feel like the only NEW symptom is heart burn. Luckily, the heartburn this time around isn't like it was with Jack. When I was pregnant with Jack, my heartburn was INSAAAAAANE. I remember just crying and crying because I couldn't even stand upright at times, and laying down was even more miserable. So I'm counting my blessings with that.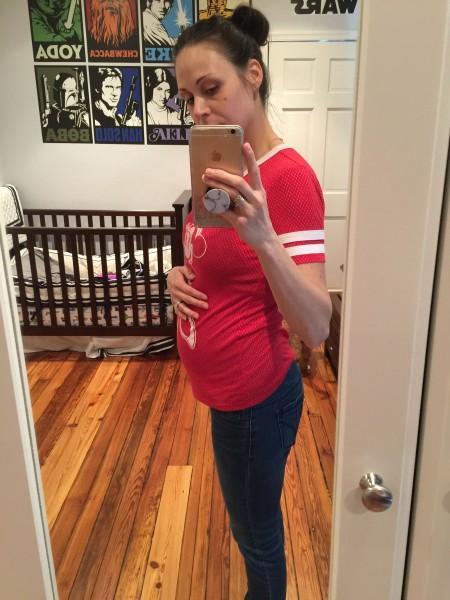 My acne has mostly disappeared, and everything is clearing up. Thank GOD. All that's left over is a zit here or there, and they're not cystic like the breakout clusters I was experiencing at the beginning. Everything is super manageable, and I'm really happy about that. Woo, hoo!
Yes!!!! This is for sure my favorite part about being pregnant. 100% hands down, the best part. I love being this close with my little lady, and the moments where I feel my little girl kicking, punching, moving, shaking and squirming around... these are the moments that I want to treasure.
But the best part isn't me feeling her all the time, it has been watching my sons and my husband feeling her move. Yep! Her kicks have been so strong that we can all feel them from the outside of my belly. Major and Michael were pure joy with her kicks and punches, and it's just so much fun to share this with them.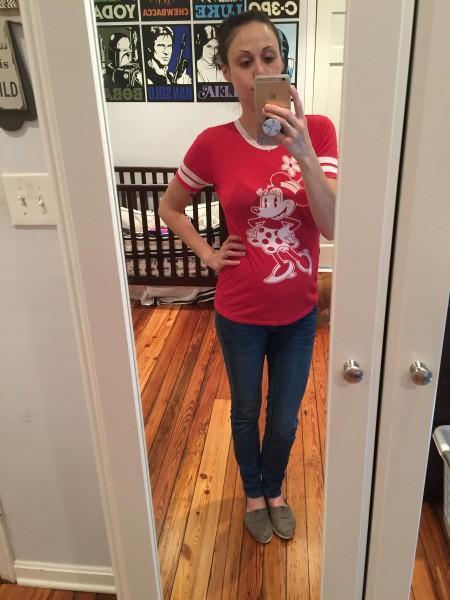 But when Jack felt her move for the first time, it was the sweetest, most amazing thing ever. His eyes got so big and he took a big *GASP!* before quickly removing his hand, then putting it back. Then he said "Bee bee?? Bee bee??" which is Jack-ism for baby. He then proceeded to lift his own shirt up to check to see if there was a baby in his tummy, to which we assured him, there is not.So cute.
As for what I'm wearing...
Let me tell you a little story about when I discovered my regular clothes no longer fit, and we were on our way out the door on a double date to one of our favorite date-night spots, Illusions Magic Bar, preceded by a yummy dinner at The Row House Grille. Like, literally? We were LEAVING when I started crying as I tried to ignore the fact that my shirt was too tight in all the wrong places, and my pants were so uncomfortable around the waist that walking and sitting were chores in and of themselves. Crying. So emotional over all the wrong things...
At the risk of making us all late, I made everyone wait while I finally found some clothes that fit and worked and I even felt kind of good in the selection, but man... I needed new clothes. And magically, we weren't late.
Yes, I have a nice selection of stuff left over from my first pregnancy, however, I was pregnant in winter, and we're just entering spring here which is SO nice, but none of my clothes are season appropriate. I mean, I'm not trying to wear long sleeves and sweaters year around! I get HOT! That combined with the fact that my two pairs of jeans from my first pregnancy are super stretched out and no longer fit. I literally have to pull my pants up a million times a day because they're down to my knees within seconds of walking around. And that's not even an exaggeration. Down. To. My. Knees.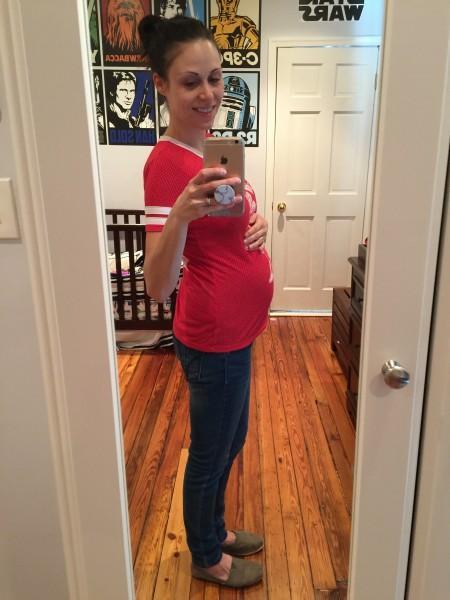 So the other day, my mom and I went on a maternity shopping spree to Motherhood Maternity at the Towson Town Center, which was so fun and so necessary. I was able to grab a couple of pairs of pants that actually fit, and some warm-weather gear like shorts, skirts and tees and tanks. I'm so happy with everything I got, and feel more confident and comfortable in an area I desperately needed. It's weird how "not yourself" you feel when you're wearing clothes that just do not fit you, that sag and bag or are way too tight and hug in all the wrong places. I'm just glad to be back to myself.
I'm hungry all the time right now, so I'm thinking that the baby is doing some serious growing. It's probably why I'm so dang tired all the time too...SO HUNGRY! ALWAYYYYYSSSS!
And as usual with this pregnancy, and the last, there are foods I like more than others, and some foods that make me want to die, die, die. Breakfast food is something that doesn't sit well with me. Michael and Major are huge proponents and advocates for BFD, or breakfast for dinner. I never have been a fan of this movement, and with this pregnancy, the smells of sausage, bacon, eggs and home-fried potatoes REALLY make me sick. Like, SICK. The sheer idea of eating eggs turns my stomach.
Otherwise, sweets have been tasting better than ever, and so does fruit. But nothing can compare to the way spicy ramen and a nice, cold California Roll taste. NOTHING. I never get California Rolls normally, ever. It's just not my taste. But since I can't eat the real-deal sushi with raw fish like I LOVE, I settle for the non-raw variety, and it just tastes as divine as ever.
I don't know why I didn't think of non-raw selections last time I was pregnant. I was going back on some of my previous pregnancy journal entries, reading my lamentations of sushi, and how very much I missed and craved it. Like, DUH! Don't get RAW and you're FINE! Lord...
Did we buy anything, or receive any gifts?
Actually... The past couple of weeks have been pretty big in terms of purchases and gifts. Aside from my new maternity duds, we officially have Genevieve's crib and bedding ordered, and bits and pieces are beginning to trickle in. I can't believe we're at that place already. The crib arrived TODAY! I can't believe it...
I can't believe this is already here. I know it's a LITTLE early, but this is about the time when we got Jack's stuff, but we weren't able to set anything up until after we moved, which was after he was born. So this time around, I'm extra on top of it. It also seems to be the right time according to a lot of the baby blogs and literature I've been reading along the way this time. I'm really excited to set this nursery up, and get our baby girl's side of the room all decorated and whatnot. It'll be so fun. I already know. I'm getting antsy thinking about it.
I selected and purchased my new diaper bag too. Hooray! When I was pregnant with Jack, I selected and then used an amazing bag from Stork Sak. The Olivia was the PERFECT bag for what I needed.
It was sleek, classic, didn't look like a diaper bag, which is of huge importance to me, and it had space for all the crap I'd be lugging around. I used that thing to death, and while it's not totally destroyed, I wanted to get something * new* and more practical for having an infant and a toddler, with room for 9-year-old boy stuff too. I also needed to make sure that it would work for this growing family, and a messenger bag seemed really cumbersome as I thought about all the bending over, picking up, helping out and all that stuff I'd be doing with 2 tiny kids at a park. In comes the BACKPACK.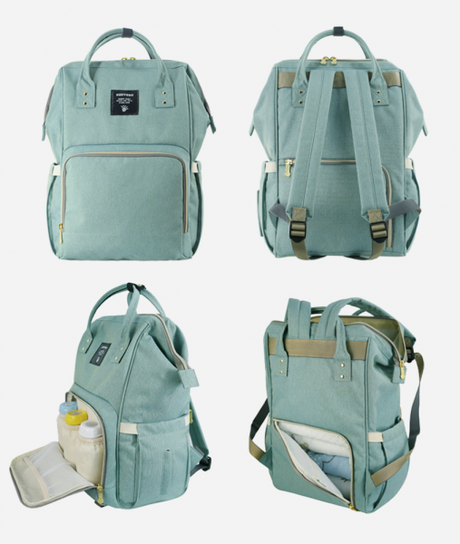 I actually found this one backpack on Instagram, the City Tour Diaper Backpack from ELVY. I fell in love instantly. It was CUTE, it looked practical, and it had room for EVERYTHING I would ever need for what I was looking for, including space for THREE bottles/sippy cups in the front insulated pocket. Player... Seriously, just what I need. After doing a TON of research, I learned that it was actually way cheaper and in some ways easier to go straight to the source: CHINA.
Yes, the bag is from China, which means it'll take forever to get here, which is why I got it now. I also discovered that the brand that makes the bag, SUNVENO has a preferred retailer out of a company called AliExpress. What is AliExpress?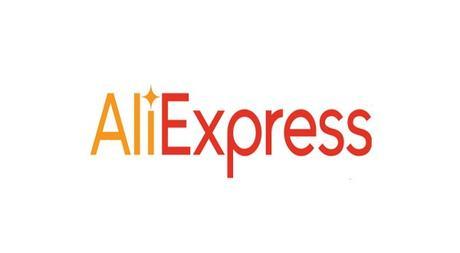 It's a huge online retailer owned by The Alibaba Group, a multi-billion dollar corporation that started as a business-to-business buying and selling portal. It has since expanded to business-to-consumer, consumer-to-consumer, cloud computing, and payment services, as well.
They have FANTASTIC PRICES on AliExpress, because the products are made in China and you can buy them direct. No excess markup, like you'll find on the other sites, such as ELVY. I paid $36 TOTAL for this bag that's selling for $117 on other retailers. Yes. Seriously.
Now, we just have to wait for it to arrive before I can judge whether or not it was a smart decision to use the Chinese marketplace to do my shopping, so I'll keep you updated on that in a later post, where I'll likely review the bag. It's on its way!
In other news, have started a registry over at BabiesRUs.com, however I don't totally expect to even have a baby shower. I think it was just me having some fun looking at all the things I know I'll need to get before the baby arrives, like towels, blankets, diapers, onesies, and other basics that I just don't have. But if you feel so moved to help out, that would be sensational!!!
And a random purchase that I can't help but mentioning... I got some pretty sweet new sunnies from a company I found on Instagram, DIFF Eyewear.
DIFF was founded in 2014 by three skilled entrepreneurs, each with acquired knowledge and experience in the eyewear industry. They shared a simple belief that quality eyewear should be affordable, so they combined their strengths, and began the journey of making a DIFFerence. Through utilizing e-commerce, social media, and a lean business model DIFF is able to offer superior products without the high price tag. Today, thanks to all of your support, DIFF continues to thrive and has established itself as reputable designer eyewear brand. (via)
The company also donates a pair of reading glasses to someone who needs them every time someone purchases a pair of sunnies! It's like the TOMs of sunglasses.
[For] every pair of sunglasses sold, we donated a pair of reading glasses. [They] partnered with a woman named Sherry Grigsby, founder of Eyes on Africa, with the intention to provide eyeglasses to people in need. Eyes on Africa is a charitable non-profit organization, that "provides eyeglasses at no cost to Africans through distribution in communities with no access to vision care.
I ordered the BELLA - MATTE BLACK FRAME- BLUE MIRROR POLARIZED LENS, and I have to say, LOVE the way they look, feel, and function. They're huge, just the way I like them, and mirrored to perfection. They come in tons of styles and colors, so go check them out. I'm not affiliated with them or anything, I just love them that much.
Anything I'm missing or looking forward to?
I really miss having energy, the ability to concentrate, or any semblance of what my brain used to be, and how it used to function. Most times, I feel like my brain is comprised of wet towels sitting in stagnant water, warm and still with little to no movement. It's an unfamiliar and unwelcome feeling.
I'm really looking forward to more movement from baby girl, getting the crib and bedding up and in the nursery, and getting the Fathead decorations up on the walls. I am just super excited for all of that nesting stuff.
I'm also really looking forward to shopping for Eve, and filling the dresser with her clothes and diapers and other necessities. It really makes me excited to think about!