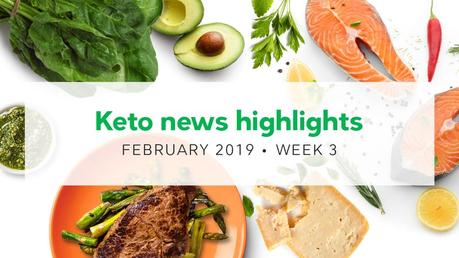 This week, we summarize the top five news articles and studies in the low-carb realm, plus some success stories.
Want more?
Can keto help patients with type 1 diabetes? What do Drs. Phinney and Volek have to say about keto-induced "adrenal fatigue"? Does exercise help your fat cells perform better? Is chocolate really good for us, or did the candy industry pay for that research? What group will win (from a CVD risk factor standpoint) in this small, randomized, eight-week face-off: grass-fed waygu vs. grain-fed beef vs. soy-based meat replacement?
Bertha, an aging, morbidly obese chihuahua loses more than half her body weight over the course of a year, going from 13 pounds to just 5. How did she do it? Her owner put her on low-carb dog food and paid attention to portion size.
Meet the Millers... a family transformed by low-carb. Dad is down 80 pounds (36 kilos) and his A1c fell from 8.3% to 5.0% while eliminating diabetes meds! Mom is down 40 pounds (18 kilos), a son down 60 (27 kilos) pounds, a daughter down 45 pounds (20 kilos)... another son with improved asthma. Wow.
Tyler wanted to lose 100 pounds in a year to win a $2,000 bet. He almost gave up, but found keto, intermittent fasting, and the gym (plus no alcohol). He is now down 141 pounds (64 kilos)!
A life coach turns her own life around when she finds that keto tames difficult epilepsy and eliminates the need for meds that were making her waste away.
After a type 2 diabetes diagnosis, Alan happened to find keto and everything got better. In nine months, he went from a 46″ waist to 36″, and lost 70-84 pounds (32-38 kilos). At 65, he is working more, getting fitter, and enjoys normal blood sugars with no medication.
Graham battles his type 2 diabetes with a new low-carb, high-fat diet. The results? A leaner, fitter version of himself, minus the night sweats, hypos, lethargy, and mental fog.
A Virta Health patient who reversed her type 2 diabetes explains her keto motivation: "Diabetes will rob you of your feet, your kidneys, your eyes. I'd choose keeping my body intact and healthy over eating a sugary dessert any day of the week."
Tune in next week!
About
This news gathering is from our collaborator Jennifer Calihan, who also blogs at Eat the Butter. Feel free to check out the keto meal-idea-generator on her site.
More with Jennifer Calihan
Top 10 ways to eat more fat
How to eat low carb and keto when dining out
Living low carb in a high-carb world
Earlier
Keto news highlights: PCOS, individuality, and 'drinkable' potato chips
Keto news highlights: Genes, CGM, and dairy fat's vindication
Keto news highlights: EAT, fiber and Peeps cereal