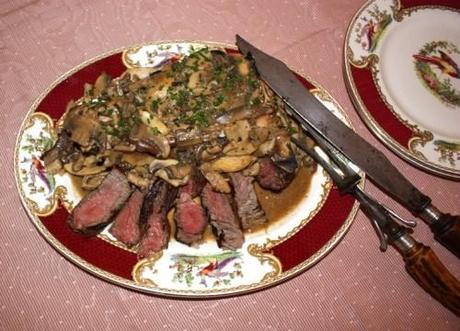 God bless moms.  Having your very own special birthday dinner was an exhilarating acknowledgement that mom really did love you best of all, at least for one day each year.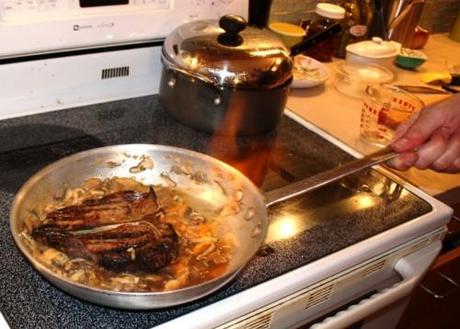 Beef fondue made me king every January 2nd. Down in Tulsa, come June 21st my friend Diane's mom Betty presented her princess with an ultra-elegant feast starring — what else? —
Steak Diane
!
My brothers were delighted spearing chunks of steak into vats of roiling oil so my somewhat prissy choice was a real crowd pleaser. Except perhaps the day after when a not so sotto voce muttering about "a big greasy mess" and "my ruined table cloth" might be overheard. Maybe.
Now I heard tell things weren't so easy down Tulsa ways when Diane's strapping brothers looked askance at fancified Frenchie food blazing away like oil-rig fires right there on the supper table ruining perfectly good steak. Though it must be noted her lovely sisters and wise father Willard found Steak Diane to be just fine and dandy.
Could it be the Show Me State was a tad more cosmopolitan than the Sooner State?  After all St. Louisans were famous for clanging trolleys racing to the great fair where the lights were always shining and everyone was dancing the Hootchy-cootchy with their tootsie wootsie. If Judy Garland sang it, it has to be true, amiright?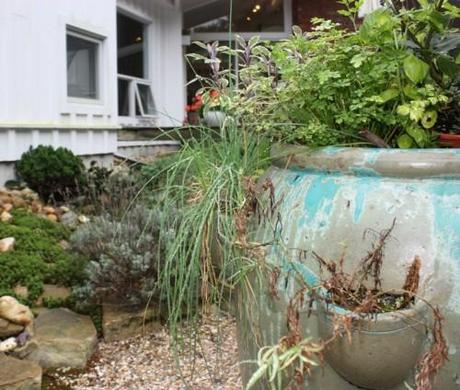 Meanwhile down in the Panhandle they manhandle all that beef cattle and the snakes rattle while the wind whistles through the dead thistles and there's lots of big cows but better watch your step 'cause them cattle eat their share and it's gotta go somewhere in that little piece of heaven, Oklahoma. According to the B'way hit musical Dirty Rotten Scoundrels. If you'd like to hear this ditty in its entirety click here.
But through a determination worthy of a latter day Laura Ingalls Wilder heroine sweet young Diane and her delicious steak prevailed.
Traditional Steak Diane calls for medallions of beef tenderloin.  While the fabled fillet mignon isn't in any danger of being displaced as the best loved cut, it's usually too insipid for my taste. Not steaky enough. Give me some of that mineral tang, a hunk of charred beef flesh to really chew on, with a big bone to gnaw.
This Steak Diane also features handfuls of fresh, oniony chives, which luckily are still growing strong in my beloved jardiniere – the preferred term of St. Louis playwright Tennessee Williams, otherwise known as a greens-growin' bucket by Gooper and Mae Pollitt in "Cat on a Hot Tin Roof."
Anyway, this Spectacularly Delicious Original Recipe for Grilled and Flambéed Porterhouse Steak Diane will cause a sensation across state lines coast to coast. Just like that little red-headed cutie who inspired it in the first place.
Click here for the recipe for Porterhouse Steak Diane.