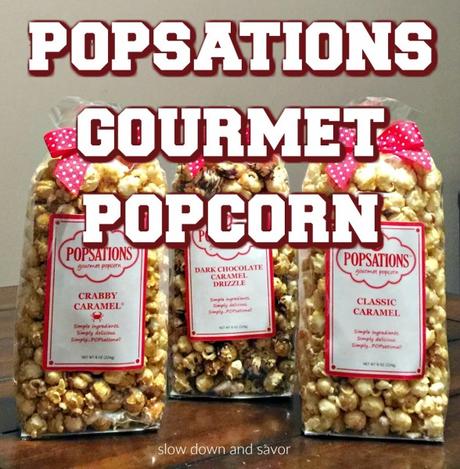 There's little better than a fist-full of deliciously glazed caramel corn, or heavily seasoned cheddar popcorn. Am I right? Sometimes, I just get this hankering, this ravenous desire for caramel corn or cheddar popcorn, or even for ranch flavored popcorn. Do I like regular pop corn? No. I don't. But when you throw powdered flavoring and sticky-sweet coatings, I'm game. I'm more than game. I'm... give it all to me right now!
So when Popsations, a local Baltimore gourmet popcorn company reached out to me asking if I'd like to sample some of their stuff, I more than happily replied with a "YES!"
When the box arrived, it took a whole lot of will power to NOT rip it open like a hyaena (Do hyaenas rip through things? I feel like they do...) and dive right in.
A lot of will power. What I found inside were three varieties of Popsation's gourmet popcorn treats, and I breathed a happy sigh when I saw there was Caramel Corn in the mix. Oh yeah, baby. Come to mama!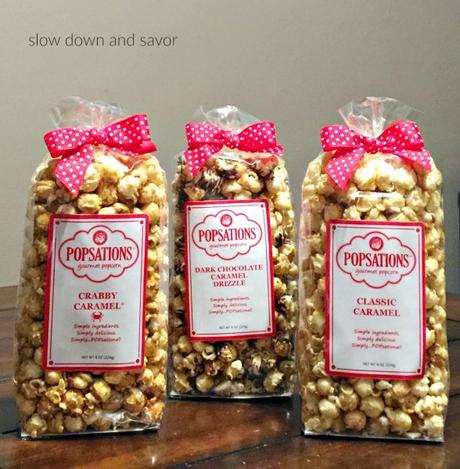 But I also was intrigued by the Crabby Caramel variety, as well as the Dark Chocolate Caramel Drizzle.
After dinner, I gathered my brood, and we excitedly sat down to do our "official taste test" of the three varieties of popcorn. First up?
The Crabby Caramel. Basically, it's classic caramel corn with some Old Bay thrown in, because, Baltimore. And what do you get? Something seriously unique. I kept going back for more, mostly because it was odd, and it was good, and it was weird and it was odd... Do I like it? Do I not like it? I can't tell... It's one of those flavors that leaves you scratching your head. Yes, I still eat it. Yes, I'm still confused by it. Yes I'll go back for more. I do need to say that my 7-year-old son LOVED the Crabby Caramel. This was a huge hit with him. Not so much with my husband, and as you can gather, I'm still on the fence.
The next kind we tried was the Dark Chocolate Caramel Drizzle.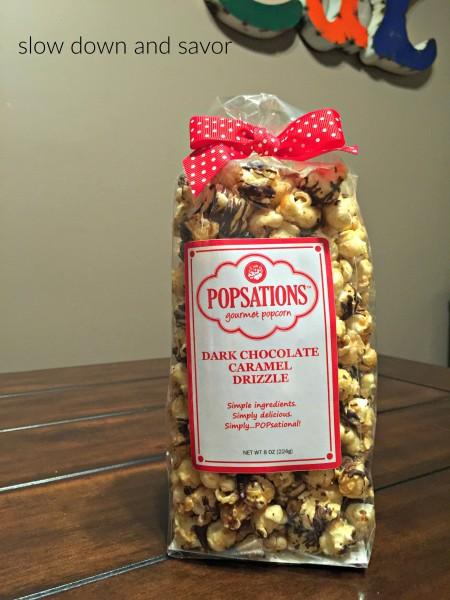 SO. GOOD. OH. MY. GOSH. MORE. PLEASE. THANKS. Yes, this was my favorite - hands down. Keep it coming... Basically, it's a traditional, delicious caramel corn, drizzled with a decadent and silky smooth, slightly bitter chocolate. The result is heaven, and that bag is long gone. We made very short order of it, and we'll be getting another one, that's for sure.
The third and final flavor was the Classic Caramel.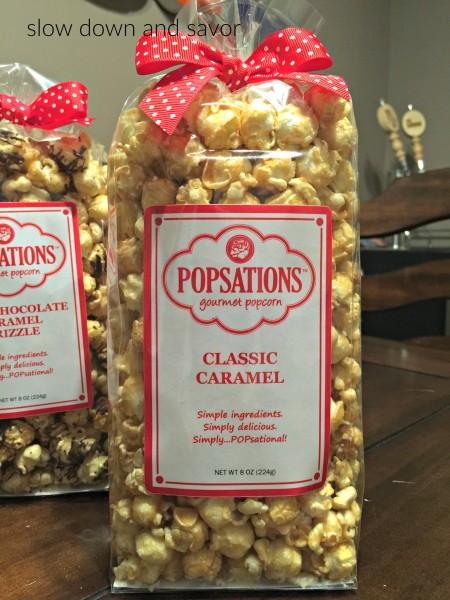 I mean, what can I say? It's caramel corn done right. Not too much caramel, but just enough to make it perfectly sweet with a little crunch. It's classic. It's timeless. It's simply perfect. We're also a huge fan of this flavor. Clearly.
So let me give you some quick background on Popsations Gourmet Popcorn. Popsations was born in Timonium, MD, out of memories of eating delicious flavored popcorns with friends and family, and a dream of creating simple and delicious, high-quality popcorn for everyone to share while building lasting memories of their own.
There are 9 flavors: Classic caramel, crabby caramel, dark chocolate caramel, milk chocolate caramel, white chocolate caramel, white chocolate peppermint, classic cheddar, classic mix and white cheddar. Your'e able to grab these in some ribbon bags, 1 gallon pails, 2 gallon tins, 3.5 gallon tins, or a 6.5 gallon tins, and the prices start around $22, and go on up depending on what all you're getting. They have some great gift ideas, and I mean, who wouldn't love getting some of this delicious popcorn? I know I would.
Have you tried Popsational Gourmet Popcorn? What'd you think?
I received this product from the company to put to the test, and all opinions are 100% my own.