Rainbows are such a great excuse to use colourful paper. Add a pot of gold and it is a St Patricks Day paper craft!
For this craft you need paper in all the colours of the rainbow, to make it a St Patricks rainbow craft make sure you have some extra green paper for a shamrock, and brown for the pot of gold.
Good luck and have fun making your St Patricks rainbow circle.
Pleat each sheet of paper and then fold it in half. Cut out a shamrock and pot shape out as well.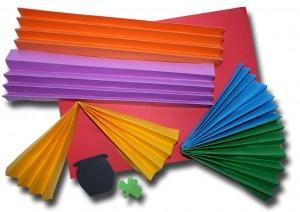 Glue each pleated fan together in the middle, and to the next fan. I thought it looked quite cool cool after each one had been glued together and it made a half circle fan shape.
But the plan was a circle, so I made the final glueing step and joined all the fans together to make a circle with a pot of gold in the center.