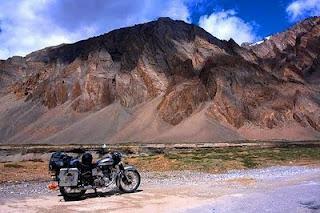 Khardung La

has its head in the clouds and its height in doubt. Khardung La is an amazing place and "only one in the world" experience. The sights on the way to and from this place are fantastic beyond words. Khardung La (la means pass in Tibetan) (elevation 5359 m) is a high mountain pass located in the Ladakh region, Jammu and Kashmir, India. The international spelling is used here, but it is locally spelt "Khardong La". This amazing pass on the Ladakh Range lies north of Leh and is the gateway to the Shyok and Nubra valleys. The Siachen Glacier lies partway up the following valley. Khardung La was built in 1976 and was opened to motor vehicles in 1988 and by then there have been many automobile, motorbike and mountain biking explorations. This area of Khardung La is maintained by the Indian Army\'s Corps, the pass is really important to India as it is used to carry various essential supplies to the Siachen.
Authentic Khardung La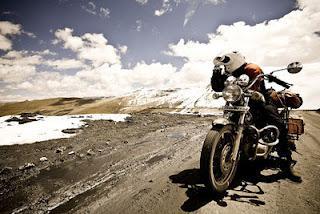 Khardung La

is historically important as, for centuries; Khardung La remained one of the highest points on any trade route anywhere in the world. The caravan trade (till the year 1949) used this pass to do business between Punjab and central asia. This route was a feeder to the famous "Silk Route" and could only be used in summer as the snow in winter would make it impossible to cross. About 10,000 horses and camels used to take the route annually, and a small population of Bactrian camels can still be seen in the area north of the pass, mute witnesses to history. During World War II there was a futile attempt to transfer war material to China through this route. Imagine the adventurers and traders of yester years traveling through these mountains with horses, mules, camels, sheep and yaks!
This pass is really a challenge to every biker from all corners of the world testing their conviction. Thin air and low oxygen levels makes riding to this pass even more difficult. Converge of tourists visit this pass in their SUVs and Bullets each year during mid June to mid October. Weather conditions can be unpredictable, and snowstorms can happen even in the height of the summer also. There can be a lot of heavy traffic on the road, especially Indian Army trucks. Acute Mountain Sickness is a serious risk, and visitors are not recommended to spend too long at the top.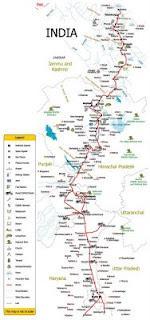 It is probably an adage to use the word anxious when you are referring to Ladakh. But it is not every day that you drive up the towering mountains beyond 17000 feet, in the midst of stunning landscape and then immerse down to 10000 feet to rest in a picturesque valley.
Vehicles traveling to and from Khardung La are allowed only in one direction at a time: from 9am - 1pm in the Leh – Khardug La direction, and from 1 pm - 5 pm from the Nubra Valley via Khardung La towards Leh.
"Every generation needs a journey story; every generation needs a story about what it is to be transformed by geography, what it is to be transformed by encounters with cultures and people that are alien from yourself, and you know that age group 15 to 25, that's the perfect generation to get on a motorcycle, to hit the road, to put on your backpack and just go out."
— José Rivera, screenwriter, NPR [5]
We are planning to explore the world's highest motorable road in the month of April/May 2012. Those who are likely to join our group can post a mail to [email protected] or [email protected] or you may even post your view and suggestion in the below comment box. The itinerary will publish after fixing the date.