If you're getting married towards the end of October, why not go all the way and throw a Halloween wedding? Fun, spooky, mysterious but elegant at the same time, a Halloween wedding will provide your guests with a lifetime worth of memories! Best of all, you don't even have to stay within the norms and limits of a regular wedding. You want to dress up as the bride of Frankenstein on your special day? Go for it! The good thing about a Halloween wedding is that it provides everyone with the chance to loosen up and dress up in the scariest or most outrageous costumes ever!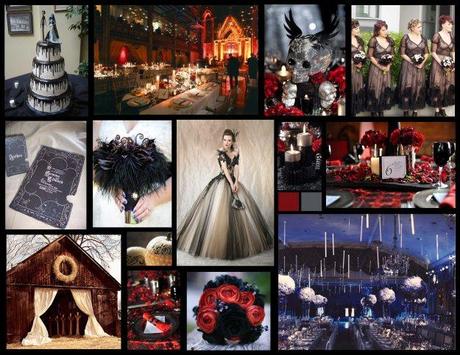 Indeed, don't hesitate to ask your guests to wear any costume of their choice. You can do this by adding a small postscript at the end of your Halloween wedding invitation. Speaking of which, it's quite important to make sure that your invitation matches the overall theme of the day. Skip the usual pastels, beiges and pinks in favor of typical Halloween colors such as orange and black. Make sure to accessorize and personalize your card by adding some black feathers or even a few black plastic spiders in the envelope; something which is bound to spook your guests and prepare them for the big day!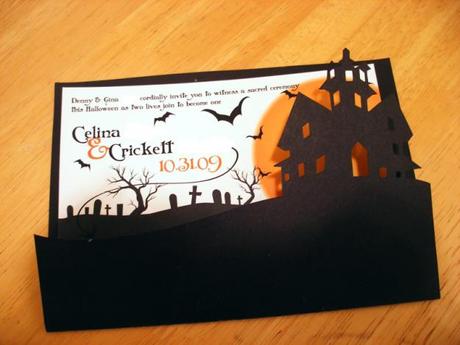 Don't be afraid to push the boundaries either: Eccentric bridal accessories will not only enhance the Halloween theme but they'll also look amazing in pictures. A large, gothic-style hand fan, chunky silver jewelry, dark birdcage veils and other such items will certainly add an eccentric and mysterious touch to your attire. As far as the drinks and food are concerned, go for a typical Halloween buffet. However, it's not a bad idea to mix and match the gory Halloween food with classier dishes. After all, you do want to make sure that the faint-hearted guests at your wedding do have something to eat too!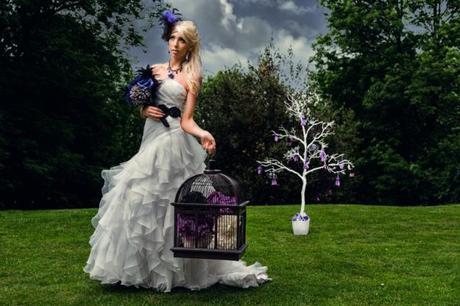 A Halloween wedding can be an extremely tasteful albeit fun affair if done properly. Couples who don't want to go all the way can infuse a few light Halloween touches here and there. Wedding placeholders shaped like vampire teeth or a long black Dracula-style drape around the groom's shoulders will certainly add a discreet touch of spookiness. Lights also play a very important role in setting the mood so stock up on some giant candles to add a mysterious feel to the room. If you're afraid of fire hazards, substitute real candles for LED ones for the same effect.