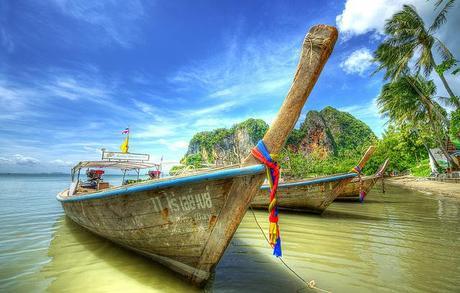 A multi-centre honeymoon is one where you visit more than one destination. It may be as simple as a few days in a city (say, Hong Kong), followed by a week or two on the beach (for example, Bali). Or you may want your honeymoon to be made up of a number of different places – for example, flying into Durban and slowly driving down to Cape Town (as we did on our honeymoon); exploring South America both overland and by plane; or starting in San Francisco and ending up in Los Angeles, via Yosemite and the Big Sur.
Logistically, planning a multi-centre honeymoon is a little more time-consuming to organize than a straight-forward two weeks on the beach honeymoon. But it doesn't have to be stressful – I've put together this handy list below to help you plan, and whether you're planning it by yourselves or with a travel agent, having an idea of these things will make the planning go a lot easier.
Decide on  your budget  It's easy to let things add up on a multi-centre honeymoon, especially if you keep finding more great places to go and stay. Decide on a budget before you start planning – you can always reassess as you go along – and this will help you figure out what you can comfortably afford. This is also vital if you're looking into booking your honeymoon with a travel agent. I found it really helpful to have a honeymoon spreadsheet while we were planning, which set out each night of our trip, and our budget, and as we found and/or booked more stops, they were added to the spreadsheet so we knew how much money was left in the pot, and how many days/nights we still needed to book accommodation for.
Be realistic about how much time you have   Look at how much time you'll have to spend traveling between destinations and how this will impact how much time you have in each place – it's easy to forget that two nights somewhere usually means just one full day in the destination. If you're driving, check in advance what the driving distances are between each stop, so that you know what is manageable – and have an idea of how much you're happy driving in a day (as a rule, we find that more than five hours in the car gets pretty exhausting), as the more you drive, the more tired you'll be once you reach your destination – and the less you'll feel inclined to do once you get there.
Think about how you want to travel   If you've got limited time and want to cover a lot of ground then flying is likely to be your best option. Personally, I always prefer traveling overland where possible – whether by train, car or bus, you get to see a lot more of the country than you do from the sky, though of course it's a lot more time consuming. This can also affect your choice of destination – when we were choosing our honeymoon destination, we didn't want to fly once we were in country, so wanted to choose a destination that was relatively easy to get around by car – we ruled out a lot of other destinations because we would have had to take at least a couple of internal flights in order to see as much as we wanted, even with a month at our disposal.
Make sure you factor in time to relax   If you're going to be traveling around a lot then it can be easy to think about seeing as much as possible and not so much about actually having time to wind down and relax after the wedding. I'd recommend spending at least your first two nights in the same place, just so you have a bit of a chance to recover from the journey and acclimatise, and choose one or two other places where you can really kick back – however you like to relax, whether it's exploring a city, indulging in spa treatments, or sitting on a beach for a few days.
Talk to people in the know  Whether it's someone who's been to the country, a travel agent, or staff at the hotel(s) you're planning on staying at, you can't beat travel information from people with experience – and these are the people who will be able to tell you whether you're missing somewhere amazing, or  if you're being too over-ambitious with how much you're trying to fit in on your honeymoon.
Photograph © Mike Behnken