Yesterday, D.C. based fast casual craft pizza joint, opened up here in Baltimore. The best part? They opened in my neighborhood, just steps from my home on t he ground floor of 1201 S. Charles St., a new apartment building in Federal Hill.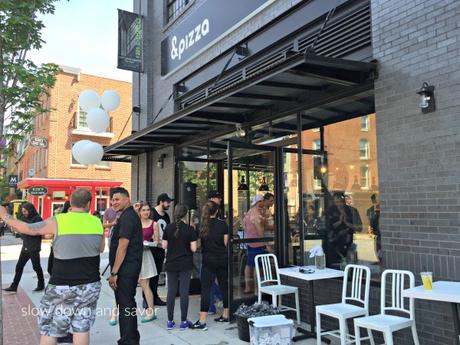 The other best part? To promote their new location here in Baltimore, &pizza gave away free pizza all day long from 11 a.m. through to midnight. Seriously! And it wasn't just a slice. It was a WHOLE PIZZA. Whatever kind you want! To those of you who missed out on that, I'm so sorry. It was amazing. And to those of you who were able to go, wasn't it so good?
So when I arrived around 11:15 a.m., 15 minutes after they opened, I wasn't surprised at all to see a long line. While in line, Jack and I got super cool tattoos, and learned quite a bit about the menu, and the company itself.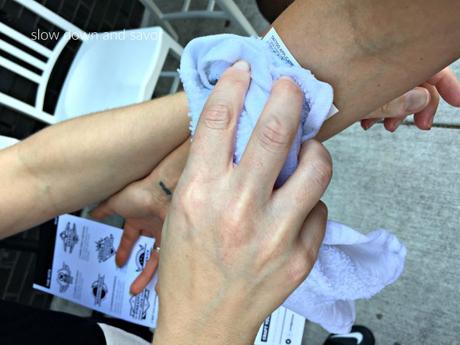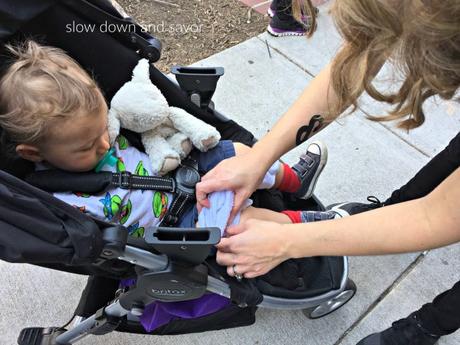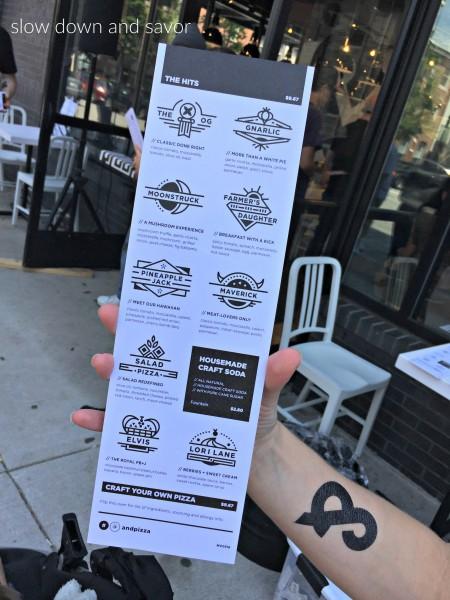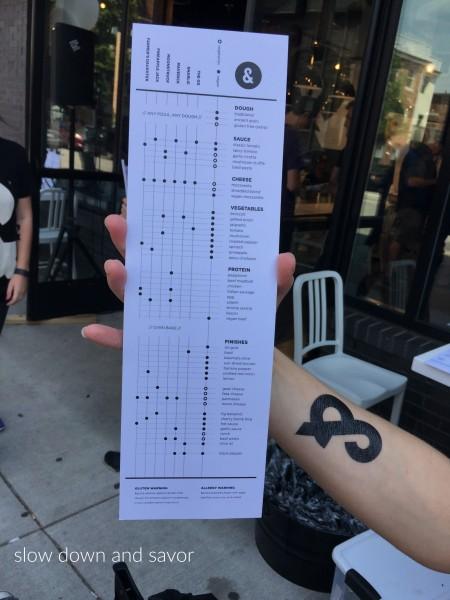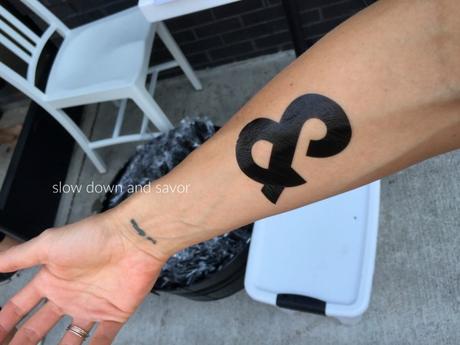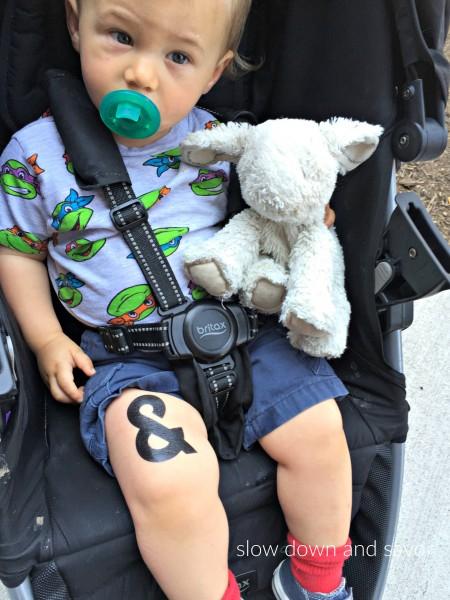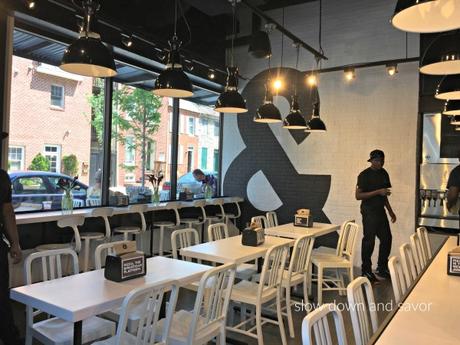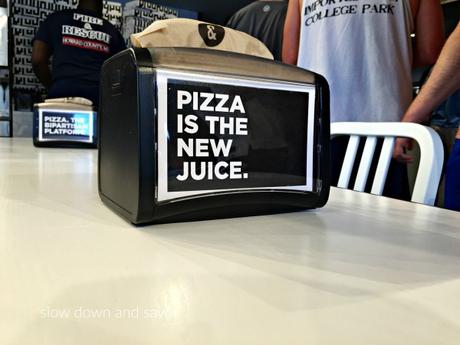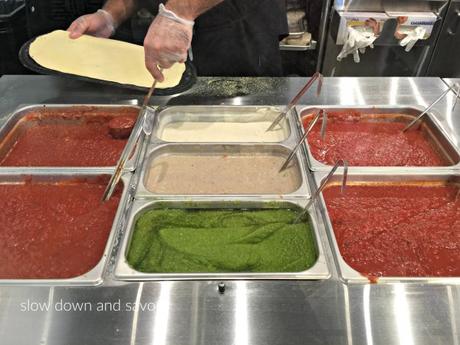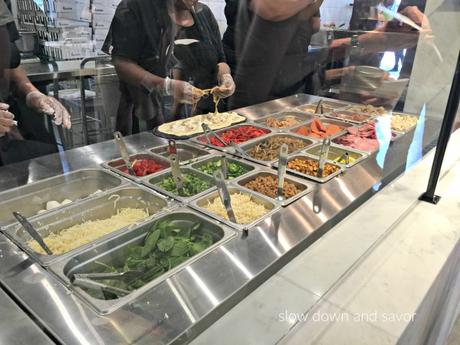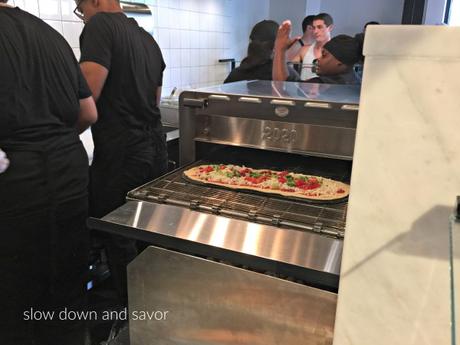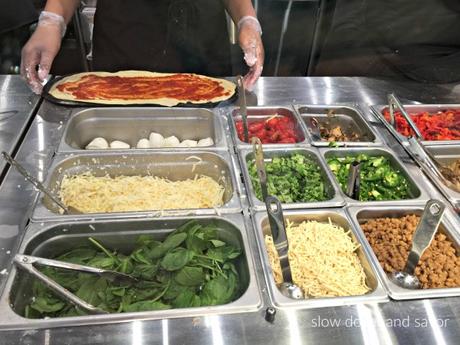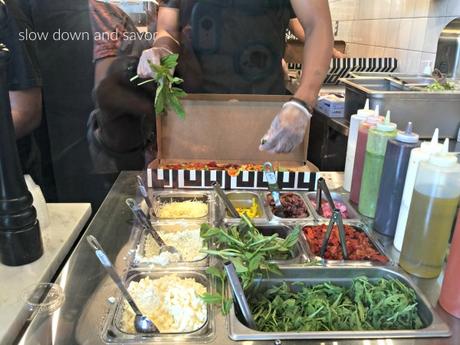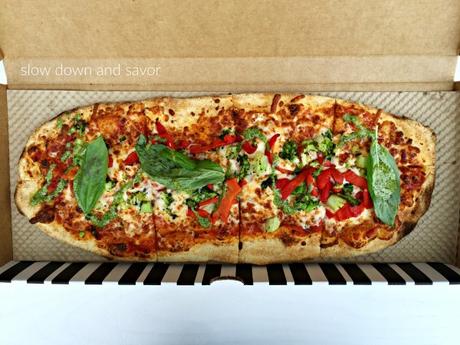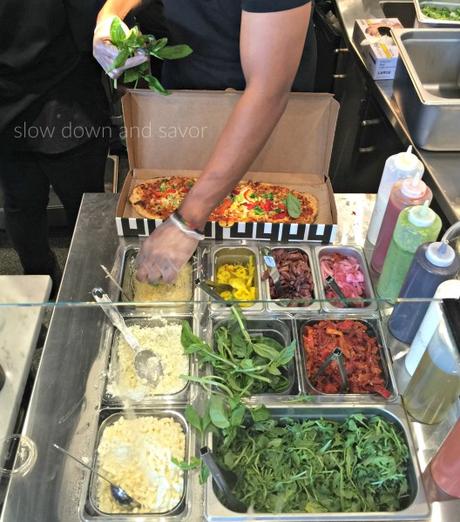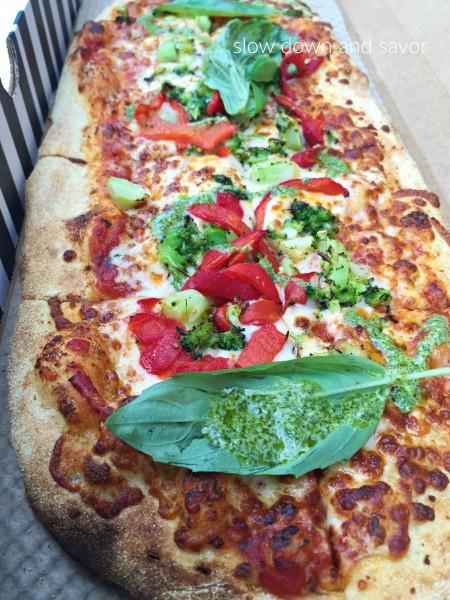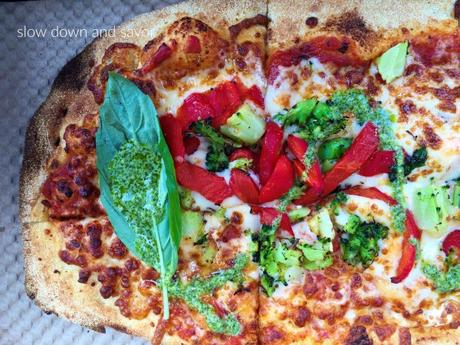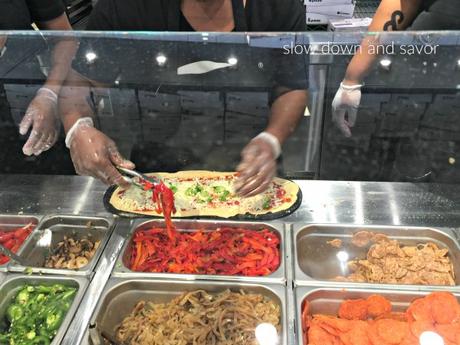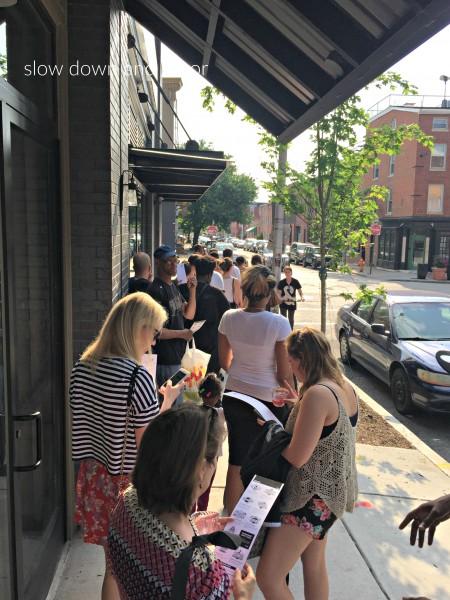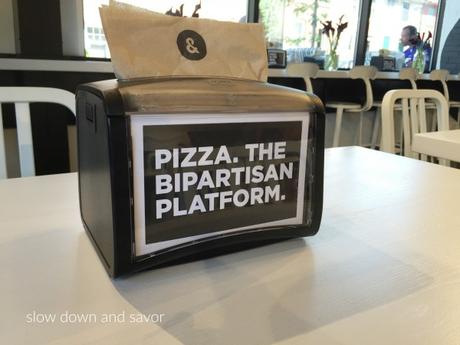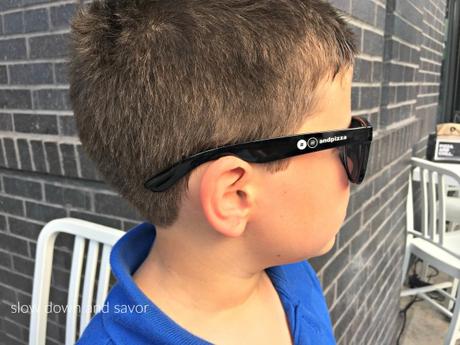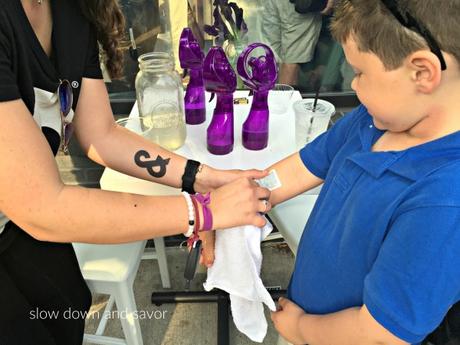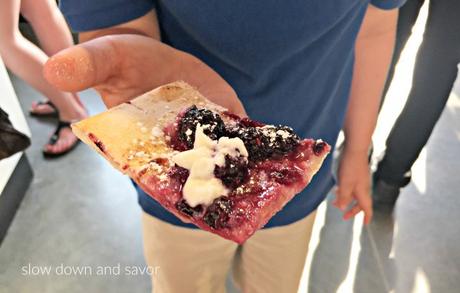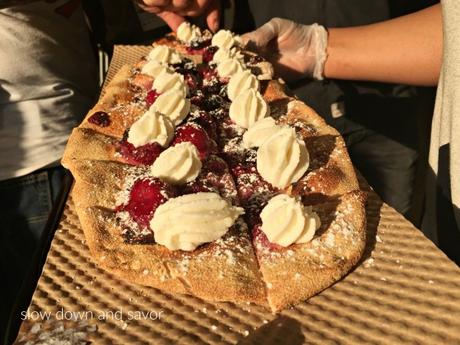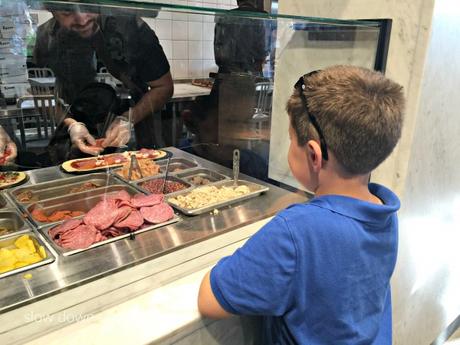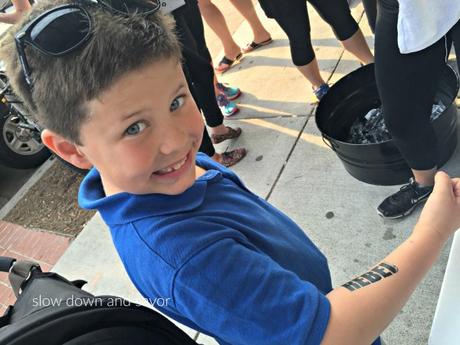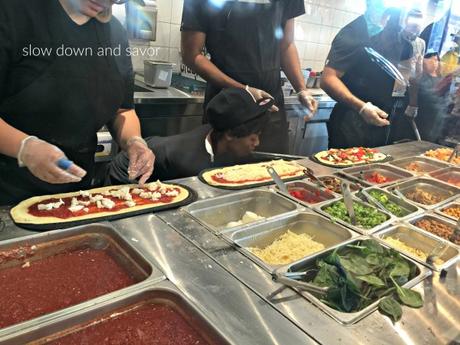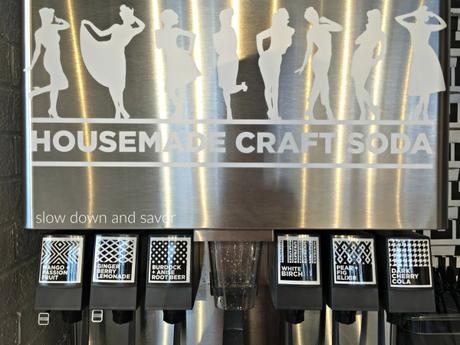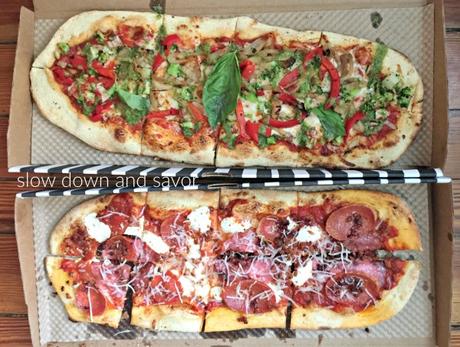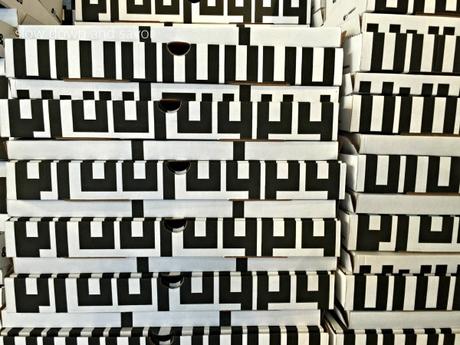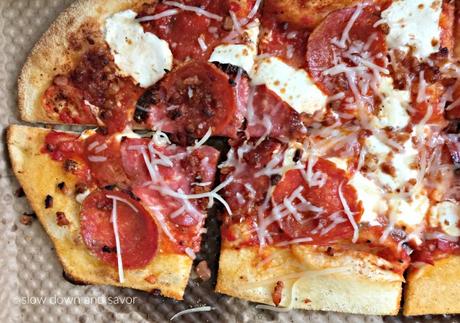 All of their products are MSG-free, and the dough is organic. None of their products contain high fructose corn syrup. Their fresh produce is locally-sourced when possible, and it's adjusted for seasonality in order to ensure freshness and quality. They also try their best to make sure the source of the seed in their suppliers' crops are GMO free, and their suppliers' dairy cattle is hormone-free. They also house-make all of their sodas. Yum.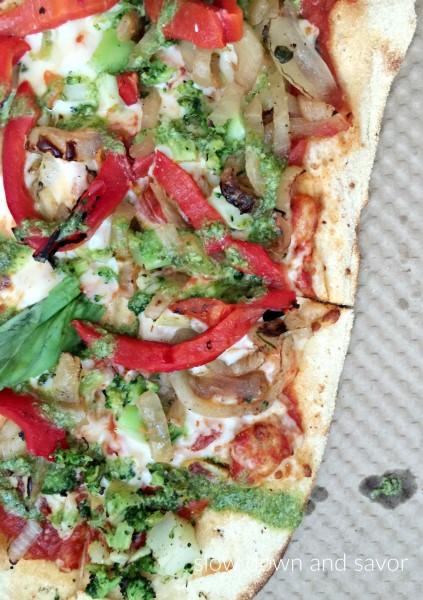 Their menu features 9 pizzas they call "The Hits," and wow, they sounded good. I think out of the bunch, I am most excited about the Farmer's Daughter, "breakfast with a kick." It comes with your choice of crust with spicy tomato sauce, spinach, mozzarella, Italian sausage, egg, parmesan and hot sauce. Man, doesn't that just sound so unique and delicious? I also think that the Salad Pizza with olive oil, romaine, cucumber, tomato, shredded cheese, pickled red onions, ranch, and moon cheese sounds pretty sensational. But, because I am who I am, I decided to create my own.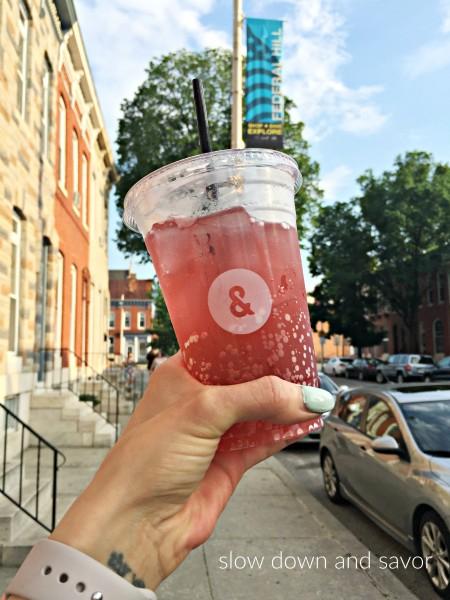 All of the pizzas, signature AND create your own, are $10.50.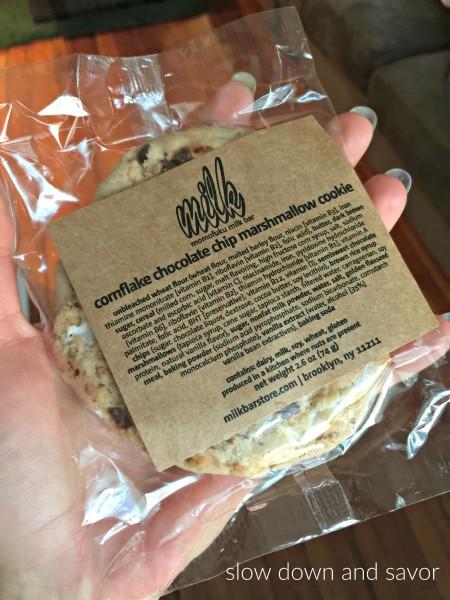 That's right folks. A flat fee. But if you want shrimp, it'll be an extra $2.50. But let me just be clear. If you wanted to get to get the Farmer's Daughter, it'd be $10.50. If you wanted to get a traditional crust pizza with spicy tomato sauce, mozzarella cheese, broccoli, grilled onion, japaleño, tomato, mushroom, roasted pepper, spinach, pineapple, spicy chickpea, pepperoni, beef meatballs, chicken, Italian sausage, egg, salami, bacon and vegan beef, it would be $10.50!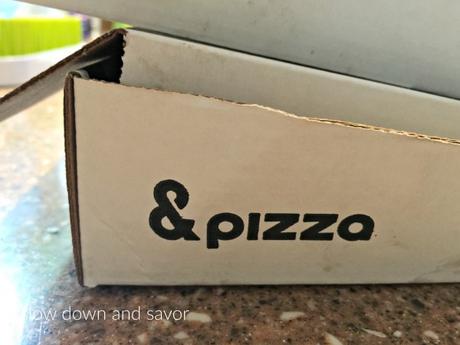 When I finally got up to the ordering counter, I was really excited. It's a really fresh looking assembly line behind the glass, and there were SO MANY OPTIONS.
I went with the ancient grains crust, which is packed full of healthy stuff, but it doesn't taste any different from a traditional crust. I also went with their spicy tomato sauce. I selected the shredded blend of cheese, broccoli, and roasted red peppers. The pizza then began its journey on the conveyor belt style oven.


It came out on the other side, where they have even more ingredients they refer to as the finishes. I selected fresh basil and drizzle of basil pesto sauce. I could hardly even wait to get home to try this pizza.
Oh my actual goodness. This pizza was a true sensation. The flavor was straight out of heaven. When a magical fairy and a unicorn frolic together through the majestic, secret and enchanted forrest, and spot the end of a rainbow and cry happy tears because it's so beautiful... those tears were clearly bottled by the &pizza folks and used as ingredients in this pizza.
It was so good that I thought Major needed to go too. So, after he finished his homework, and before it was time to go pick Michael up from the airport, we walked back down to &pizza. This time we were faced with a longer line than I encountered earlier. That's OK. I already knew it was well worth it.
Major got some glasses and tattooed while we waited, and was so excited.
While we waited in line, Major decided that he wanted to do a custom pizza as well. We talked over the menu and all the cool stuff he was doing in school, and enjoyed samples of their hand-crafted sodas and sweet pizza dessert called the Lori Lane, a pizza with white chocolate sauce, berries, sweet ricotta and agave syrup.
When it was our turn, the little dude picked out a traditional crust, original sauce, mozzarella cheese, pepperoni, salami and bacon. Talk about a meat lover!
I decided to get myself another pizza too because, well, it was that good. AND I thought it'd be nice to have some in the fridge for when Michael got home. See, I'm nice. I was being a good wife, getting three pizzas in one day... Yeah, let's stick with that.
For this third pizza, I basically got the same thing as before, but I added caramelized onions, just to shake things up.
Man, they were just as good the second time around!
Major loved his meat pizza, and my veggie ensemble was stunning.
We each grabbed a soda too. Major got the White Birch, and I chose the Pear + Fig Elixir. I loved Major's. I'll probably get that next time. The Pear + Fig was really good, but just a bit too sweet for me.
And since Major improved his grades so much in school, I decided to get him a special treat, a Momofuku Milk Bar cookie! Yep, in addition to awesome pizzas, and delicious sodas, they also carry a limited array of Milk Bar treats! Hurrah! Yeah, it was good.
And guess what? The pizza reheated perfectly, and Michael loved it. He was astounded at just how good it was out of the microwave, and now he can't wait to try one fresh for himself.
1201 South Charles St
Baltimore, MD 21230
443.341.1016
Sunday - Wednesday11 am - 11 pm
Thursday11 am - 12 am
Friday & Saturday11 am - 3 am