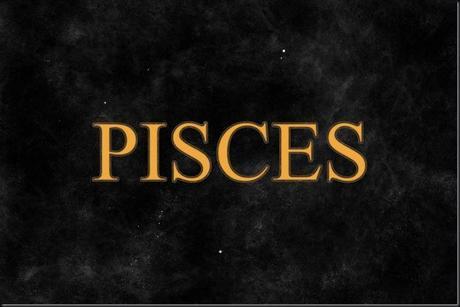 The following monthly forecast is only valid for those of you with Pisces as your rising sign, which is probably different from your Sun sign as it is dependent of the time of your birth rather than on the date of your birth. If you do know exactly or approximately when you were born, please click on the following link to find you Ascendant sign - FIND YOUR ASCENDANT SIGN
With Pisces rising the Sun and Mercury are going to be traveling for most of the month through the 10th house otherwise known as the career sector of your chart. You should feel quite confident about your work and public situation as Mercury enters Sagittarius on the 5th, and now would be a good time to make plans for the future and consult with superiors to see how you might progress in your career, although try not to be too outspoken as Sagittarius is a sign where communication is free, easy and rather too unhindered sometimes. The likelihood is that you may be more in the spotlight or you may have to accept some new responsibilities; certainly you will be more visible to those around you than has been the case in the past, whether you like it or not.  You may have the urge to learn different skills within you work environment to make you more useful to your employers. Communications and paperwork may take up more of your time than normal and if you are entering into or dealing with any new work contracts, they should go reasonably smoothly. These planets are moving through one of the parental houses so issues involving your parents, discussions with them and advice from them, especially from your father could be of importance now. The new Moon on the 3rd December conjunct to the star Antares will put a big focus on future work plans and the square between Neptune and Mercury could see you making sacrifices to so that you can further your career. The full Moon on the 17th arrives in the sign of Gemini puts a premium on your family and domestic situation. Are you happy where you are living, do you need a move of house or a change of scenery? Are relations with your family and your mother going well? Do you have the right balance between your career and your home life. All these questions and more will be posed to you now.
The planets Venus and Uranus change direction in the middle of December. Venus stops on the 17th of the month before turning retrograde, and in moving through your 11th house of friends and groups you may find that relations with some of the people closest to you may sour or change, you may see many of the people you associate with on a regular basis in a different light. Some friends will leave now and you may decide that your membership of a group or club no longer makes sense and you might need to free yourself up from some of the responsibilities that you have within them. You may now make new acquaintances that could over the short term be quite influential in your personal development, people who allow you to see life in a different light. Uranus turns in the opposite direction, starting to move directly in your 2nd house where money, possessions and personal values are ruled. I think that you could become quite impulsive in the way that you spend money now, your hard earned cash could slip through your fingers without you even noticing. On the other extreme, you may want to divest your self of old memories – the influence of Uranus does not have much sentimentality. This turn of Uranus' direction may herald a clear out of things that have been cluttering your life up.
Mars the planet of action this month moves into Libra and a very interesting and hidden part of your chart, the 8th house of sharing, debt, power, control, death and enforced change, other people's finances and possessions. Mars will stay here for the next 6 months and while it is resident in this part of the chart it will be in a feisty mood!! Your need and desire for intimate and sexual relations with your partner or your lover will be increased exponentially. This position can cause problems and even arguments over shared finances and who owns what and you would be wise to be open and candid on these matters rather than to hold back any secrets, another thing that this house rules. You will be very much in a frame of mind to seek out the truth in all matters and to uncover what is hidden away. The tendency to be domineering and in control of any situation will increase within you as December begins and will last for a while to come.
Other Ascendant Sign Forecasts
Aries Taurus Gemini Cancer Leo Virgo Libra Scorpio Sagittarius Capricorn Aquarius Pisces
For A More Personal Look At The Future
As with all general forecasts, this can only be a rough guide to the movements of the planets and how they may affect you. Would you like this forecast made even more relevant for you?
Get in touch with me at [email protected] providing your birth details or please go to the following link, and I will endeavour to see what the planets have in store for you personally in the next couple of months. Please note I am unable to do personal readings for free.
Get an astrology report by clicking here...
Spread the word about Solaris Astrology - Click here to go to my Facebook Page