I'm so excited to finally be doing a tutorial on one of my all time favorite looks: The classic Rockabilly/Pin-Up! I remember being a little girl watching Grease & then Grease 2 which was my favorite because in the movie the leader of the

"Pink Ladies"

was named Stephanie, played by Michelle Pfeiffer. My Mom had a friend who actually had a "Pink Ladies" jacket made for me with my name stitched in silk on the side, just like in the movie! I could not wait to wear that thing to school! Lol!
I was about 10 when I started collecting Marilyn Monroe calendars and memorabilia. I just thought she was the epitome of glamour. The way she spoke & giggled. It was very playful & that's what this look is about for me, being flirtatious & sexy. The vision of Bettie Page came to me in my teens and she is to this day, my favorite pin-up. I just love her image. The black hair & blue eyes with her mysterious smile...The whole thing!  I've done some research on her life which gave me an even greater appreciation for her unique beauty.
I'm mesmerized by the works of Olivia De Berardinis & Alberto Vargas, who wouldn't want to look like one of those women? Lol! I would go to my Grandma's and we'd watch old movies in black & white & I'd marvel at the beauty on screen. Actor after actor they were all flawless. They were all triple threats with the movie studios demanding they be fluent in singing, dancing & acting. It was a real production to be a movie star in those days! Classy, all the way :-)
I didn't get into Elvis Presley's music until I was an adult but there is no tearing me away from it now! Lol! I still think those crazed fans of his are coo-koo-ka-choo for thinking he's alive still or trying to dig up his remains but the man was SE-XY! Lol! Oh my goodness, he was gorgeous! He embodied what this look is about!
I was young but I was able to notice & appreciate the harmony between the ever so sleek liquid eyeliner combined with the undeniably powerful red lip. It made such a statement even though that's really all there is to this classic look. If you notice, the "good girls" would wear a tighter eyeliner & a subdued lip color while the "bad girls" would wear prominent liquid cat eyes & strong, often times glossy, bright red lips. I'm not usually one to root for the bad guys in movies but if I can look like that all the time, it's worth reconsidering! Lol!
I do wear this makeup, or some combination of it regularly. It never fails me & I really believe it's universal. Everyone looks great & depending on what you're wearing it with, it can be the focal point of your entire look!
Here's my tutorial on how I did this!

I added pictures with the matte lip & the glossy option.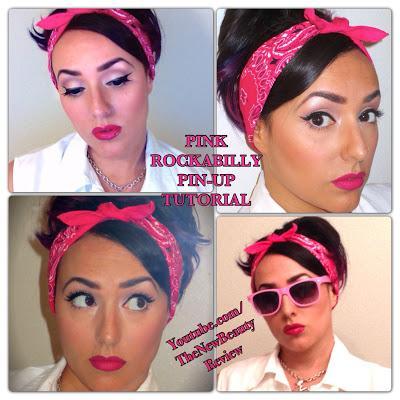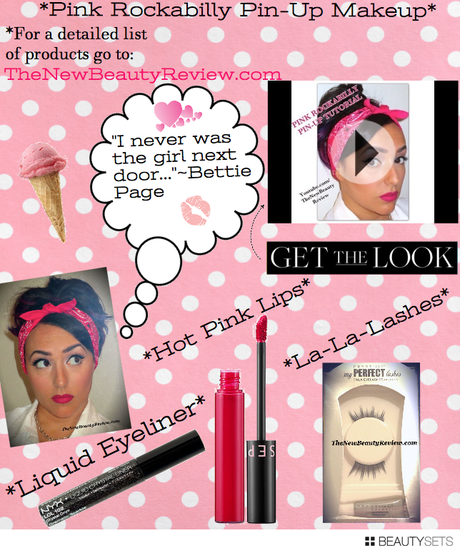 *Pink Rockabilly Pin-Up Makeup*


PRODUCTS USED:



*FACE*

Girlactik-Tinted Moisturizer (F3) bh Cosmetics-Jumbo concealer pencil (Beige) Sephora-Silk Blush Bronzer Duo (Sunset Dance) Kevyn Aucoin-The pure powder glow (Shadore) M.A.C-Mineralize Blush (Improvise)

*EYES*

bh Cosmetics eye/lip primer Girlactik-Pearl Base Girlactik-Star Shadow (Satin) M.A.C-Frosty Cream shadow-I think it's (Forgery) M.A.C-Matte e/s (Malt) M.A.C-Satin e/s (Haux) M.A.C-Frost e/s (Phloof!) MUD-Cake liner (Black) Prescriptives-Perfect Every Line Liner (Licorice) Benefit- Bad Gal Lash Mascara (Black) NYX_Liquid Crystal Liner (Crystal Onyx) Kevyn Aucoin-Eye pencil (Basic White) Clinique-Bottom Lash Mascara (Black) Senna-Brow Shaper Duo (Ebony) Prestige-My Perfect Lashes (Michelle)

*LIPS*

M.A.C-Lip liner (Quartz) M.A.C-Matte lipstick (Moxie) Sephora-Cream lip stain (Strawberry Kissed) Sephora-Glossy Gloss Galore (Curvalicious Coral)

As always I have a coupon for you! A lot of the items seen here can be found at Ulta or a comparable version.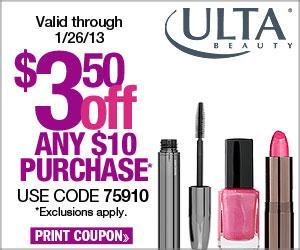 If you have any questions about the look or products, please do not hesitate to ask me!
XO
Keep it Prettie!
*Stephanie*