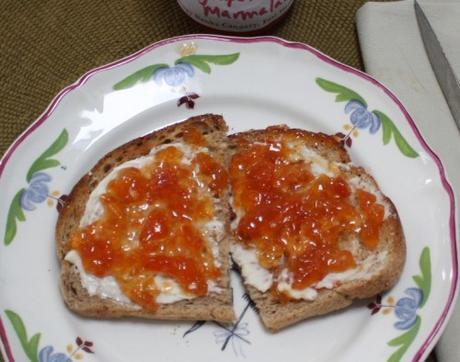 While jelly and jam making is generally thought to be a summertime activity, winter canning has its own advantages. A warm, steamy kitchen in January is a lot more appealing than it is in August.
It's undeniable that the flavors of berries and tree fruits are at their brightest in the hot weather months. But citrus fruits are at their best in winter, especially seasonal specialties like blood oranges, clementines, and pummelos. Fat, pink grapefruits are at their sweetest and juiciest this time of year too. All of these make for delicious, sophisticated marmalade.
Some notes on these recipes:
Boiling the rinds first softens them, makes them juicy, and removes some of the bitterness. It also shortens the cooking time; these recipes take only 20 minutes to thicken up.
Letting the fruit stand in the sugar before cooking helps "candy" the rind.
Adding a lemon to the Campari version adds a little sharpness.
Marmalade is excellent on top of plain yogurt, or better yet, mixed into sour cream. So good.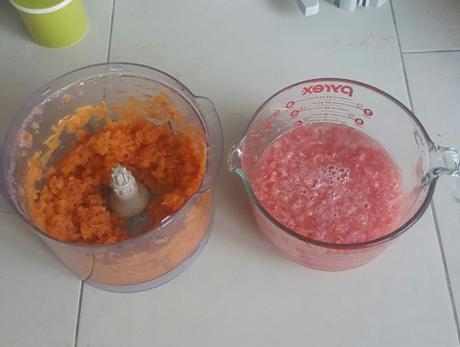 GRAPEFRUIT HONEY MARMALADERecipe make 10 half-pint jars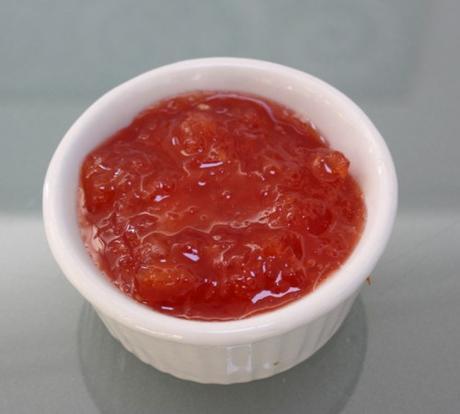 PINK GRAPEFRUIT CAMPARI MARMALADERecipe makes 10 half-pint jars
3 pink grapefruits
4 cups sugar
1 cup honey
Peel the grapefruits. Put the rinds aside. Pull off and discard the stringy pith (the cottony white part covering the fruit).
Bring a pot of water to a boil. Boil rinds five minutes, drain. Repeat two more times, using fresh water each time. Let cool a little, then chop into 1″ pieces.

Slice the fruit cross-way and discard the large seeds. Any little tiny seeds can be a pain to pick out; it's okay to leave them for some old-time marmalade realness.
Pulse the fruit flesh in a food processor until the fruit is a thick, frothy mush. Remove to a mixing bowl.
Chop the boiled rinds in the food processor into 1/4″ pieces. Be careful to not puree them, you want visible bits of rind for marmalade.
Combine the pulp and rinds and measure.Three grapefruits should equal six cups or so. Pour into a large, heavy pot.
Mix four cups of sugar and one cup of honey into the grapefruit. (If you have more or less than six cups of grapefruit, adjust the amount of sugar and honey accordingly.) Let stand for at least 30 minutes, or up to three hours.
Turn on the heat and stir well while the mixture comes up to a boil. Continue to cook at a low boil for 20 minutes, stirring gently throughout to prevent scorching and boil-overs.
Ladle the hot marmalade into clean jars. Seal with clean lids.
Fill a large pot with enough water to cover the jars. Bring the water to a boil, put the in the jars and boil for five minutes. Remove and let cool completely.
3 large pink grapefruit
1 lemon
1/2 cup Campari
6 cups of sugar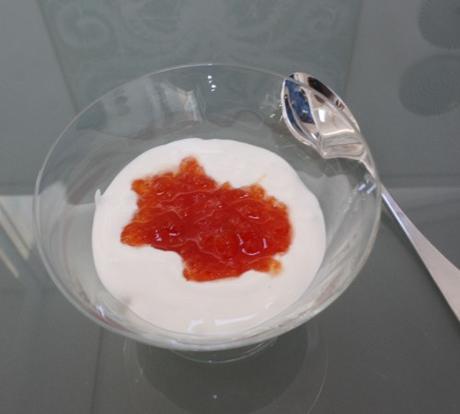 This recipe is prepared the same way as the version above. The difference is the addition of a lemon and the Campari (obviously) and the fruit to sugar recipe is evened out so it is the same amount of sugar as the same amount of fruit.
Print This Post