Hi guys!
Sorry I've been a bit MIA lately, if you follow me on Instagram (@pinkandpolishednails) then you would have seen that we welcomed a new puppy into our home this past weekend! So I've been a bit busy with him... actually he's chewing on my laptop as I'm typing this LOL! 
Anyways, let's get to the nails!
When I got the Puppy Love plate from UberChic Beauty this image totally reminded me of the Victoria's Secret PINK dog! So...... why not create some?! 
I started off with a base of OPI Alpine Snow. When it was dry I stamped over each nail using the Furry Best Friends plate from UberChic Beauty, and China Glaze Glow With the Flow. I sealed them all in with NYC Matte Me Crazy for a matte look and then added some rhinestones along my cuticle and that was it!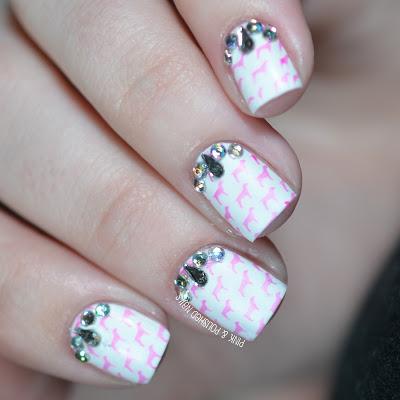 I love this look! It came out a bit lighter in the photos then it was in real life but regardless, still cool!
What do you guys think?
Thanks loves :)