Chia seeds are a great source of fibre, calcium, omega-3 fatty acids, iron and manganese.  In other words, great brain and bone food :)  These parfaits are easy to make and make a great breakfast or snack.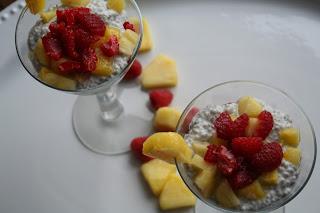 Ingredients (serves 3-4)
1 1/4 cup coconut milk (I used canned)
1/4 cup chia seeds
2 tablespoons maple syrup or honey
1/2 teaspoon vanilla
pinch sea salt
1/2-1 cup chopped pineapple
1/2-1 cup chopped raspberries
shredded unsweetened coconut for topping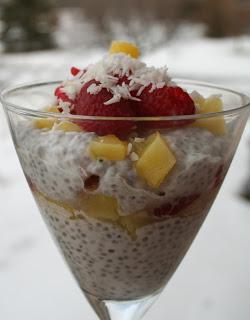 Directions
Make the chia pudding by adding coconut milk, chia, maple syrup, vanilla and sea salt into a bowl and stir to fully combine.  Let sit for set in the fridge for about 1 hour or overnight.  If possible stir once in between so the chia seeds don't stick together.
Layer parfaits with chia, pineapple, raspberries, repeat.  Sprinkle with coconut if desired.