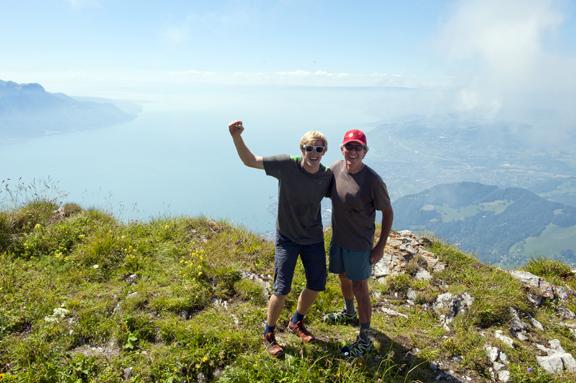 Here is a picture of Tim Wood and I on our last day of the Via Alpina 3. This is the view from the finish of our 5 day hike from Gstaad to Montreux, Switzerland.
Here, we're standing on top of the Rochers de Naye (2,042 m), a rugged mountain on the west side of the Swiss Alps. We started early in the morning after I put out the challenge to Tim. A full day of hiking, around 18-20 km with about 2000 vertical meters uphill! (That's about 6500 feet of climbing!) It took us 6.45-7h, which was awesome. Tim is a good inspiration, 64 years old and really strong. He is also the only one who's done all stages of the Via Alpina series in Switzerland. 
-Staffan =) 
From the rest of the RW Staff: Way to go Tim! Congrats.