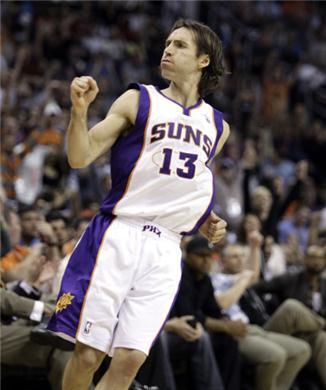 Photo: blogs.bettor.com
- Adam Parker
The Phoenix Suns are clinging to their playoff lives in the rugged Western Conference, and star point guard Steve Nash has been a driving force night in and night out for the Suns (26-26), as they make one last push to secure a spot in the postseason and pursue the one piece of hardware missing in Nash's otherwise stellar Hall of Fame career -- a championship ring.
I often joked with my fellow Beard and Stache cohort, Troy Ballard, about how every one of the other Suns' players should be chopping at the bits to give up one of their chairs to Nash.
After all, it only makes sense considering that the man might as well
literally
put the team on his back night after night.
But little did I know that it is actually Nash's choice to lie on the court to help keep his well-documented chronic back problems in check.
But by no means is this Nash's last hurrah.
Nash, who turned 38 in February, told ESPN.com in a phone interview before Tuesday night's game in Sacramento that his back is,
"the best it's felt in a decade."
He also said that he intends to, 
"sign for three more years this summer,"
and play beyond his 40th birthday when he either inks a new deal to stay with the Suns or finds a new team via free agency.
This is a completely different tune than what was reported by the
New York Post
in Tuesday's editions, which described the condition of Nash's back as, 
"bad as it has ever been."
Nash strongly disputed such suggestions, and why shouldn't he?
After all, no one knows your body better than you. If I'm a potential suitor for Nash's services next year, I wouldn't be at all concerned that his back troubles will impact his play on the court. If he says he's good, that's good enough for me.
Nash expressed great satisfaction with the way his health has held up through the rigors of a lockout-compacted schedule that called for 66 regular-season games in the span of roughly 120 days.
"It's been my best year physically from start to finish in a long time,"
Nash said.
"Other than a little tweak
against San Antonio, my back's been pretty close to 100 percent."
The Post
report noted that Nash has taken more than eight shots only once in his past 10 games and pinpointed back issues as the reasoning behind his decreased field goal attempts.
Nash disagrees, citing the overwhelming attention he gets from opposing defenses -- on a team with no scorer adept at creating his own shot and no one averaging more than center Marcin Gortat's 16.1 points per game -- is the only factor keeping his shot totals in single digits.
"Maybe I could be more aggressive looking for my shot, but every team we play traps me or
(jumps)
out hard on me on the pick-and-roll,"
Nash said.
"So my thinking is, 'Get it out of my hands as fast as possible and it's four on three or three on two for my teammates.' It seems to be working. We've been playing a lot better. I'm not just going to be forcing up shots to improve my numbers."
As for my own personal take, my partner in crime, Troy, can attest that I'm probably the biggest Steve Nash-homer in the history of NBA fandom. I could go on for hours on end about why I still think Nash is the best pure point guard in the league, but to be frank, I severely doubt this site has the bandwidth to handle that infinite wall of text, so I'll try to keep it short.
That being said, I completely agree with Nash on this. Why force up shots that aren't high quality looks just to potentially add to your own personal point total? I mean, it's the same reason Rajon Rondo doesn't take many jump shots -- it's just not a high quality look (for him).
It doesn't make any sense from a team standpoint to put up shots when the defense is offering your teammates wide open looks because they have such overwhelming respect for your abilities. Nash's philosophy is simple and successful -- get the ball to the open man and take what the defense gives you.
And lastly -- win games.
Take it from me, NBA fans -- Nash isn't slowing down. If anything, the two-time, back-to-back MVP is better than ever.
Be sure to follow Beard And Stache on Twitter 
@BeardAndStache
, 
and also Adam 
@Adam_Parker43
, Like our Facebook page 
HERE
!