Hey everyone!
Today i am going to talk about one of my favorite beauty gadgets - "The epilator". My first epilator is from Philips, which i got last year. Though some may feel it extremely inconvenient, for me it is a boon. Ever since i started working, i literally stopped going to the parlor due to lack of time. I am someone who needs to get rid of body hairs every month. Imagine what would have happened when it was left to out grow for years?? Yeah! Thats what happened to me last year. I could not stand it and went ahead and bought this epilator.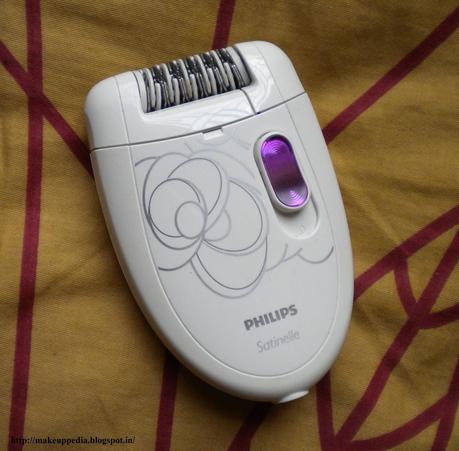 What the company says
:
Enjoy long lasting smooth legs. Removes hair from the root, for hair free legs up to four weeks.
My experience
: I love the concept of epilators because they remove
hair from the root
and hence it takes a while for the hair to regrow, unlike trimming or shaving where you can see regrowth in the next two days. This procedure is similar to waxing sans hot wax and harsh pulling. Also there is
no fear of getting cut
. The epilator head has a couple of blades (the name has been given just because they are circular in shape. The blades are too blunt to cut you ;)) and these blades capture the hair between them as they come down and pulls the hair from the root as they go up. As simple as that!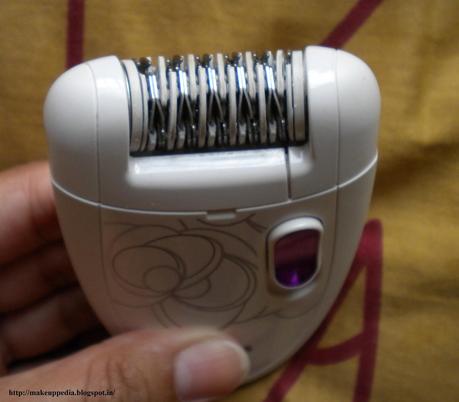 But one has to keep an eye on the length of the hair. The pain is directly proportional to the length of the hair. I found this out the hard way! This
removes the tiniest of the hairs
, even as short as 2mm. The
body is quite handy and convenient
to use. It has
two speed settings
1 and 2. Initially i had set it on 2 and after getting a hang of it, i switched to 1 and i realized that 1 is less painful then 2.
It has a
long cord
which is very useful when i epilate  under the thighs, calf muscles, arms and other difficult to reach areas.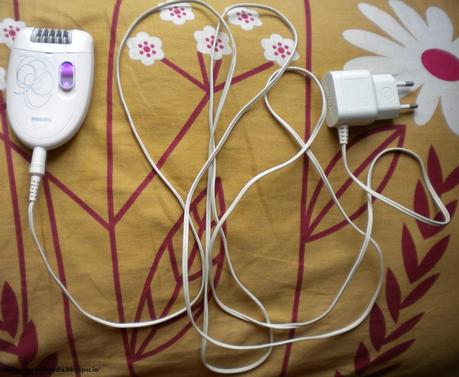 The head is detachable and can be washed and cleaned with water. And apart from all the benefits mentioned above, i simply love this because it gives me freedom to epilate whenever i like, even late at night (yes i have epilated at 12 in the night :D) unlike parlors where i have to get an appointment. In fact i have even done one leg per day!
Now some
difficulties
i faced with this.
The epilator has to be placed at a 90 degree angle on the skin and failing to do so will lead to trimming or hair instead of uprooting. 
Please make sure the hair length is not more then 1 cm. Trust me i tried it when it was lengthier and it pained like hell and caused red bumps on my legs.
Ladies with sensitive skin should do a patch test 24 hours before the epilation. If it causes rashes which does not settle over night, do not proceed with epilation.
Make sure you epilate at night or at least in the evening because even if you get temporary bumps, it will settle down by morning. The bumps can be taken care of by applying refrigerated aloe vera gel followed by moisturizer before going to bed.
This epilator should be used ONLY on dry skin. No water, no moisturizer beforehand.
The last point is that it makes a loud noise while epilating. It annoyed me initially, but i got used to it later on.
Here are the before and after pictures for you.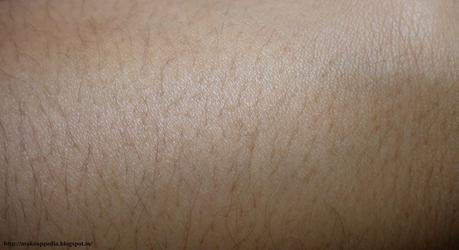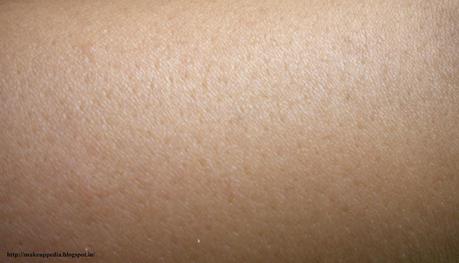 Price
: Rs.2095.
Final word
: Epilator is a very handy gadget for ladies like me who are a lazy bum and do not/can not go to the parlor. In fact on regular epilation the hair regrowth reduces and will ultimately stop after a few months, just as it happens with waxing. For me the regrowth rate has drastically reduced :)
Have a nice day!