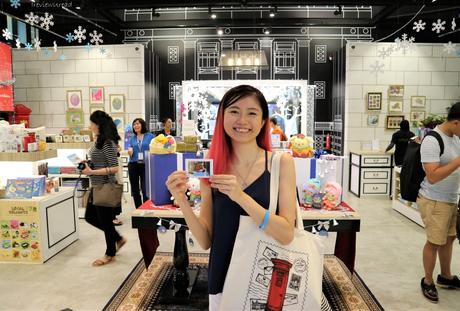 Calling all philatelist! This post is dedicated to you for I will be covering on the Philatelic Store festive collection at SingPost Centre. Before I head in, let me give you a little history lesson on the General Post Office.
General Post Office, GPO | SingPost
With 150 years of history, Singpost is Singapore's main postal service provider. It have evolved from a 3 person mailing company to the current size where it provides mail and logistics solutions around the world. Initially located at Fullerton Building, the "Grand Old Dame" between 1925 to 1928, the General Post Office have moved multiple times before it reached it's current location at the SingPost Centre.
Build on SingPost's rich history, the newly renovated GPO offers a 24/7 self service access area. The new kiosks provides responsive touch-screens powered by Apple iPads. Additionally, new services such as automated sending of registered articles, SingPost's Digital Postal Mail and new SAM platform have been added. There's so much new things there, you got to check it out yourself.
Aside from hosting the GPO, the SingPost centre also have a Philatelic Store too. That Philatelic Store is the star of today's post.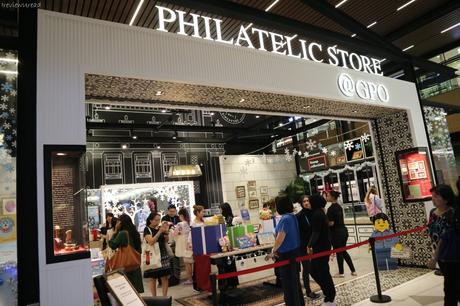 Look at the black and white tiles surrounding the door, it's so stylish. In fact it reminds me of the tiles you see on the cafe floor. Beautiful!
Philatelic Store @ GPO
Operated and owned by Singapore Post, the philatelic store is the to go place for both long-time and new stamp collectors. Aside from stamps, the Philatelic Store @ GPO offers a variety of:
Since the festive season is coming up, the Philatelic Store have released 4 new collection, ready to be purchased in store. :
National Stamp | "Greeting" Stamp - It have cute Merlion emojis on it

Thematic MyStamp: Changi Mystical Garden with Sanrio Characters - All the characters got me shouting "Kawaii!!"
Premium Gifts: Local Delights Collection - Traditional biscuits such as the Gem Biscuit are included as well
Philatelic Store @ GPO Exclusives | Posting Boxes of Singapore Collection - I love this the best for I have an odd obsession with mail boxes.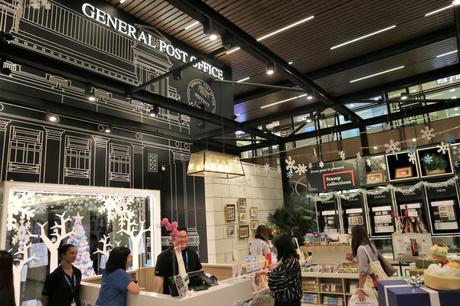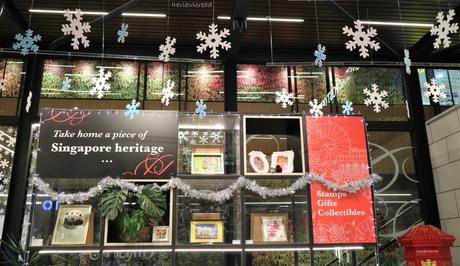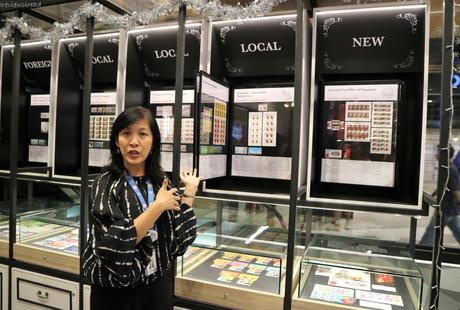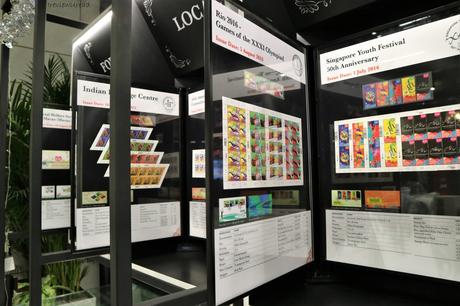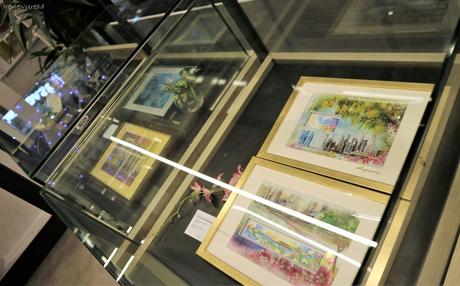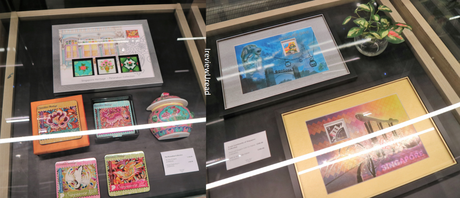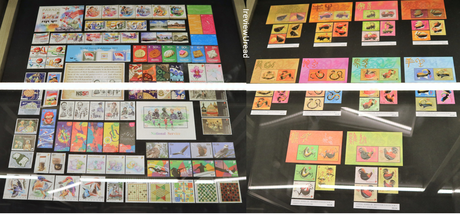 Psst. look at the bottom of the one on the left. You can see board game stamps. That's so cool!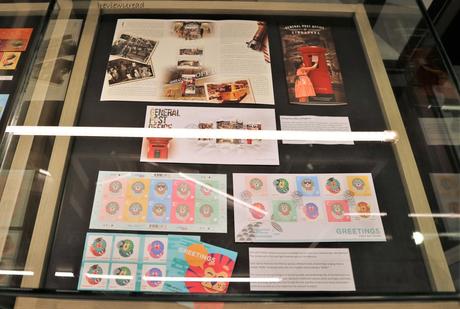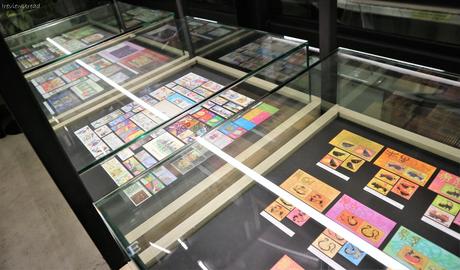 Look at the store, you can even hear the Christmas carols playing at the back of your head. There's even a white Christmas tree at the window. It's so Christmasy, I love it! Besides the Christmas decoration, I like how the wall had an illustration of the old General Post Office at Fullerton. It's such a great way to bring back the memories.
The General Post Office of Singapore stamp
In memory of the old General Post Office, every single item in the store have a historical background to it. That means, everything you purchase from the store holds a sentimental value to Singapore's post office. It's like giving out a piece of history to your clients, your friends or your family. On top of that, these philately designs items are great for any gift-giving occasion - especially for the philatelist.
National Stamps | "Greetings" Stamp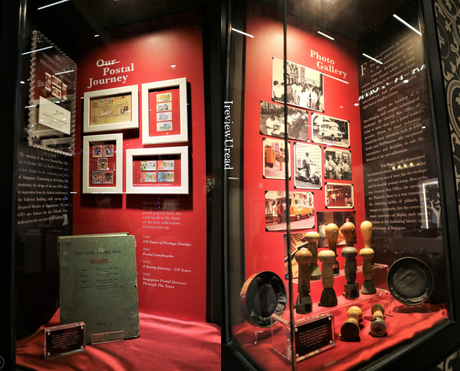 At this wall, you can view the variety of stamps that are available for your purchase. I like it's design where customers are able to flip the display like a book. It made me feel like I'm in a modern stamp museum.
At the sides of the Philatelic store, you can see a variety of art prints, coaster sets and uniquely designed stamps available for purchase.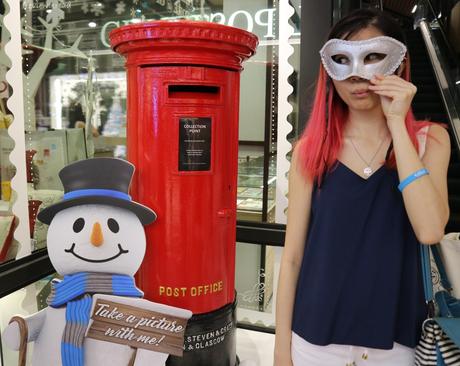 The History of Singapore's Post Boxes
At the top is the General Post Office of Singapore stamp. It features the history of Singapore's posting boxes. What's iconic about the stamp set is the colonial-era red pillar posting box. The colonial-era red pillar posting box represented the time where the British were still ruling over Singapore. Back then, all post boxes were in a cylindrical shaped. Additionally, it have the royal badge of Queen Elizabeth the 2nd on one side of the box. The post boxes remained of this design until Singapore have regained it's independence in 1971. Thereafter, the post boxes in Singapore have changed rapidly to the post boxes you see on the streets today.
The General Post Office of Singapore stamp is available in four denominations. There's Pre-cancelled First Day Covers with a complete set of stamps available at S$4.05. Additionally there is a folder, Postal Journey of Singapore, with the General Post Office of Singapore stamps and Postal Landmarks stamps. It features significant postal buildings over the centuries. The stamps was first issued in 2000. The folder retails at S$25.

Source
Stamps could be purchased online here.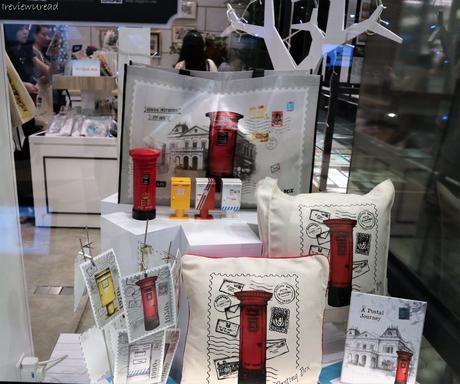 Right at the bottom, you can see the National stamp, bearing the Merlion's unique expressions. This will be touched on more later in the post.
What I like about the store is right at the front you see 2 displays, showcasing the GPO's rich history. In the displays it not only contained photographs of the post offices back then but even the stamps and stamp pads too.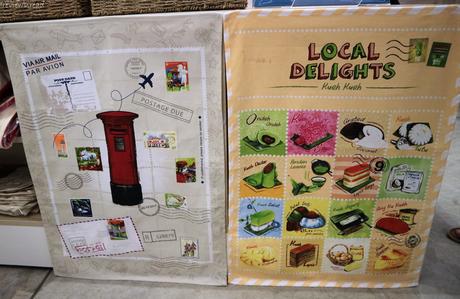 Fun fact: The yellow post box in the photo is the second generation of mail boxes. Yes, that replaced the red colonial post boxes.
Philatelic Store @ GPO Exclusives | Festive Collection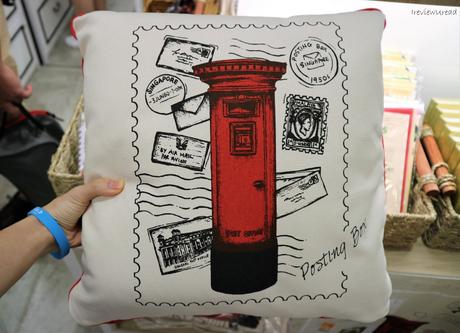 The first festive collection that I will touch on is a Philatelic Store @ GPO Exclusives. Yes, it's the posting Boxes of Singapore Collection. The main focus on this collection is this first generation post box that I'm standing next to.
Cushion cover retails for S$19.90, Canvas tote bag is S$15.90 and Laminated bag is S$5.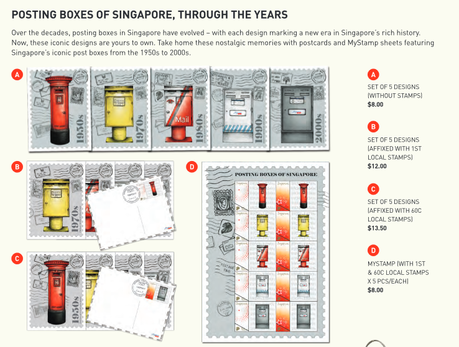 Source
Although this red pillar posting box may look new, it is actually dated back to 1960s. It was only recently discovered at one of the post offices in Singapore. Thus, they decided to restored it.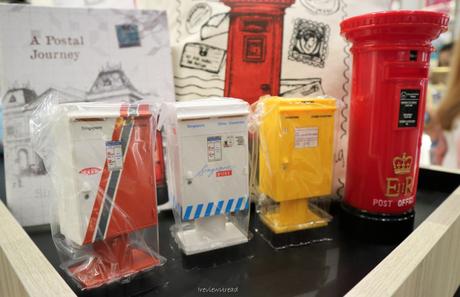 Unlike other post boxes in Singapore, mail dropped in the red pillar posting box will get a special date stamp in red ink.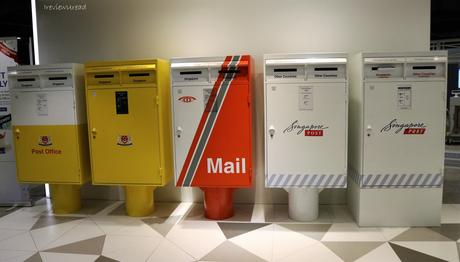 Posting Boxes of Singapore Collection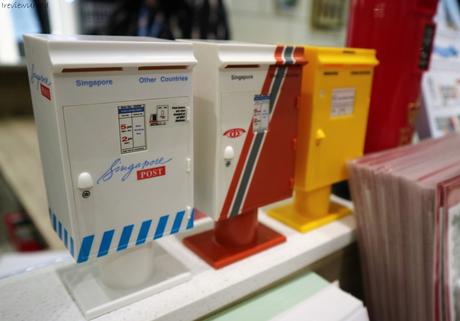 OMG, just look at the details. Amazing!
Finally, I'm moving on to the posting boxes of Singapore Collection. Displayed at the front of the store, the posting box collection feature this red pillar posting box design on their items. It includes pouches, tote bags, cushion covers, tea towels, mini post boxes and a variety of postcards.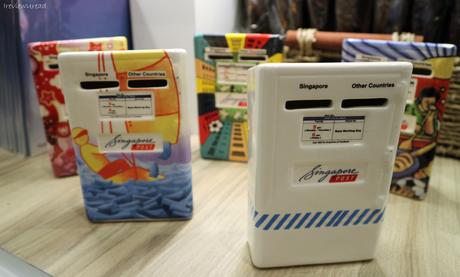 On the left side is the colonial-era red pillar box tea towel. I like how it looks like a map. You can see the different stamps, the mail and even the air mail stamp. It retails for S$12.90.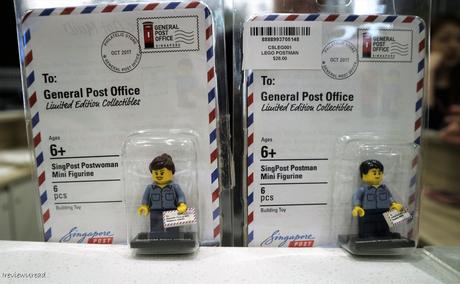 On the other side is the Local Delights Tea Towel from the premium gifts collection. I like how you can see 16 different kinds of kueh kueh or kueh's ingredients on the tea towel.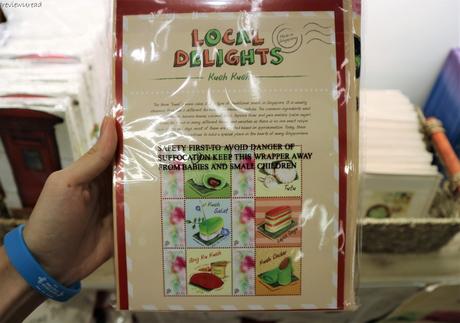 The red posting box is also available on cushion covers, canvas tote bags and laminated bag- you can see the tote bag at the end of the post.
Aside from cushion covers and bags, the red posting box is available on postcards as well. I like how the postcards feature different generations of post boxes in Singapore. It is great to be able to see the different post boxes designs throughout Singapore's history.
A favorite of mine would be these miniature plastic post boxes. They look so real. In fact let's compare it to the actual size post boxes.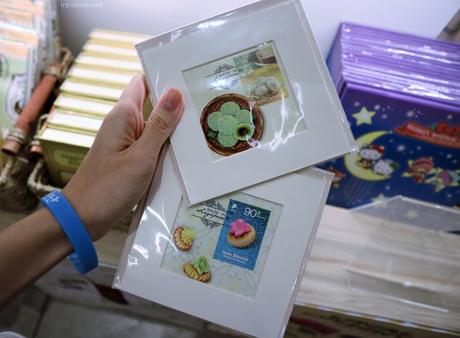 Local Delights & Traditional Biscuits Greeting Cards
Presenting the usable actual size post boxes. As you can see people are more familiar with the modern day post box, thus the one on the right was stuffed.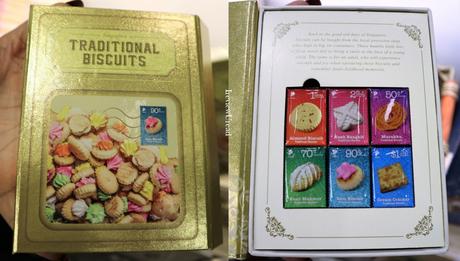 Traditional Biscuits Magnet Set

It is great how SingPost came up with these figurines and designs. It allows the public to understand Singapore's history better. Plus, who said old is bad? Old can be cool too!
Aside from the plastic ones, there's clay ones available too. These are catered more to the modern generation for you can see various beautiful designs on the post boxes.
Lastly, from the Philatelic Store @ GPO Exclusives we have the SingPost Postman and Postwoman Mini Figurines Collection. These figurines are from the lego collection, perfect home and office decoration. I like how both of them are holding on to a letter, representing their roles well. Besides that, if you look closely, you can see the Singapore post logo on their uniforms as well. Each mini figurines are available at S$28 each but why break the couple apart when you can get both for S$50.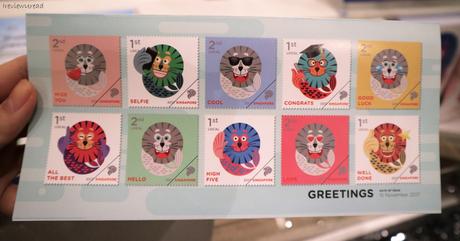 Premium Gifts: Local Delights Collection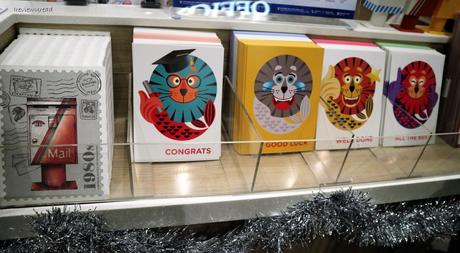 "Greeting" Series Postcards
Who love sweets? I know I do! Thus, Singpost have came out with a festive collection called the local delights collection. Aside from featuring traditional biscuits and sweets, there's also kuehs and other traditional festive treats.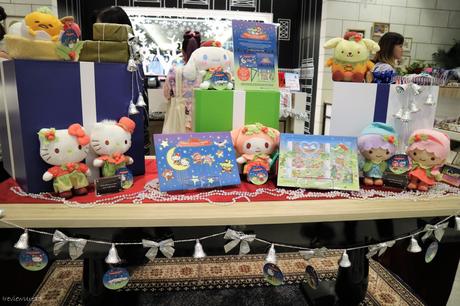 As seen from above, there's a beautiful Local Delights Tea Towel next to the red pillar posting box tea towel. The Kueh Tea Towel comes with a Mystamp sheet. They retail for S$22.90.
Besides the tea towel and MyStamp sheet, the local delights collection also offer multiple greeting cards. You can choose to purchase the greeting cards individually at S$8.90 each or purchase them in a set of 4 for S$35.60. Sets of 4 comes in 2 categories, the local delights group and traditional biscuits group. I like how there's a stamp that comes with each greeting card. It represented the illustration on the cards well.
The traditional biscuits magnet set comes in a beautiful packaging where colorful gem biscuits could be seen dancing at the front. So pretty! I still remember when I was a young child, I would always get reprimanded for eating the top part of the biscuits only. "But Mom! I only like the sweet part!" Oh, those days. You can relieve those days again by getting this everlasting biscuits magnet set for S$28.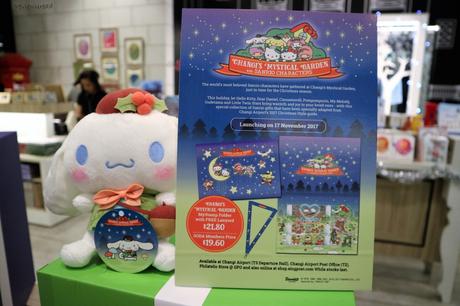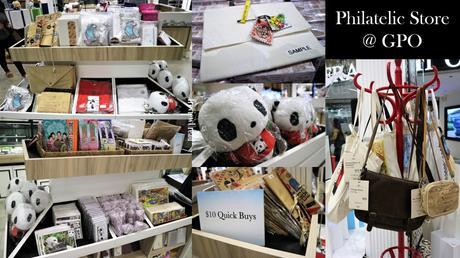 National Stamps |"Greetings" Stamp series
Next, we're moving on to Singapore's most recognized icon. In fact it's our national icon. That's right, it's the merlion. If you're wondering what a merlion emoji will look like, here it is.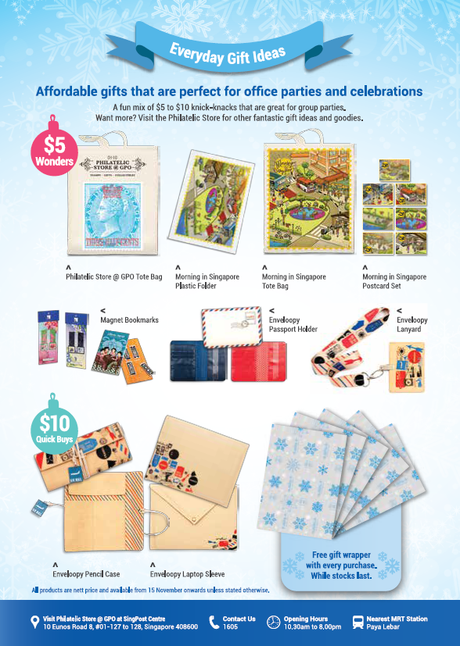 Source: Singpost and Sample store
The Merlions depicts 10 everyday expression that convey common greetings and phrases. Similar to the modern day emoji, the national symbol is reflected in a fun and colourful way, attracting everyone's attention.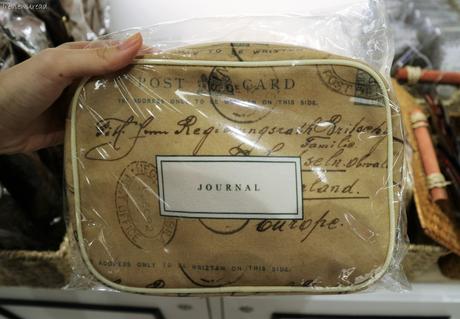 The stamp sets comes in 2 two denominations - 1st Local and 2nd Local. Each denomination have 5 designs. The complete set of stamps that include the 10 designs retails at S$3.35. The Pre-cancelled First Day Covers with the complete set of stamps are available at S$4.30 (Only on 15 Nov 2017).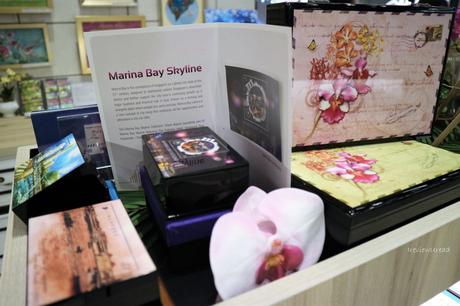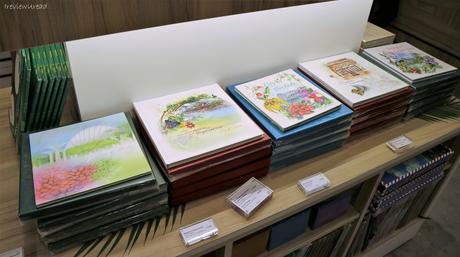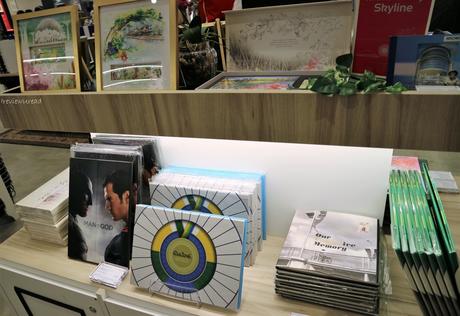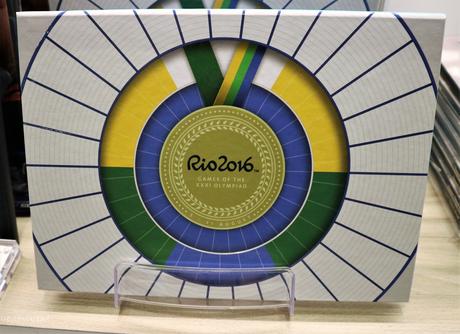 Fun fact: Do you know that the ancient Olympics Games was created as a celebration for Zeus. As time passed, the Olympics added more games and eventually it become what you see now.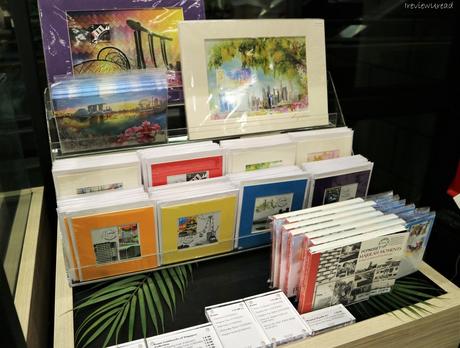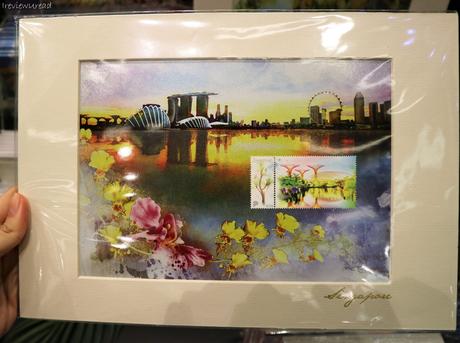 Besides the stamps, the "Greeting" Series are also portrayed on the postcards. The postcards are sold individually for S$1.60 and available in a set of 5 for S$5. Now, if only these Merlion icons were actual emojis, they would be so popular.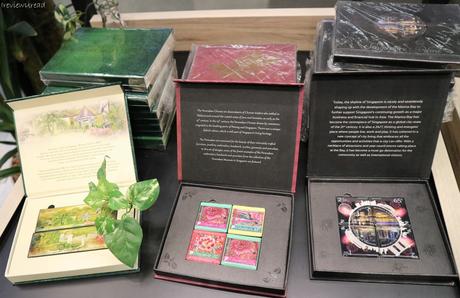 Psst. The Greeting Collection is also available on a Coaster set. See that here.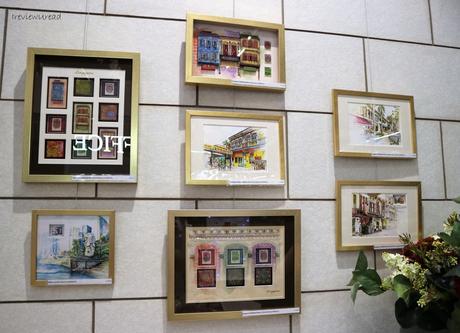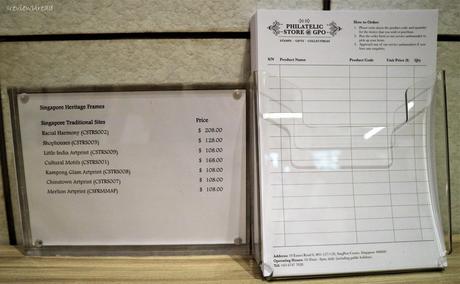 Thematic MyStamp: Changi Mystical Garden with Sanrio Characters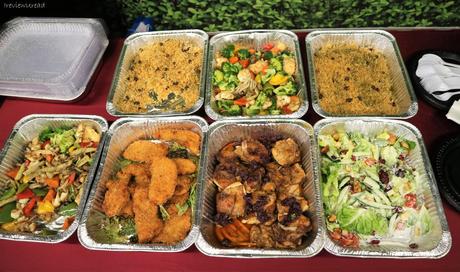 Calling all Sanrio lovers! More specifically, Hello Kitty, Dear Daniel, Cinnamoroll, Pompompurin, My Melody, Gudetama and Little Twin Stars lovers. Join this festive season with Changi Mystical Garden with Sanrio Characters themed stamps.
For those of you wondering what is Changi Mystical Garden, it is an ongoing event at Changi Airport Terminal 3 where there's a physical garden you can explore. There's also games, light shows, snow shows, playground and tote bag stamping. You can view more details on Changi's official website here. Or check out Little Day Out's blog article on 10 things to see and do at Changi Mystical Garden.
Aside from redeeming Sanrio plushies from Changi Terminal 3, you can get yourself a stamp folder with a free lanyard too. The stamp folder with free lanyard is available at the Philatelic Store @ GPO as well. Each Changi Mystical Garden with Sanrio Characters retails at S$21.80.
Other Festive Gift Ideas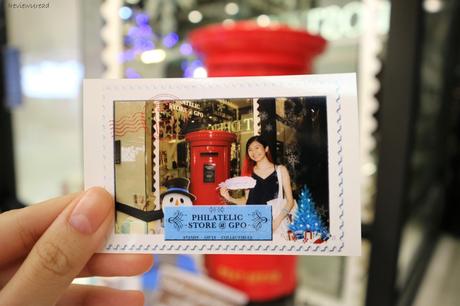 Yes, this is the photo I was holding at the start of this post.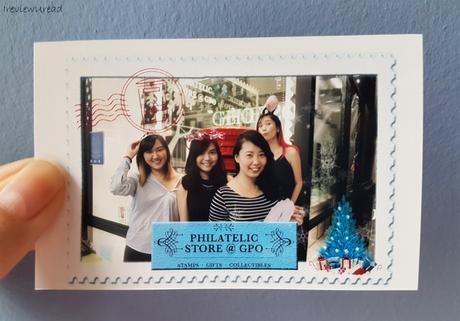 I looked like I just jumped out from wonderland.
Besides the festive collections, you can browse various other gift ideas with philately designs in store. These includes the $5-$10 quick buys, panda stuff toys, notebook and so much more.
Presenting the $5 - $10 festive gift catalog of Philatelic Store @ GPO. You can also get a free gift wrapper with every purchase too.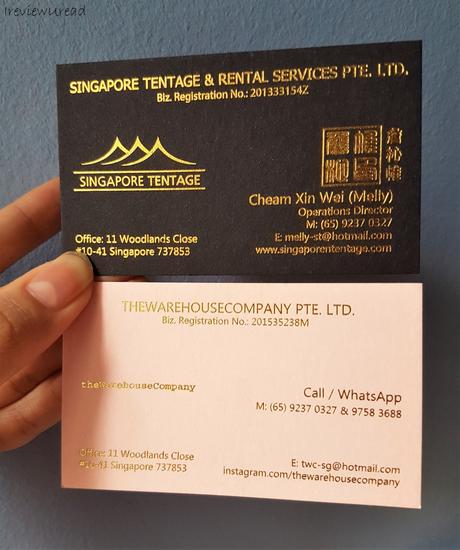 There are various vintage series cross body backs, posting boxes canvas tote bags, philatelic tote bags and even mail bags. One of my favorite bags is this vintage series, small crossbody bag. The word 'journal' at the front suits me so perfectly since I do journalling and scrapbooking. You can view my journal entries here.
Aside from that, you can browse various Singapore themed items. These items feature landmarks from Mariana Bays Sands skyline to Singapore's heritage.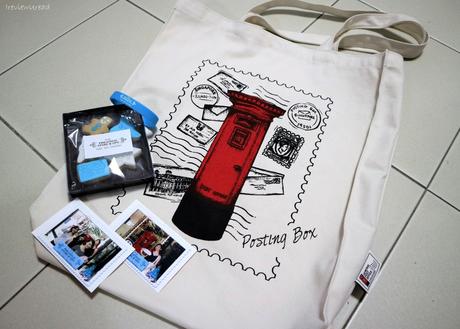 Alongside to locally themed items, you can purchased a variant of foreign stamps and trending themed stamp albums in the store as well. Some of them includes Batman vs Superman and Rio 2016 Summer Olympics.
At this section, we have beautiful prints and greeting cards that feature the landmarks of Singapore. With each print and greeting card, you get a stamp with it too.
P.s. The stamps are pasted on the prints and greeting cards, as you see here.
In addition to the traditional biscuits magnet sets, the store retails magnet sets that feature Singapore landmarks and Peranakan designs. The cover of the boxes even give a snippet of the magnets design history.
On this wall here you can view and purchase these exquisite art prints featuring Singapore's traditional sites and Singapore skyline.
All these stamps and other gift collection could be purchased in store or online at: https://shop.singpost.com/
Food of the day
Moving on to delicious food. Food of the day is provided by Brunches Cafe. As seen from the spread there are various items to choose from. Menu of the day was Salad, Raisin Rice, mixed vegetables and mushrooms, fried fish fillet and baked chicken. Personally I love the mixed corn and mushroom for they were seasoned to perfection. The baked chicken were lightly seasoned with black pepper. It was also rather tender and topped with some raisins. The salad was coated with an adequate amount of dressing such that the vegetables won't overwhelmed. I like how there are a variety of vegetables in the salad - tomato, cherry tomato, lettuce, cucumber, raisins, croutons and some seeds. All in all, food was good especially for my hungry self.
Brunches Cafe
Brunches Cafe is the latest Chic Vintage cafe and Bakery. Located in the neighborhood of Farrer Park MRT, Brunches Cafe is a must hop cafe for breakfast and tea time lovers. They serve All-day Breakfast Menu, limited high tea sets, western food, dessert and so much more! You can view their menu here. Brunches Cafe also feature vintage furniture collection that are ready to be purchased in their shop.You can even hold your parties at their cafe or have them cater their food to your location. Check out their information here:
Behind The Scenes Photography
What is a media event with photos? Well, here are the photos. Huge thanks to Behind The Scenes Photography for the photos, printouts and props. You can check out their Instagram page that is filled with so many behind the scenes photos from the event and other events too.
Singapore Tentage | TheWarehouseCompany
Are you looking to rent a tent? What about some props for your event? Run by the same people behind, Behind The Scenes Photography, you can rent your things and props here: Singapore Tentage Website | The Warehouse Company Instagram
We have finally rolled to the end of this post. Huge thanks to Sample Store and Singpost for the invite. It was interesting to see so many different kinds of stamps and gifts at the Philatelic Store @ GPO. My favourite part of the store is definitely this red pillar posting box printed on this tote bag. It's always exciting to see part of history being revived.
Stamps and other gift collection could be purchased in store or online at: https://shop.singpost.com/

Philatelic Store @ GPO
10 Eunos Road 8
#01-127/128
SingPost Centre