Wedding Stationery in lilac
Lilac is a lovely color scheme and is popular for 2013. I really like this scheme especially when it's
coordinated with cadbury's purple. Here are a few stationery items with a lilac theme.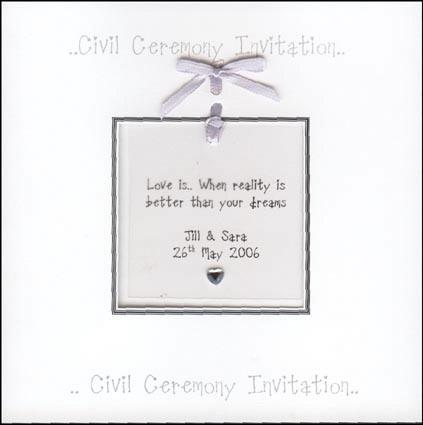 Lilac
Civil Ceremony Invitation – Rapture
This wedding invitation is unusual and modern. A little acetate tag hangs form the middle of the card with the saying "Love is ………When reality is better than your dreams" with the name of the couple and their wedding date.
Base card can be white, ivory or cream. This design can be made in over 50 different color schemes. Other quotes available. Perfect for a civil ceremony.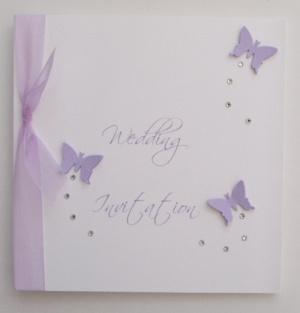 Butterfly Wedding Invitation – Jessica
This is one of our most popular wedding invitations apart from the wedding invitation scrolls we make. A simple pretty design. A beautiful organza ribbon with pearlised butterflies and swarovski crystals make this a stunning invitation. This design can be made in any color scheme. This is a very popular design for 2013. The base card comes in white, ivory or cream. Butterflies can be made to match the ribbon or mix and match. The choice is yours.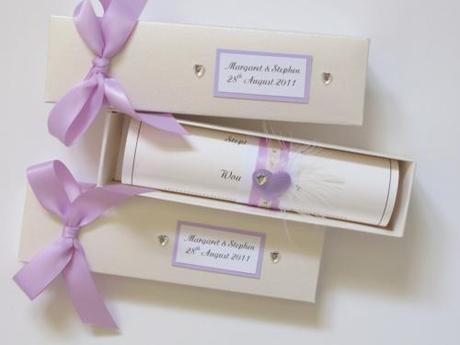 Wedding Invitation Scroll – Megan
This beautiful wedding invitation scroll is made with a pearl ivory scroll box and lilac satin ribbons. Perfect for any venue. Truly a statement invitation.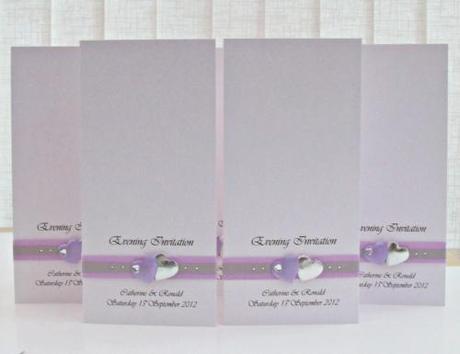 Wedding Invitation – Love Hearts
Lilac and silver double heart wedding invitations. Card style invitations made for a couple of mine. They ordered wedding scrolls for the wedding reception but needed to cut the budget for the evening reception. I made these invitations keeping with the same color scheme and heart theme.
There is a matching card style invitation to match all of our wedding scroll designs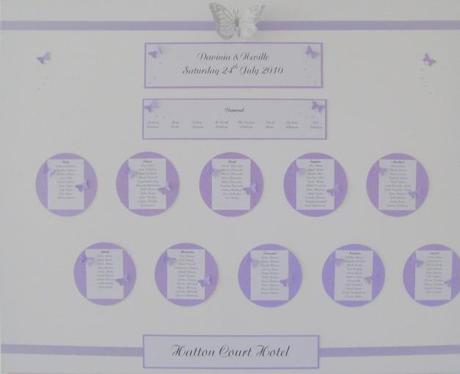 Wedding Seating Plan – Lilac Butterfly Theme
Wedding seating plan with lilac tables and butterflies. Trimmed with lilac satin ribbon and swarovski crystals. Can be made to match any color scheme.
You will find more color schemes on our web site www.carolmillerdesigns.co.uk
or visit our facebook page  Carol Miller Designs where you will find a gallery of designs.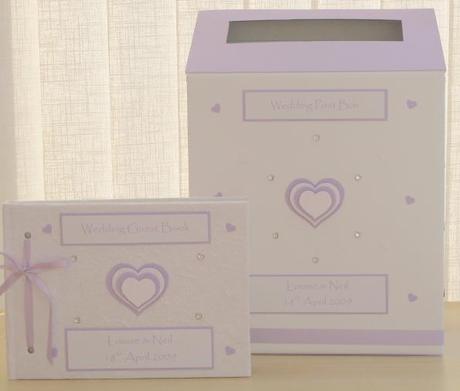 Wedding Post Box and matching Wedding Guest Book
A heart themed wedding post box and guest book. Wedding post boxes come in many designs and color schemes. Please visit www.carolmillerdesigns.co.uk for more designs.
A wedding post box is an ideal place for your guests to securely leave their monetary gifts. Place on a table along with your wedding guest book. As your guests arrive they can deposit cards and sign your guest book.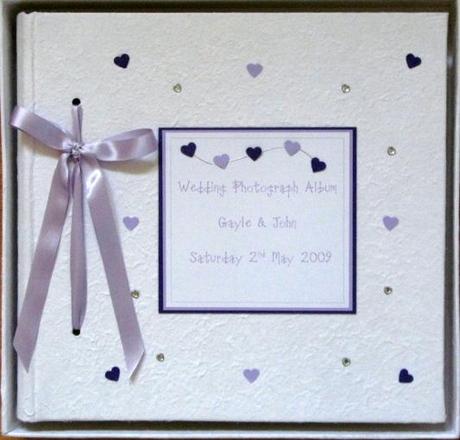 Wedding Photograph Album – Lilac and Purple Heart theme
Wedding photograph album with a lilac and purple heart theme. These colours look lovely together.
Below is the matching wedding guest book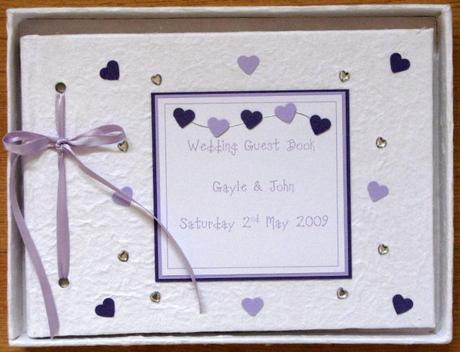 Wedding Guest Book – Lilac and Purple Heart theme
Some ideas if you are thinking of having a lilac theme. Lilac also goes well with navy blue and many other colours. We offer a free bespoke service. If there is something you like on the site but can't see the colour, please get in touch with Julie [email protected]
I would like to wish everyone a very Happy Christmas and a prosperous 2013.
Until next time. Keep warm
Julie x