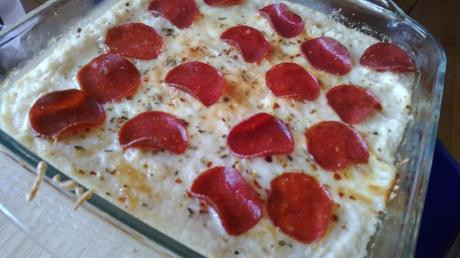 Last week I was on Pinterest and saw a number of people pin this recipe. Up until a few years ago I HATED cauliflower, or at least I thought I did until I tried it again – and now I love it. I use it in stir fry, add it to veggie soups, but THIS recipe from a GREAT site called I breathe, I'm hungry looked amazing so I had to try it.
I did modify a little. I used skim milk instead of heavy cream and I used Hormel Brand turkey pepperoni and it still turned out fantastic!
Print Pepperoni Pizza Cauliflower Bake – another Pinterest Inspired Recipe
Serving Size: 4
Calories per serving: 166 calories
This is super simple to make, and tastes delicious!!
Ingredients
For the puree:
1 medium head of cauliflower
2 Tbsp Skim kilk
1 Tbsp Butter
6 slices Hormel turkey pepperoni
1 oz. shredded mozzarella cheese
salt and pepper to taste
For the casserole:
12 slices Hormel Turkey pepperoni
2 oz. shredded mozzarella cheese
Instructions
I cut the cauliflower into florets. Add the cauliflower to a pot of boiling water and cook until fork tender about 10 minutes.
Add the cauliflower, the butter, the skim milk, 6 slices turkey pepperoni and cheese into a blender or food processor and blend until smooth. Add salt and pepper to taste.
If it seems to thick, add a little more milk until the consistency is like mashed potatoes.
Add the puree to an 8x8 pan.
Add 2 more oz. of cheese over the top and turkey pepperoni on top and bake at 375 for 20 minutes.
Schema/Recipe SEO Data Markup by ZipList Recipe Plugin2.0
http://www.slim-shoppin.com/pepperoni-pizza-cauliflower-bake-another-pinterest-inspired-recipe/
This pan of deliciousness is 4 generous servings. Check out the calories!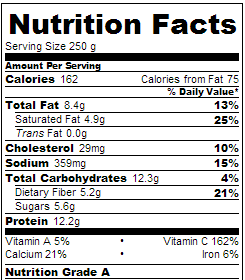 In other food related news. I'm excited to participate in my first Food Swap. I'm going to the Chicago Food Swap which this month is in my hometown about 5 minutes from my house. Basically how it works, is I make something and when I get there I try to swap what I have with what someone else brought.
If you would like to participate next month – then check out their site here Chicago Food Swap. It's at a different location every month.
Have you ever gone to a food swap before??