Weekend lunches are always tough for us me. Mainly because I'm not used to making lunch for everyone during the week. Most of the time, I forget to even buy anything, but when I saw these on Pinterest...I was inspired. Good job, Pinterest...doing what you were made to do. 
I cut the calories and fat count down from the original recipe by using turkey pepperoni (I promise you won't notice a difference) and reduced fat crescent rolls and cheese. There are 2 rolls in one serving for a total of 325 calories without any dipping sauce.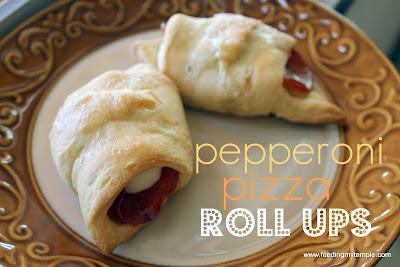 Pepperoni String Cheese Roll Ups






Ingredients




1 (8 ounce) package reduced fat refrigerated crescent roll dough




4 reduced fat cheese sticks, halved




1 (3.5 ounce) package sliced turkey pepperoni




optional - marinara or ranch sauce for dipping


Garlic Butter Glaze


2 tablespoons butter, melted




1/2 teaspoon Italian seasonings




1/4 teaspoon garlic powder




1 Tablespoon grated Parmesan cheese


Directions


Preheat oven to 350 degrees. 




For the rolls:




Take each triangle of crencent roll dough and place about 6 pepperoni on the bottom of the triangle. Place half of a cheese stick on top and roll up. Place seam side down on a cookie sheet and bake for 10-14 minutes or until golden brown.




For the glaze:




While rolls are cooking, combine the melted butter, Italian seasonings, garlic powder and Parmesan cheese in a small bowl. 




When rolls are done remove from the oven and drizzle with the garlic butter glaze. Serve with marinara or ranch for dipping.




 Please visit my 

link parties

 page to see who I linked up with this week!