My youngest came home today with a low grade fever.  The first thing I grab is the my peppermint oil.  It is also the first thing I grab when I feel a headache coming on.  We have had amazing results with using peppermint.  It will reduce a fever very quickly.  Yes, I do know that fevers are a good thing as they are the bodies way of fighting off infections.  Did you know peppermint itself also helps fight off infections.  Here are a few of its uses.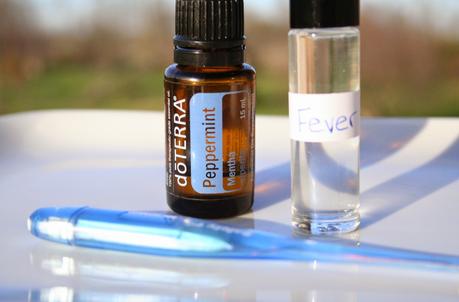 Common Uses for Peppermint Oil:
Anti fungal and Antibacterial
Respiratory relief (colds, sinuses)

Reduce fever and flu 

Increase alertness
Alleviate stomach upset (nausea, vomiting, diarrhea)
Relieve headaches/migraines
Promotes oral health
Asthma
Cold Sores
Application:
Topically
: 1 drop:1 tsp carrier oil for feet, back of neck, chest or head for colds, fever and headaches.  Apply to area of concern or to reflex points.

Inhale:
breathe in bottle for alertness
Diffuse:
add drops to a cold-air diffuser
We have been using doTERRA essential oils as I believe in the quality if their oils.  Do ensure you are using pure essential oils, that don't have added synthetic oils, as these could really harm your body.